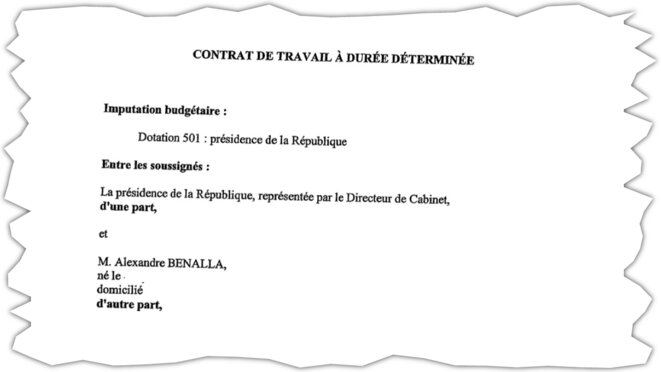 Extract from Alexandre Benalla's empoyment contract with the Elysée Palace (full details in the article). © Document Mediapart
The political scandal surrounding Emmanuel Macron's disgraced personal security advisor Alexandre Benalla is centred less on his thuggish behaviour in beating up May Day demonstrators while illegally wearing police insignia but rather on the secrecy of his role and his relationship with the president who afforded the 26-year-old extraordinary powers. Benalla was engaged as a 'mission leader' with the presidency, a vague title afforded to a number of other Élysée Palace staff whose activities are largely unaccountable to the public. Mediapart has obtained the employment contracts of Benalla and five other so-called 'mission leaders' at the Élysée which reveal how they are exempt from probity law requirements that apply to official advisors. Mathilde Mathieu reports.     
The contracts involve military, energy, health, food, and aeropsace sectors said office of French PM who is currently on a visit Saudi Arabia.
Deals under discussion during the French president's trip to Riyadh centre on nuclear energy, oil, arms, transportation and naval equipment.
France is hoping to conclude several aerospace and nuclear production deals during China president Xi Jinping's visit to Europe this month.
France's economy shrank by 0.1% in the third quarter but ministers insist that the overall figures for 2013 will show growth.
Amesys, a subsidiary of French IT company Bull, which provided former Libyan dictator Muammar Gaddafi with technology to spy on emails and chat forums, has threatened former employees with legal action in a bid to stop them revealing to the media further details of the deal. In the negotiations to secure the contract, sealed with the Gaddafi regime in 2007, the company, operating under its former name i2e, delivered Tripoli with a sample of its internet spying capabilities in the form of eavesdropped personal messages exchanged by staff at a Paris university. The deal with Libya was one of several brokered by arms dealer and intermediary Ziad Takieddine, and enjoyed the backing of the then-French interior minister Nicolas Sarkozy. Fabrice Arfi and Karl Laske report.