A Paris court gave the stand-up comic a fine and a suspended jail term for posting on Facebook his support for terrorist Amedy Coulibaly.
Simon Butler, who has taught skiiing in France for 30 years, was given a choice of jail or a 30,000-euro fine for not having correct licence.
© DR
In 2010 the former Société Générale employee  was convicted in relation to a series of trades that cost the bank up to 4.9 billion euros. Last year the ex-trader lost an appeal against his three-year jail sentence. However, the saga continues. On 4th July Kerviel, who has always insisted his bosses knew what he was doing, will take his former employer to an industrial tribunal seeking 4.9 billion euros in damages – equal to the sum he is said to have lost the bank. His lawyer has meanwhile made a formal complaint alleging forgery and use of false documents. In particular the trader's legal team has highlighted some curious discrepancies in the recordings made when Kerviel was questioned by his bank superiors as his huge losses became clear; recordings that went on to form the basis of the evidence that convicted him. Martine Orange investigates.
The man vainly tried to justify the attack as an attempt to uphold a controversial law banning women from wearing face-covering veils in public.
Jean Tiberi, 78, who was mayor from 1995 to 2001, was given a fine and suspended jail term after being found guilty in a long-running case.
A Paris court hears appeal by former Société Générale bank 'rogue trader' Jerome Kerviel against his 2010 sentence for causing losses of 5bln euros.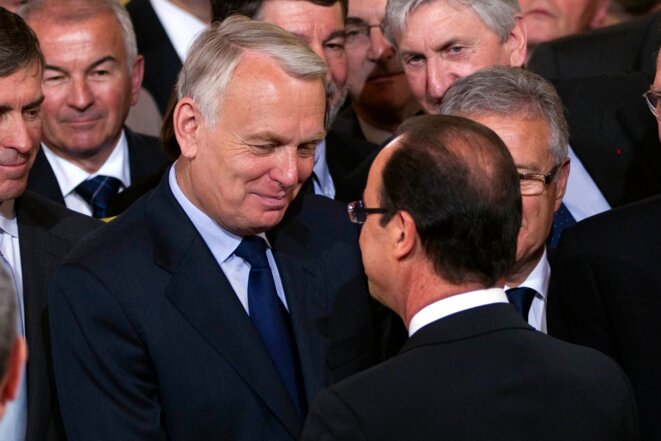 Jean-Marc Ayrault, mardi 15 mai, quelques heures avant sa nomination à Matignon © Reuters
French President François Hollande pledged during his election campaign to clean up French political governance, blighted by years of recurrent scandals and conflicts of interest. Among the promises he made was that anyone who had been convicted of crimes would be excluded from government. Yet Hollande's first act after he was sworn in was to appoint Jean-Marc Ayrault as his prime minister who, when mayor of Nantes in 1997, received a suspended prison sentence for favouritism in the allocation of a city hall contract, described by a court of audit as "a serious infringement of the rules governing public contracts". While Ayrault insists that "my personal integrity was never in question", his lawyers argue that he has been legally rehabilitated and have threatened to sue those who engage in "character defamation" by publicly raising the affair. Mathilde Mathieu and Michel Deléan report.