French ecology minister Nicolas Hulot has presented a draft bill of law to end France's relatively small fossil fuel production by 2040, as part of President Emmanuel Macron's broader plan to take the lead against climate change, after US counterpart Donald Trump ditched the landmark Paris COP 21 agreement to fight global warming.
US President Donald Trump, speaking at a joint press conference with his French counterpart Emmanuel Macron during a two-day visit to Paris, told reporters that 'something could happen' with regard to his decision to withdraw US compliance with the 2015 UN COP 21 agreement in Paris to combat climate change.
Despite the statements of support for the Paris accord on combating climate change by US cities, states and other groups since President Donald Trump's withdrawal from the agreement concluded in December 2015, they could encounter difficulties in implementing the accord on a sub-national basis.
World leaders meeting at the G7 summit in Sicily have been unable to reach unanimous agreement on commitment to the UN climate change deal mapped out in Paris in 2015 after US President Donald Trump, who has previously described global warming as 'a hoax', said he would decide on the issue next week.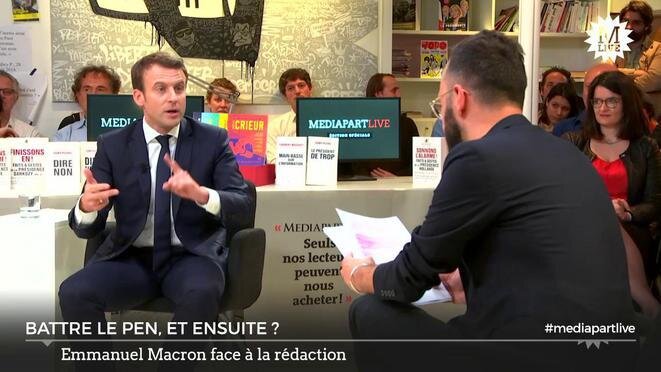 © Mediapart
Emmanuel Macron, who was elected as France's new president on Sunday, gave his last interview before his landslide victory to Mediapart, in which he detailed the measures and policies he would adopt over his five-year term of office. During the two-hour interview on Friday evening, he detailed his approach to a number of foreign policy issues - which were little mentioned during his campaign - including French military intervention abroad, his views on Donald Trump and Vladimir Putin, the Israeli-Palestinian conflict, the Greek debt crisis, and US reluctance to implement the Paris COP 21 measures to combat climate change.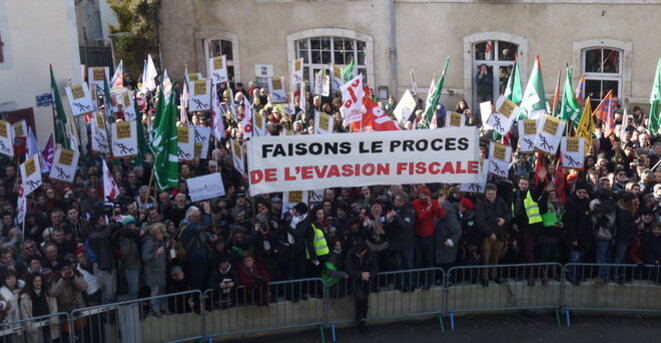 Protesters in Dax, south-west France, turned the trial into an attack on tax evasion.
An activist has gone on trial in a town in south-west France for having "requisitioned" some chairs from a bank. Jon Palais and others took the chairs as part of a wider protest against tax evasion and the use of tax havens which costs France billions of euros a year. The bank in question, BNP Paribas, took exception to the protest and made a formal complaint over their "stolen" chairs. But as Dan Israel reports, the legal complaint backfired as Palais and his supporters turned the trial into a media event in which the bank's own actions were held up to scrutiny.
French President François Hollande who, with UN Secretary-General Ban Ki-moon, was attending a meeting of almost 200 nations in Morocco on ways to slow global warming, said US 'must respect the commitments it has undertaken' with last year's UN pact to combat climate change, which president-elect Donald Trump has called into question.
So far 17 states, mainly small island and low-lying coastal countries, have ratified the deal reached at the UN climate conference in Paris last December.
The complexity of the deal mapped out at the COP 21 negotiations that ended in Paris at the weekend are simplified in this BBC presentation.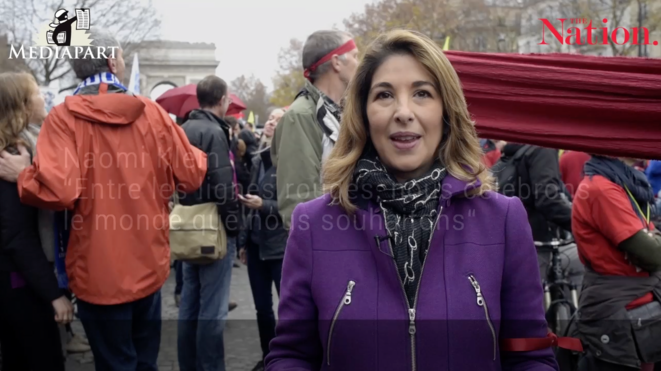 Vidéo dans l'article
Naomi Klein is a Canadian social activist and author and a director of climate activist group 350.org, whose 2014 book This Changes Everything: Capitalism vs the Climate became her third major international bestseller. Klein has been in Paris throughout the two-week United Nations climate conference COP 21 which began on November 30th, and kept a regular video blog in English published on Mediapart, a project in partnership with US weekly magazine The Nation. In her final contribution (all six blogs are on this same page), she comments on the end of the summit on Saturday, "a mixed day" and an agreement Klein says "does not leave us safe".
The deal is the first ever to commit all countries to cut carbon emissions, in a bid to limit the rise in global temperatures to less than 2°C by 2050.
Council of state ruled appropriate the arbitrary house-arrest of seven environmentalists during Paris climate summit, as allowed by state of emergency.
The 29-page re-worked draft published by French presidency of COP 21 negotiations identifies options for deal, but observers fear 'fireworks'.
The 195 national delegates at the COP 21 negotiations worked overnight night to meet deadline for a text to be debated by ministers on Monday.