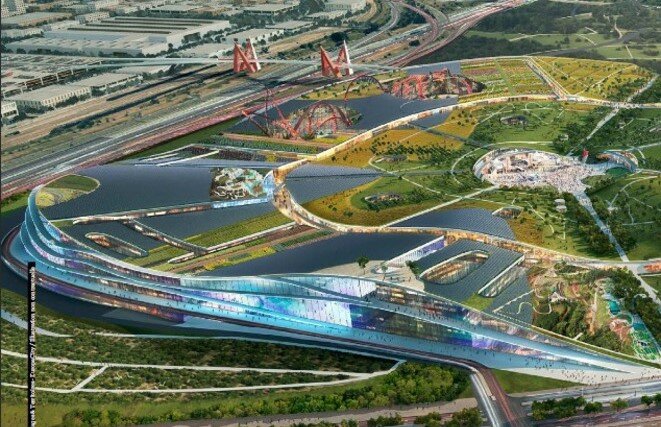 Vision of the future: how the planned EuropaCity will look.
It is one of the largest development projects in the Paris region. The Auchan supermarket chain wants to build a vast shopping complex on farmland near Charles-De-Gaulle airport that will contain not just shops but a leisure park, a ski slope and cultural centres. Its supporters say EuropaCity will bring thousands of job to a poor, deprived area and serve as a blueprint for commerce and society in the 21st century. Opponents doubt the number of jobs it will create, say it will harm the environment, and argue that it is at odds with the commitments made by France and other nations at the COP21 climate summit held in Paris in December. Urban utopia or environmental nightmare? Jade Lindgaard reports.
French president said at Paris climate summit they are 'two big global challenges we have to face up to' and that: 'World peace is at stake in the talks'.
Negotiators have vowed to forge ambitious climate deal to honour the 130 people killed in the November 13 attacks that shook French capital.
Environmental activists from all over the world joined hands in a line across Paris in defiance of a ban on a climate demonstration ahead of COP21.
The United Nations international climate summit, COP21, opened at Le Bourget close to Paris on November 30th in unusual circumstances. The host country France is under a state of emergency as it welcomes leaders, negotiators and activists from around the world. As Mediapart's environment correspondent Jade Lindgaard reports, a deal at the summit appears to be within reach, but doubts and questions remain about the real direction of the negotiations.
Arrests followed a peaceful protest in which 10,000 people formed 3km human chain along the route of a cancelled march against climate change.
Paris agrees new global climate accord will not be called a 'treaty' and might not contain legally-binding emissions reduction targets.
French authorities accused of abusing post-terror attack state of emergency to curtail protests ahead of Monday's climate conference in Paris.
French scientists played a key role in discovering radioactivity and atomic energy is broadly accepted by all major political parties except the greens.
Police and soldiers will patrol the site of the conference at Le Bourget and private vehicles will be banned from some Paris roads.
Following the recent terror attacks, public demonstrations have been banned in Paris. This includes the huge march for the climate planned for Sunday November 29th, on the eve of the opening of the COP 21 climate change conference in the French capital. Some groups have described the ban as an attack on civil liberties. Meanwhile the march organisers, the Coalition Climat 21, have vowed that some form of public demonstration – within the law – will still take place. Jade Lindgaard reports.
French president and FM give stern rebuke to comments by US Secretary of State that the upcoming conference's decisions would not be binding.
'Life on our planet is at stake' warned French foreign minister, pushing to limit global warming to 2°C over pre-Industrial Revolution levels.