Related keywords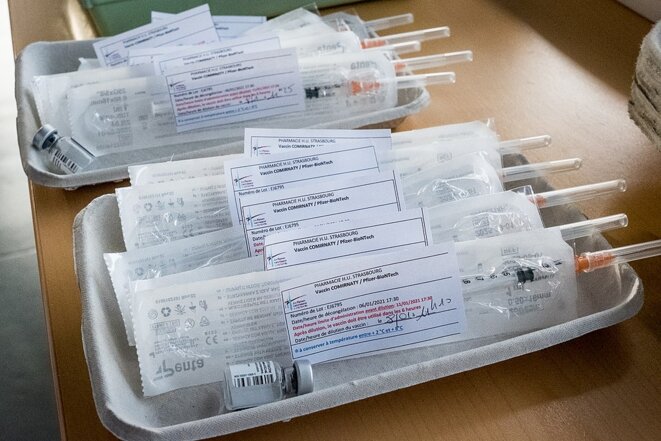 Syringes for the Pfizer-BioNTech Covid-19 vaccine are readied for the first phase of vaccinations at a teaching hospital in Strasbourg, north-east France, January 8th. © Claude Truong-Ngoc / Wikimedia Commons / cc-by-sa-4.0
The messenger RNA (mRNA) vaccines against Covid-19 infection are apparently highly effective, but they are also in too short supply to meet current demand. In France, doctors have found that vials of the mRNA vaccines from Pfizer and Moderna contain more than the indicated number of doses. By collecting the dregs of the bottles, there is the potential of producing millions more doses from existing supplies. But the French health authorities are refusing to authorise the practice. Joseph Confavreux and Caroline Coq-Chodorge report.
France's health authorities reported 21,063 new confirmed Covid-19 cases on Thursday, down from Wednesday's 25,387 figure and last Thursday's total of 23,448, while the number of recorded deaths from the disease rose to 80,803.
Sister Andrée, who turns 117 on Thursday and who is believed to be the oldest living person in Europe, was infected with the coronavirus in January but developed no illness and has told French media that she had not been scared by the experience.
A senior French epidemiologist and advisor to the French government on management of the Covid-19 pandemic has warned President Emmanuel Macron against further delaying a third public lockdown as the highly transmissible coronavirus variant first recorded in the UK threatens an 'exponential' rise in Covid-19 cases. 
As of Sunday, people arriving in France from EU countries must produce a negative coronavirus PCR test obtained in the previous 72 hours, a measure already imposed on non-EU arrivals, while a growing number of experts advise that the high new rates of Covid-19 infections, hospitalisations and deaths registered in the country require a third lockdown on public movement.
Confirmed cases of coronavirus infection in France rose by 23,292 on Friday to total 3.01 million, while hospitalisations for Covid-19 also rose to 25,908, the highest in about six weeks, and intensive care patients increased, to 2,912.
French President Emmanuel Macron has announced moves to help higher education students cope with the social and financial disruption of their lives by lockdowns and curfews amid the coronavirus epidemic, promising the provision of one-euro meals for all and subsidies for psychological counselling in recognition of serious income and mental health problems caused for many isolated students.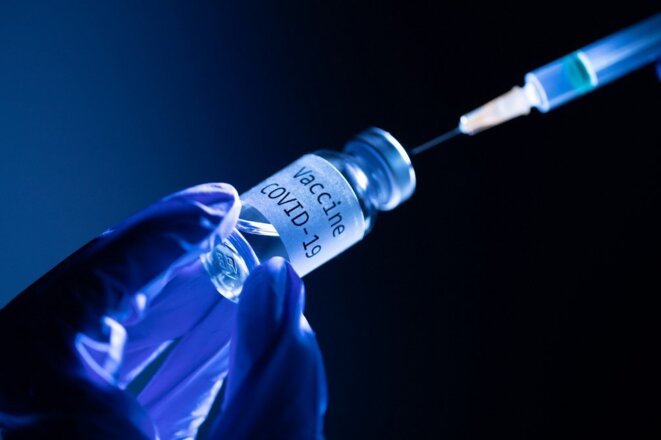 Covid-19 vaccines are competing in Europe in a multi-billion euro market. © AFP
The so-called "big pharma" groups are engaged in fierce competition to produce efficacious Covid-19 vaccines. While Pfizer-BioNTech and Moderna have gained widespread approval for their vaccines, that of France's flagship pharma group Sanofi, developed in partnership with UK drugs firm GSK, is seriously delayed after disappointing clinical tests. Some argue that Sanofi should serve the public interest and turn to producing the approved vaccines of its rivals, supplies of which are disrupted. But, as Rozenn Le Saint reports, the stakes are high and defeat would be costly in more ways than one.
A 12-hour curfew beginning at 6pm that was recently introduced in regions of eastern France where the return of the coronavirus epidemic took a significant hold has now been extended to all of France, beginning on Saturday and for a renewable two weeks, while visitors to the country from outside the EU face new restrictions including a seven-day isolation period even if they recently tested negative for the virus.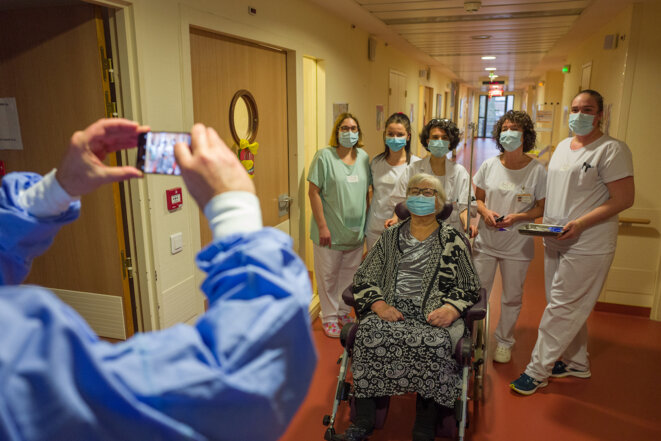 Régine, 71, became the first resident at the Garonne hospital in Toulouse to receive a Covid-19 vaccination, January 5th. © Frédéric Scheiber / Hans Lucas via AFP
The French government has announced a target of administering one million jabs of the Covid-19 vaccine by the end of January. Priority for the voluntary jab has been given to the elderly and healthcare workers, but it appears that a significant number of staff in the country's carehomes are refusing to be vaccinated over fears they have of potential side effects. Cécile Andrzejewski has been speaking to carehome workers across France about their scepticism, which they say is based on past incoherencies and U-turns in government policy to the coronavirus epidemic.   
France is 'wearing Europe's dunce cap,' MPs have warned, while doctors have spoken of 'excessive precautions' in vaccination campaign.
A French man resident in Britain and who arrived this month in the town of Tours, west-central France, has been tested positive for the new variant of the coronavirus which is suspected of being particularly contagious, although it is still unkown if it causes more severe forms of Covid-19.
An anti Covid-19 vaccine developed by US pharma firm Pfizer and Germany's BioNTech has been approved for use in France by the country's top health authority, the Haute Autorité de la santé (HAS), with vaccinations due to start on a voluntazry basis on Sunday, with a priority given for those most at risk.
France has reopened its borders with the Britain – which were closed at the weekend due to fears over the spread of infections by a new coronavirus strain identified in England – on condition that travellers carry proof of testing negative for the virus, but the huge backlog of trucks that have been piling up around the normally busy port of Dover is expected to take days to clear.