Related keywords
The Mediterranean island of Corsica and the south of mainland France have been swept by strong winds and rain causing severe flooding and power outages, closing down roads and an airport.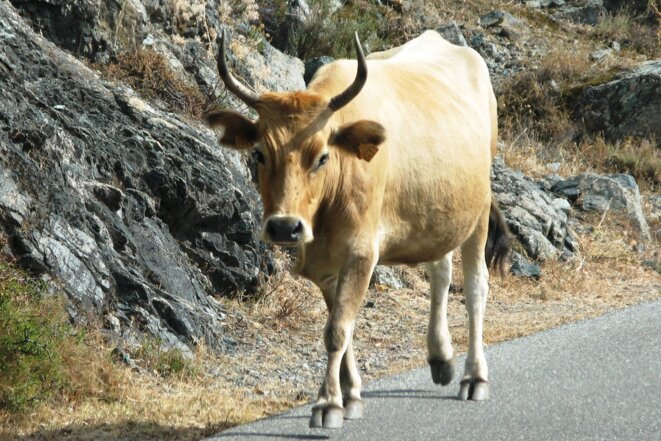 Cash cow: the Corsicana cattle breed native to Corsica. © Wikipédia
The French Mediterranean island of Corsica is the focus of a series of investigations into the suspected mass fraud of European Union agricultural subsidies. One of the alleged methods of the fraud is the fictitious declaration of swathes of scrubland as pasture land for cattle farmers. The sums involved are vast, and those suspected of the scam include some closely related to the island's notorious and feared underworld gangs. Hélène Constanty reports.
Officials said lone gunman shot several passers-by in the Lupino neighbourhood of Bastia, on the north coast of Corsica.
Seven tourists were canyoning when a wave about 3m high hit them - the guide was among those killed, while two in the group were rescued.
President's two-day visit is being closely watched on mainland, amid fears that giving island too much autonomy could fuel a breakaway bid.
Political strength of nationalists means question of island's status may have to be finally addressed by Paris.
Protest organisers said up to 25,000 people attended the demonstration in the island's capital Ajaccio ahead of Tuesday's presidential visit. 
Elections to decide the makeup of a new regional assembly on the French Mediterranean island of Corsica have resulted in a resounding win for an alliance of nationalists who want greater powers of autonomy and the introduction of preferential treatment for locals, such as in access to housing. 
Group led by autonomist leader Gilles Simeoni won 45.36% of the votes for newly-created, more powerful local assembly on French island.
Forest fires which have already destroyed 2,000 hectares on the French Mediterranean island since Friday were still burning on Sunday.
Authorities in the Côte d'Azur region moved people out of tents, campsites and holiday homes around the hilltop town of Bormes-les-Mimosas.
It has requested two additional Canadair water bombers to add to the 19 aircraft currently battling the flames.
Hundreds of homes were evacuated as a precaution as the island of Corsica, the town of Carros near Nice and Saint-Tropez were badly hit.
Fans from Corsican side Bastia twice invaded the pitch during the League 1 match against Lyon, when a steward was suspected of joining a group who attacked the visiting players, forcing the match to be delayed and finally abandoned.