Bruno Garcia-Cruciani's murder of Julie Douib in Corsica became a rallying call against domestic killings.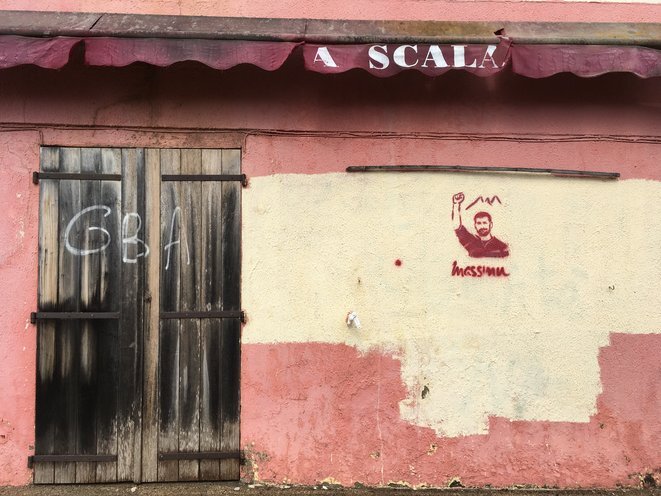 A tag in Cargèse in memory of Massimu Susini, shot dead in 2019. © HC
The French Mediterranean island of Corsica, known as "the island of beauty" for its stunning scenery, coastlines and wildlife, is also known for its clans and underworld gangs, and a murder rate well above the average in mainland France. Hélène Constanty reports from the Corsican village of Cargèse, where a string of killings has raised fears of a spiralling blood feud, and where a local collective is standing up to organised crime.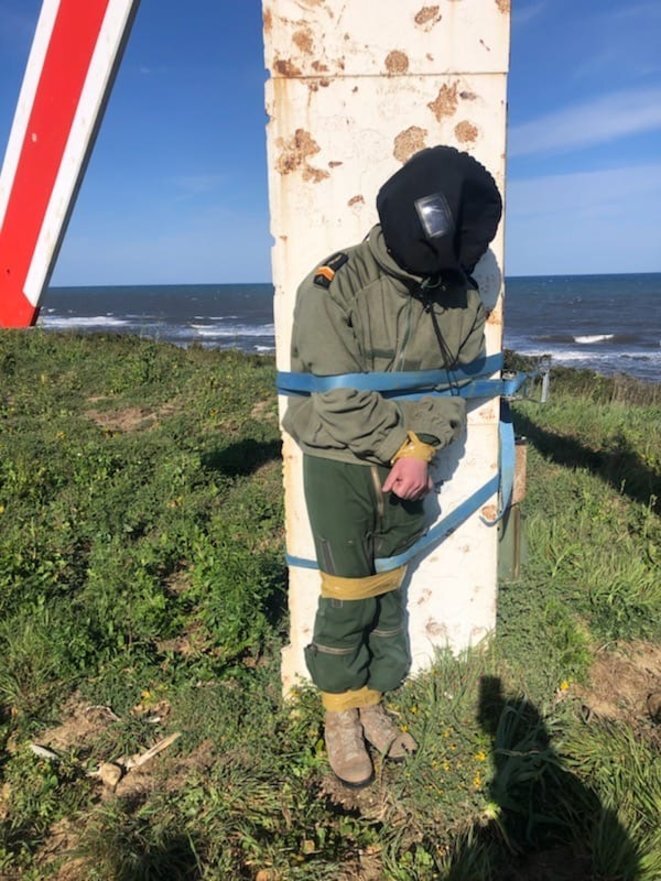 Ordeal: pilot 'A.C.' tied to fighter jet target in Corsica. © DR
A young French air force pilot who, in a cruel initiation prank by otherairmen, was hooded, trussed, and tied to a post used for target practice by fighter jets, has filed a formal complaint with the public prosecution services for "aggravated violence" and "deliberately endangering the life of others". Mediapart reveals here photos and video of the disturbing events at an airbase in Corsica which, as Justine Brabant reports, further tarnish the image of the air force after prosecutors in February opened an investigation into allegations of "institutionalised" harassment at a major base in eastern France.
The new app will be tested on flights to Corsica this week.
A helicopter carrier has been sent to the French Mediterranean island of Corsica to evacuate people seriously ill from with infection from the Covis-19 coronavirus, who will be taken to hospitals in the southern mainland cities of in Marseille and Toulon.
The Mediterranean island of Corsica and the south of mainland France have been swept by strong winds and rain causing severe flooding and power outages, closing down roads and an airport.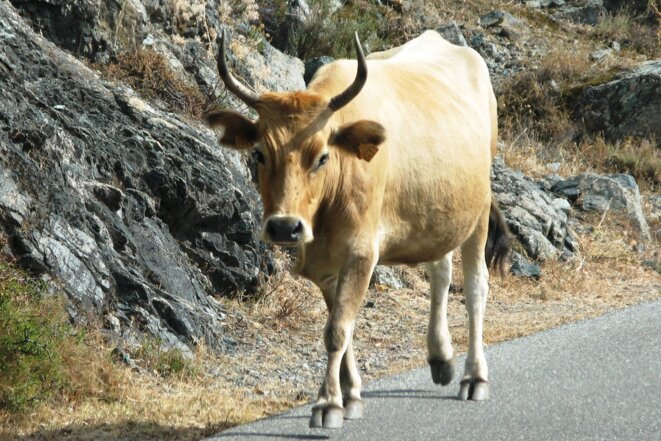 Cash cow: the Corsicana cattle breed native to Corsica. © Wikipédia
The French Mediterranean island of Corsica is the focus of a series of investigations into the suspected mass fraud of European Union agricultural subsidies. One of the alleged methods of the fraud is the fictitious declaration of swathes of scrubland as pasture land for cattle farmers. The sums involved are vast, and those suspected of the scam include some closely related to the island's notorious and feared underworld gangs. Hélène Constanty reports.
Officials said lone gunman shot several passers-by in the Lupino neighbourhood of Bastia, on the north coast of Corsica.
Seven tourists were canyoning when a wave about 3m high hit them - the guide was among those killed, while two in the group were rescued.
President's two-day visit is being closely watched on mainland, amid fears that giving island too much autonomy could fuel a breakaway bid.
Political strength of nationalists means question of island's status may have to be finally addressed by Paris.
Protest organisers said up to 25,000 people attended the demonstration in the island's capital Ajaccio ahead of Tuesday's presidential visit. 
Elections to decide the makeup of a new regional assembly on the French Mediterranean island of Corsica have resulted in a resounding win for an alliance of nationalists who want greater powers of autonomy and the introduction of preferential treatment for locals, such as in access to housing. 
Group led by autonomist leader Gilles Simeoni won 45.36% of the votes for newly-created, more powerful local assembly on French island.