Keyword: Cour de cassation
Related keywords
Uber has long argued that it merely a platform linking self-employed drivers with riders, a model which allows it to avoid paying certain taxes and social charges as well as provide paid vacations.
Verdict by the French Cour de Cassation means prosecutors will now decide whether ex-president faces court over massive campaign overspend.
Top court rules doctors can stop feeding Vincent Lambert who has been in a persistent vegetative state since a road accident nearly 11 years ago.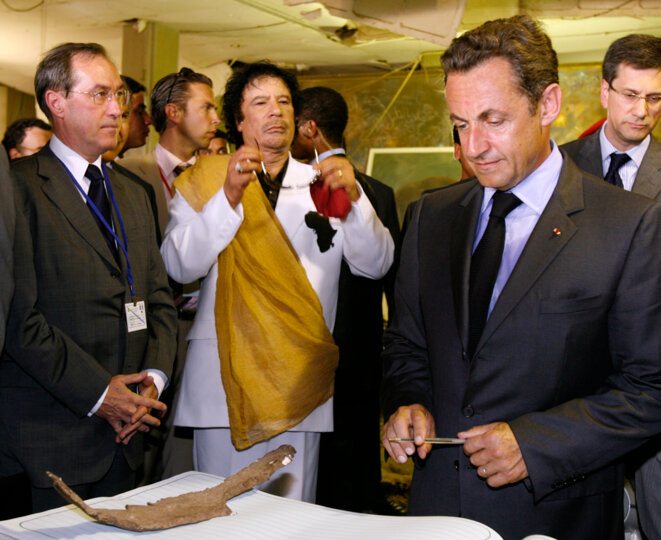 Left to right: the French president's chief aide Claude Guéant, Muammar Gaddafi and Nicolas Sarkozy inTripoli in 2007. © Reuters
France's highest appeal court, the Cour de Cassation, has rejected an appeal by former president Nicolas Sarkozy in a case against Mediapart relating to the authenticity of a key document showing he was promised Libyan funding for his 2007 election campaign. The judgement, published on Wednesday January 30th, means that the former president can no longer evade the election funding scandal revealed by this site, says Mediapart's publishing editor Edwy Plenel.
Barely a week after Nicolas Sarkozy was placed under formal investigation over Libyan funding of his 2007 presidential campaign, the former president has been hit by a new legal blow. Judges have ruled he must stand trial on corruption and influence peddling charges over claims that he tried to get a senior judge to leak him crucial information about the progress of a case involving him. In return the ex-head of state is said to have promised to help get the judge a plum post in Monaco. Mediapart's legal affairs correspondent Michel Deléan explains the background.
Last week the French authorities banned a planned march in Paris by trade unions opposed to labour law reforms, before eventually backing down partially and allowing a more limited demonstration. Here Mediapart's editor-in-chief Edwy Plenel argues that demonstrating is a constitutional right and that, by banning the march that the trade unions wanted, the government violated the fundamental law that guarantees all our freedoms. It is, he writes, our duty to resist this unlawful act in order to defend our common ideal: democracy.
The French state is currently appealing to the highest court in the country after five identity checks carried out by police were judged discriminatory because they were based on people's appearance. Mediapart has now seen the legal arguments made by state lawyers who argue that in some circumstances it can be justifiable for police to target black and North Africans for such searches. Thus despite domestic and international jurisprudence, writes Michaël Hajdenberg, the French state appears to be condoning the practice of racial profiling.
France's highest court the Cour de Cassation has upheld the ruling that censored Mediapart's coverage of the Bettencourt affair. The decision confirms that more than 70 articles detailing the secret recordings made by the Bettencourt family's butler must remain suppressed, even though the revelation of the content of these very recordings has led to a string of scandals and high-profile judicial investigations. Editor François Bonnet says that faced with this anti-freedom stance by the top French courts, who have given the right to privacy complete precedence over the public's right to know, Mediapart has no choice but to appeal to Europe.
Former president appeals to Court of Cassation over investigation into allegations that he took advantage of mental frailty of L'Oréal heiress.