Keyword: Cour de justice de la République
Related keywords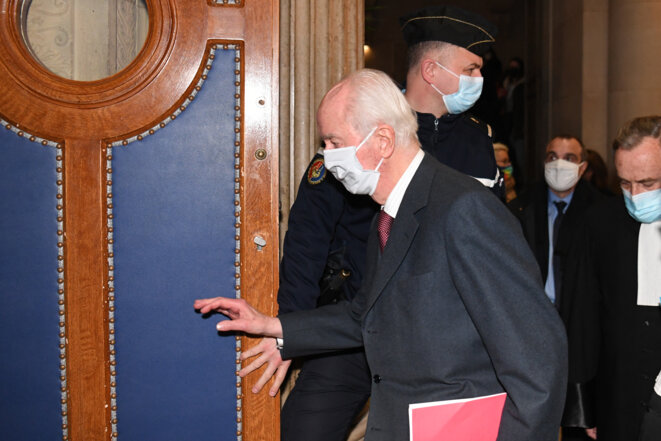 Former PM Édouard Balladur arriving at the CJR on January 19th 2021. © Alain JOCARD / AFP
On Thursday March 4th 2021 the Cour de Justice de la République (CJR) – which tries cases of alleged ministerial misconduct – cleared former French prime minister Édouard Balladur of any wrongdoing in the long-running Karachi affair. At the same time it found Balladur's former defence minister François Léotard guilty of complicity in the misuse of assets and handed him a two-year suspended prison sentence. The verdicts were much more lenient than those for ministerial aides in the earlier criminal trial involving the same affair. Karl Laske wonders how long the hybrid CJR court, most of whose 'judges' are politicians, can survive.
A former top French civil servant told the judges in the trial of IMF boss Christine Lagarde how he had tried to meet the then-economy minister to stop her from agreeing to an arbitration process that eventually cost French taxpayers 403 million euros. Ex-Treasury official Bruno Bézard said not only was holding the arbitration in the first place a blunder, it had been a mistake not to have appealed against its 2008 ruling in favour of tycoon Bernard Tapie. Mediapart's legal affairs correspondent Michel Deléan says it was a tough day in court for Lagarde, who denies negligence in signing off on the arbitration process while a member of President Nicolas Sarkozy's government.
The managing director of the International Monetary Fund, Christine Lagarde, has appeared before a special court in Paris charged with negligence over her handling of a controversial arbitration process that paid out millions of euros of French taxpayers' money. Addressing a court reserved for government ministers, the former French economy minister denied wrongdoing but suggested she herself may have been "exploited" by others in relation to the 403 million euro award made to French tycoon Bernard Tapie in 2008. Mediapart's legal affairs correspondent Michel Deléan reports.
Former French finance minister accused of negligence over her role in setting up arbitration panel that awarded €404m to tycoon Bernard Tapie.
The International Monetary Fund managing director is to be tried by a special court on Monday charged with negligence when she was French finance minister for allowing a payout of more than 400 million euros from public funds to tycoon Bernard Tapie, a decision since quashed.
Ex-premier and his former defence minister face investigation over claims that arms sale commissions were used to fund 1995 presidential campaign.