Case was brought by 2,700 women who said they suffered long-term physical and mental health problems after receiving the implants filled with cheap, industrial-grade silicone not cleared for human use.
A legal case brought by a 79-year-old French-Vietnamese woman against US firms that manufactured the highly toxic herbicidal cocktail known as Agent Orange, massively employed by US forces during the Vietnam War, causing deaths, diseases and malformations of those exposed to the chemical, has been dismissed by a French court on the grounds that the companies were acting 'on the orders' of the US government, which was engaged in a 'sovereign act'.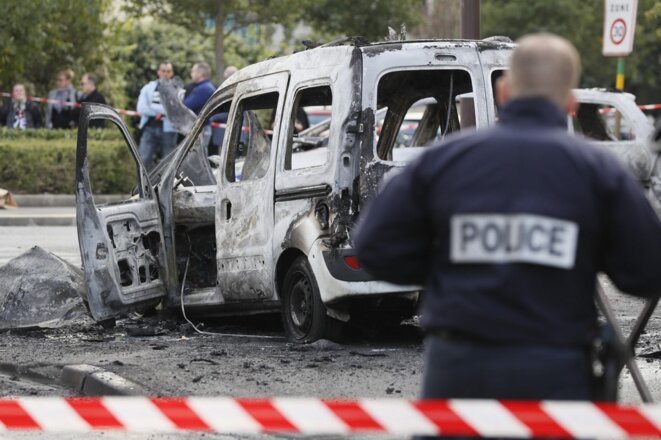 À Viry-Châtillon, le 8 octobre 2016. © Thomas Samson / AFP
On April 18th 2021 five youths were found guilty on appeal of an attack in 2016 in which two police officers were set ablaze when their patrol car was pelted with petrol bombs in a Paris suburb. The five were given jail terms of between six and 18 years. Eight other youths were acquitted. The appeal verdicts, which were more lenient than the original trial in 2019, caused outrage among some politicians and led to a protest march by angry police officers. But Mediapart can reveal that the real scandal was the way in which police detectives ran the initial investigation into the brutal attack in Viry-Châtillon. Officers truncated or cut out entire sections of what suspects said in custody. They also put pressure on them to implicate other youths from the area. Lawyers for some of those involved have described it as a "legal scandal" and formal complaints have now been made to prosecutors about the conduct of the detectives. Pascale Pascariello reports.
French journalist Sandra Muller, who coined the viral hashtag #balancetonporc ("expose your pig"),  had been sued by the man she accused of sexual harassment.
A court has found French drugmaker Servier guilty of "involuntary manslaughter" over a weight loss pill that has been blamed for hundreds of deaths.
Court ruled that noise from around 60 ducks and geese kept by retired farmer Dominique Douthe was within acceptable limits.
At the end of a legal case brought by tech giant Apple against alter-globalisation organisation ATTAC, in which the tech giant sought a three-year ban on activists demonstrating in and outside its stores in France to highlight the firm's tax-avoidance schemes, a Paris court has ruled in favour of ATTAC, describing its campaign as being in the "general interest". Martine Orange reports.
Magistrates presiding the trial of a 29-year-old man on charges of 'sexual abuse' for having sex with an 11-year-old girl he said consented to their relationship have halted the hearings and adsvised that the case should be reconsidered as rape becauss of the girl's age and the circumstances of the events.
Following the death of the suspect who was due to stand trial this month for the fatal shootings of three women in the Paris Kurdish Information Centre four years ago, all court proceedings have now been closed.
The father was given 30 years in jail for placing the boy in the machine and switching it on, the mother 12 years for aiding and abetting murder.
A French court has ordered  national rail company SNCF to pay 1,500 euros in compensation to a commuter who lost her job because of delays.
A French man sues Google over a photo on its Street View application showing him urinating in his front yard, making him the village laughing stock.