Related keywords
Judge has ruled there is no legal basis for expelling 72 people running makeshift stores and cafés at the camp in Calais.
Judges overturned 2015 ruling that intersex plaintiff designated male at birth could use the term 'neutral gender' on official French documents.
After court ruling, officials go from tent to tent trying to convince residents in the so-called 'Jungle' to leave.
French legal press association says that it will ask court to strike down the sweeping powers the law gives to intelligence agencies.
The president of the Front National faces charges of inciting racial hatred after comparing Muslim street prayers to the Nazi Occupation.
Judges ruled that, though cockfighting is legal in some areas, it cannot be treated in same way as bullfighting which is allowed new arenas.
Choice of name has sparked furious criticism from French Left who accuse ex-president of staging a hostile takeover of national heritage.
Only three of 55 defendants turned up in court to face trial over the March 18th protest at Fessenheim power plant in east France.
The arrest and conviction of protesters following pro-Palestinian and pro-Gaza demonstrations in Paris have led to accusations of judicial double standards. Critics claim that young non-white Muslims have been singled out for punishment by the police and courts. Here Mediapart highlights the case of a young man called Mohamed who was convicted after intervening when his younger brother was stopped by police officers following a pro-Gaza protest on July 13th. Though his sentence was reduced on appeal, Mohamed still insists he did nothing wrong and says he was only arrested because he is a Muslim who supports the Palestinian cause. Thomas Saint-Cricq reports.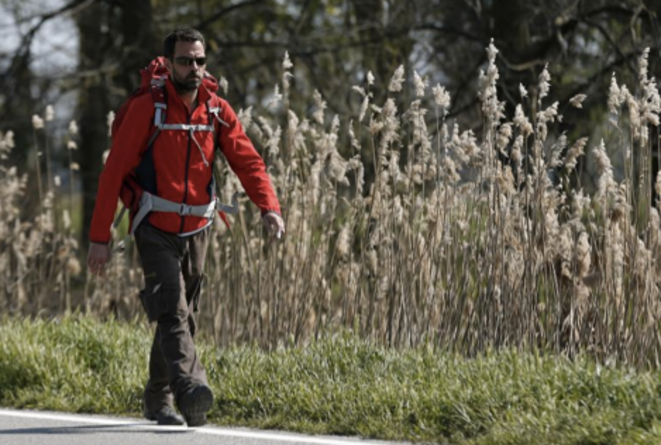 © Reuters
In a dramatic move, the convicted trader Jérôme Kerviel has called on President François Hollande to offer immunity for key witnesses. These witnesses, he says, would throw a very different light on his conviction in 2010 as a "rogue trader" who lost his bank Société Générale almost 5 billion euros. Returning from a long walk to Rome, Kerviel initially said he would not set foot on French soil to start his three-year prison sentence until the president gave his response, but later crossed the border. Here Mediapart's Martine Orange makes an impassioned plea in defence of Kerviel, whom she argues has been deprived of the right of a fair and just trial to which everyone is entitled. For six years, she says, he has come up against a justice system that was blind and deaf to its own considerable shortcomings in the affair.
After ban on shows, interior minister says law 'must be able to act' against the online publication of what he calls 'racist and anti-Semitic speech'.
Piggery owners told to compensate former worker who became deaf partly as result of the incessant squeals of the animals he looked after.
Court in Avignon clears mother who sent her 3-year-old son to school in a tee-shirt reading "I am a bomb" and "Jihad, Born on September 11".
French finance ministers seek to revive controversial supertax on the wealthy after a proposed 75 percent levy on millionaires was shot down.