Related keywords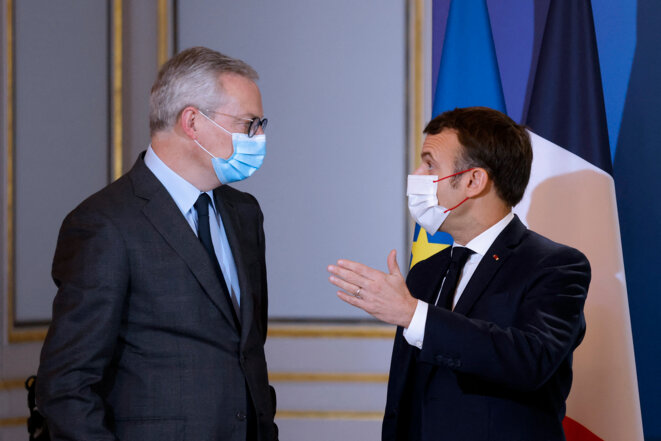 Lost gamble? Economy minister Bruno Le Maire and President Emmanuel Macron. © Yoan VALAT / POOL / AFP
President Emmanuel Macron is said to have taken a "gamble" over health restrictions by not locking down France for the third time when the number of Covid-19 cases started rising once more in January. But the head of state has also gambled on the economy too. The French government thought that it could moderate the impact of the epidemic on economic activity through more limited but longer term restrictions. But as Romaric Godin reports, the French "economic resistance" proclaimed by the government could well turn out to be a painful illusion for the country and its public.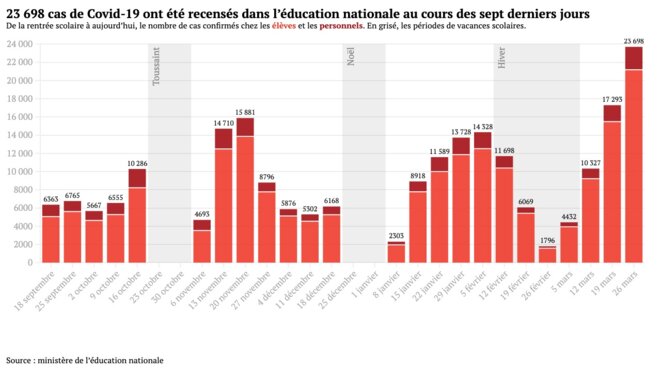 The number of Covid cases found in French schools, week by week.
There has been exponential growth in the number of Covid-19 cases in French schools, both among pupils and staff, and some teaching personnel have become seriously ill as a result. Though the education minister has just announced a further toughening of the health protocols to tackle the virus in schools, some teachers fear the ministry is still "in denial" over the scale of the problem they are facing. One teaching union is now calling on members to take strike action. Ismaël Bine and Caroline Coq-Chodorge report.
Health minister Olivier Véran also added three more départements, including the area around Lyon, to 16 already placed under tougher mobility restrictions.
Roselyne Bachelot, 74, announced last weekend that she tested positive and her hospitalization was made public on Wednesday.
There has been widespread condemnation by the French government, medical professionals and local politicians after more than 6,000 mostly young people, many unmasked, flouted lockdown measures in Marseille to join an illegal carnival through the streets of the southern port city.
French Prime Minister Jean Castex on Thursday evening annnounced an initial one-month lockdown on public movement in Paris and 15 other regions as of midnight Friday to stem a resurgence of the Covid-19 epidemic that is already challenging hospital capacity.
Amid calls by several particpants for France's locked-down cinemas and theatres to reopen, French actress Corinne Masiero stripped naked on stage at France's yearly César film awards ceremony with a message of protest for French PM Jean Casteix on her bared back which read 'Give us back art, Jean', phonetically also meaning 'Give us our money back'.
A longterm health study of more than 200,000 people in France has found the presence of antibodies to the coronavirus behind Covid-19 in blood samples dating from early November 2019.
Overwhelmed hospitals in north-east France have begun sending Covid-19 patients to hospitals in nearby Belgium to free up intensive care unit beds.
France will from Friday no longer require people travelling to or from Australia, Britain, Israel, Japan, New Zealand, Singapore and South Korea to justify 'compelling' reasons for their journey, although other restrictions will remain in place, such as the requirement to show a negative Covid-19 test taken less than 72 hours before travel.
In a charity-run scheme, language students from around the world who are unable to study in France because of the coronavirus pandemic link up via the internet to have video chats with elderly French people who, because of the virus threat, are confined to their homes in lonely conditions.
It's the first time the French president has given a hint of a time frame for an easing of restrictions, including the 6pm national curfew.
France's scheduled Six Nations game with Scotland on Sunday has already been postponed and Roxana Maracineanu says the outbreak must be investigated.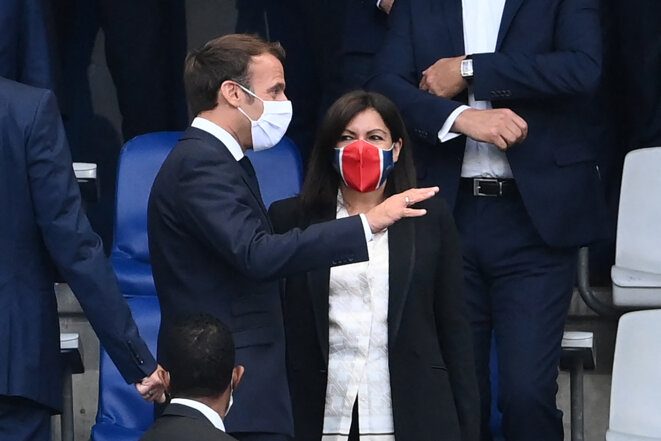 President Emmanuel Macron and Paris mayor Anne Hidalgo on July 24th 2020. © Franck Fife/AFP
The city authorities in Paris, led by mayor Anne Hidalgo, have suggested that the French capital and surrounding region be put under a new lockdown to tackle the worsening Covid-19 virus situation there. This has piled pressure on President Emmanuel Macron who has been described by some as the country's "epidemiologist-in-chief" and who has so far resisted growing calls for a lockdown not just in the capital but across France. As Ellen Salvi reports, the Paris authorities are effectively asking a question that the head of state's supporters are refusing to countenance: what if the French president has got it wrong?