Related keywords
There were growing calls from French medical professionals and politicians on Monday for the re-introduction of a general lockdown of public movement to combat the soaring numbers of Covid-19 infections across the country, now at more than one million, and which has seen a significant rise in people hospitalised with the disease.
French President Emmanuel Macron, visiting a hospital near Paris, said scientists have advised him they believed the novel coronavirus would be present 'at best until next summer",  addinbg it was still too early, despite a surge in infections, to say whether France would go into a new full or partial lockdown.
As the numbers of Covid-19 infections and hospitalisations soar in France, Prime Minister Jean Castex on Thursday announced  9pm-6am curfew measures, aleady in place in Paris and eight other cities to limit public socialising, will now include a vast swathe of the country, representing two thirds of the population.
In their daily briefing on Wednesday, France's health authorities reported 26,676 new Covid-19 infections, bringing the total to more than 950,000, while 700 more people were hospitalised and another 163 died from the disease bringing the total to 34,048.
After being forced to close their establishments during the lockdown, theatre and cinema operators in the Île-de-France region and eight major cities now have to deal with the introduction on Saturday of a curfew from 9 pm, for at least four weeks.
In addition to curfews in the nine Covid-19 hotspots, nighttime festivities have been banned across France.
The searches are part of an investigation into the government response to the global coronavirus pandemic, and included the offices of the current health minister Olivier Veran.
French president Emmanuel Macron has announced a late night curfew for residents in Paris, Marseille and seven other cities: Grenoble, Lille, Lyon, Montpellier, Rouen, Saint-Etienne and Toulouse, covering 19 million people. The government also moved to reinstate its COVID-19 state of health emergency.
Jean Castex's warning came asFrench  health authorities reported about 43,000 new coronavirus infections over the weekend.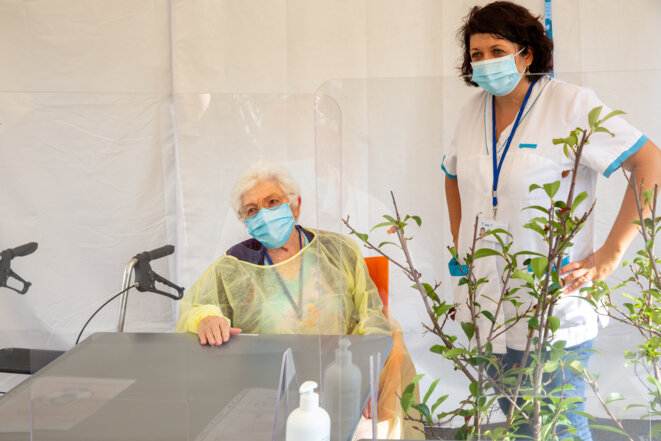 Rules have been put in place to allow visits to take place in care homes, as here in Nice in the south of France. © Hans Lucas via AFP
France's care home sector, which was on the front line of the Covid-19 crisis in the early part of the year, is now bracing itself for the second wave. A number of residential homes are already closed to visitors and in some areas staff have had to stop relatives climbing in through windows to see their loved ones. Amid the fear and anxiety about the rapid return of the Coronavirus, there is also growing bitterness among both care home staff and domestic carers that they have once again been overlooked. Angry representatives point out that their working conditions and pay have not been given the same priority as those of hospital staff. Mathilde Goanec reports.
Montpellier and Toulouse have joined Paris and Marseille and four other cities in the maximum alert status to fight back the coronavirus.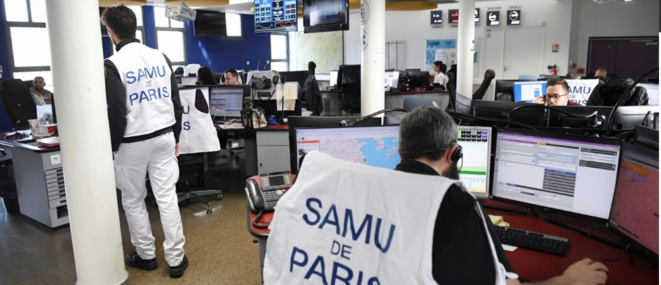 An ambulance call centre in Paris. © AFP
Documents obtained by Mediapart show that during the height of the Covid-19 pandemic earlier this year France's ambulance service SAMU was slow to help some patients in urgent need of treatment because it was deluged with emergency calls. This organisational problem in turn led to reduced survival chances for some patients. Health experts fear that the ambulance service has not learnt the lessons from the springtime Covid crisis and that the same problems could reoccur during a second wave of the epidemic this autumn. Pascale Pascariello reports.
The measures were announced as France saw a near-record 18,129 new cases.
Gyms and swimming pools will also all be closed for two weeks in a bid to curb the spread of the virus, the city's police chief said, but restaurants will remain open if strict hygiene rules are in place.