Related keywords
Figures released by French public health authority Santé Publique France on Friday showed a 54 percent increase in recorded cases of Covid-19 virus infection in mainland France, notably high among younger age groups, and a significant jump in reported clusters nationwide, while infected patients in intensive care in hospital rose by one over the past 24 hours marking the first increase in three months.
Fears of a second wave of the novel coronavirus epidemic in France were further fuelled on Wednesday after the number of confirmed cases rose to 185,196, when the county's health authorities said that, aside from the continuous decline of people in ICU units, indicators showed 'an increase of the viral circulation'.
Health minister Olivier Veran said it was not a second wave but that country had seen a 'noticeable increase' in the number of confirmed cases, which had been in decline for 13 weeks.
A joint investigation by Mediapart and The Guardian has revealed that mask maker Valmy and its parent company Paris-based Segetex are now the subject of a judicial investigation in France over allegedly breaking an official decree by the French state to requisition face masks.
Prime minister Jean Castex said jobs would be the "absolute priority" in the coming months and money will be pumped into creating jobs for young people, among those worst hit by the Covid crisis.
He said a 100-billion-euro economic recovery package, to be rolled out on Friday, will include 40 billion euros in support for domestic industry and services.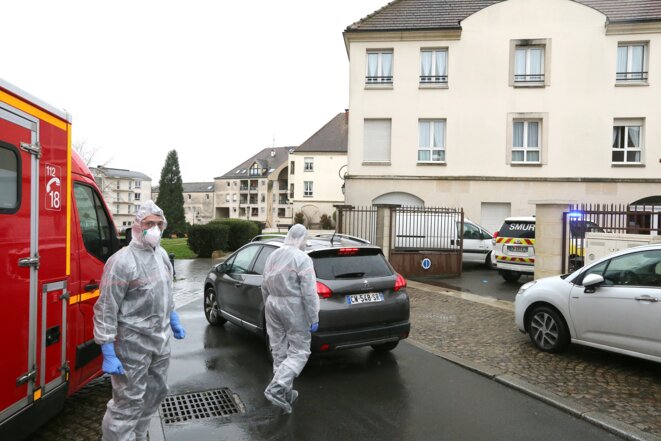 Emergency services attend to a suspected case of Covid-19 infection at a carehome in Crépy-en-Valois on March 2nd. © FRANCOIS NASCIMBENI / AFP
In France, as in other European countries emerging from the worst of the Covid-19 pandemic, the past management of the now subsiding crisis is under scrutiny, and many questions are being asked as to how the terrible toll of the virus might have been lessened by more appropriate action early on. In this report, Caroline Coq-Chodorge and Lise Barnéoud trace the chronology of events, interview those doctors involved on the frontline and reveal confidential documents from the French healthcare administration that show how the spread of the epidemic in France was out of control as of March 1st.
New prime minister Jean Castex said the main focus was on indoor spaces; currently face masks are mandatory on public transport.
A report released last week by France's national statistics institute show that the year-on-year rise in country's mortality rate during the height of the Covid-19 virus epidemic was proportionately more than twice as high among inhabitants born abroad, and notably those from sub-Saharan Africa and also Asia, than for the population born in France. While the data paints an incomplete picture, it convincingly illustrates, as seen in studies in other European countries and in the US, that among populations it has been ethnic minorities which have been the most at risk from the coronavirus.    
Newly appointed French Prime Minister Jean Castex said his government is preparing for a second wave of the Covid-19 epidemic, but ruled out a repeat of the near-total lockdown on public movement which was applied at a national level between March and May, and instead locking down specific areas of any resurgence, because 'the economic and human consequences from a total lockdown are disastrous'. 
The self-financed central-Paris museum dedicated to the works of Auguste Rodin, hit hard by almost four months of closure due to the Covid-19 virus epidemic, is seeking financial relief through an allowance established by the sculptor himself that it may sell up to 12 replicas of select works, cast in bronze, every year.
The French parliament has approved a move to help the press sector amid the economic crisis caused by the Covid-19 virus pandemic, which will see first-time subscribers to news publications offered a tax credit.
France held the first round of voting three months ago as coronavirus took hold - a decision President Emmanuel Macron was widely criticised for.
Since its launch, 68 people have informed the platform they had been infected and only 14 users were alerted that they were now at risk because of their contacts with these people, digital affairs minister Cedric O said.