Keyword: Covid-19 epidemic
Related keywords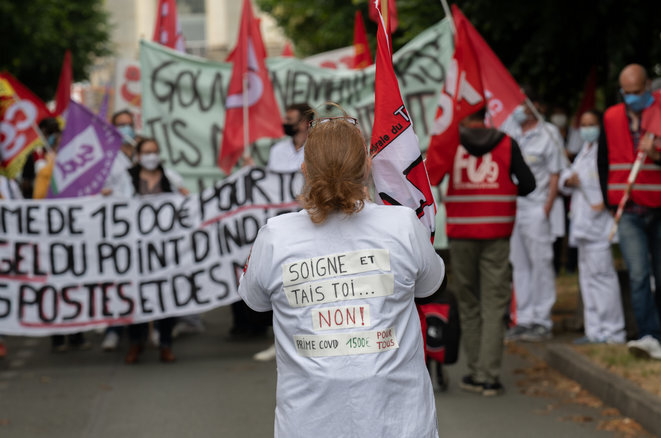 Healthcare workers demonstrate outside a hospital in the town of Angers, north-west France, June 4th 2020. © Hans Lucas/AFP
France's healthcare workers, who received wide public and official praise for their handling of the Covid-19 virus epidemic, are to hold nationwide demonstrations on Tuesday to highlight their longstanding demands over improved pay and conditions and hospital funding, and which had reached a stalemate last year. The street marches on Tuesday represent a show of force during an ongoing consultation process between unions and the government over pay, staffing levels and financing which was launched in May as a result of the health crisis. Meanwhile, non-medical hospital bio-cleaning and catering staff who also played a key role during the epidemic, but who complain of being overlooked, are demanding an end to a system of short-term contracts.
France's information privacy watchdog CNILL has expressed concerns that the Paris metro network has begun using software on CCTV images to monitor the wearing of face masks by passengers, which will be mandatory as France lifts its lockdown measures on Monday, while the private company leading the project insists no personal data is provided to the authorities.   
French President Emmanuel Macron on Wednesday announced an extension of income support for artists and workers in the culture sector who have been badly hit by the almost two-month lockdown on public movement and the future ban on mass gatherings likely to continue well into the summer, while cancelled cinema and TV shoots are to benefit from a compensation fund.
The prestigious Tour de France cycling race, due to be held over three weeks this summer, has been postponed, probably until September, organisers said on Tuesday, following President Emmanuel Macron's announcement on monday that no major public gatherings will be allowed before mid-July.