Related keywords
Three rescue workers died on Sunday night when their helicopter crashed for unknown reasons as they took part in emergency assistance missions over south-east France, where torrential rainfall and flooding caused the deaths by drowning of three other people.
A Belgian air force F-16 fighter jet crashed near Lorient in Brittany, north-west France, on Thursday, tearing the roof of a house and setting fire to a shed, while one of its ejected two-man crew became stuck for two hours when his parachute entangled a high-voltage electricity line.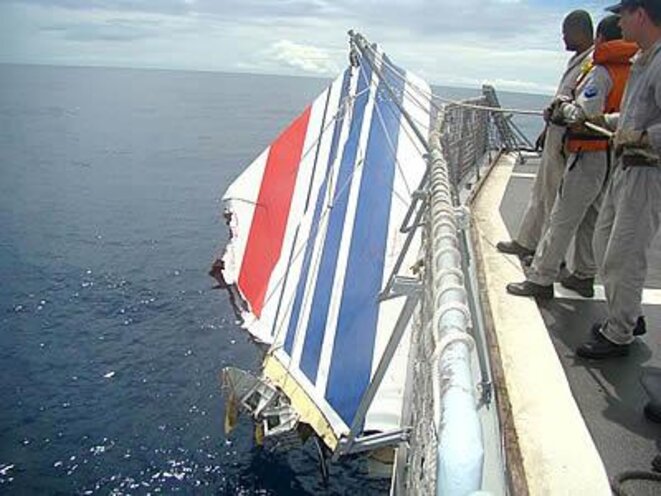 Ten years after the crash over the Atlantic Ocean of Air France flight AF447, in which all 228 passengers and crew aboard the Airbus 330 were killed, the French judicial investigation into the events has finally closed, without charges. The magistrates in charge of the probe have controversially exonerated the airline and Airbus of any responsibility for the disaster, which it instead placed firmly on the flight crew. The September 5th ruling has outraged relatives of the victims, who have accused the investigation of buckling before "the aeronautical lobby", and who have now lodged an appeal to re-open the investigation. Mediapart has obtained access to the case file which, as Yann Philippin reports, contains numerous elements which contradict the magistrates' findings.
French President Emmanuel Macron has leant his support for the release of secret military files concerning the mysterious crash over the Meditarranean Sea in September 1968 of an Air France Caravelle plane as it descended for landing at Nice airport, and which victims' families have long suspected was the result of a missile fired by a French warship during a military exercise.
Decision infuriated victims' groups in France and Brazil who have pushed to bring case to trial, after Rio to Paris crash killed all 228 on board.
The pilot of a water-bombing plane died when his Grumman Tracker aircraft crashed during operations to contain numerous separate forest fires in southern France, some of which are believed to have been started by arsonists.
David Henderson, 64, a private pilot from York, north-east England, has been arrested on suspicion of manslaughter following a four-month investigation into the light aircraft crash over the Channel in which Argentine footballer Emiliano Sala, travelling from France to his new club Cardiff, died and the pilot, hired by Henderson, missing and presumed dead.
The 'black box' flight recorders recovered from the site of the crash of an Ethiopian Airlines Boeing 737 Max 8, in which all 157 passengers and crew were killed, are to be sent to Paris on Thursday for analysis by the French air accident investigation bureau, the BEA, as the US joined a gowing number of countries which have introduced a flight ban on the aircraft.
The pilot of a French military helicopter died, and his co-pilot was seriously injured, when their Gazelle crashed while on a training flight near the Ivory Coast city of Abidjan, the army said in a statement on Wednesday. 
Lawyers representing relatives of some of the 148 victims, including134 French nationals, who perished in January 2004 when a Paris-bound Flash Airlines flight crashed into the Red Sea shortly after takeoff announced that they are to appeal a decision refusing the reopening of an investigation into the disaster which earlier found it was due to pilot error. 
The Antonov turboprop, chartered by the French army as part of its anti-jihadist Opération Barkhane in north-west Africa and carrying ten people, broke up after crashing into the sea near Abidjan airport, leaving four Moldovan nationals dead and injuring six other people, four of them French.
In the first public statement by a member of the family of Germanwings co-pilot Andreas Lubitz, who German prosecutors found solely responsible for crashing his plane in the French Alps killing all 150 people on board in March 2015 because of a depressive condition, caused anger among victms' families by claiming a carbon monoxide leak in the cabin was the cause. 
The train reportedly crashed into a tree that had been left on the tracks following a heavy thunderstorm near Montpellier, leaving 11 people seriously injured.
Two students were in a serious condition and ten others injured when their coach travelling to Italy overturned on a French motorway near the Swiss border.