Related keywords
A group of residents in the French-ruled Indian Ocean archipelago of Mayotte, paralysed by turmoil since mid-February amid protests against dire economic conditions and the mass arrivals of immigrants from the nearby Comoros islands, are reported to be rounding up people they identify as foreigners with no legal status and handing them to police.
Social unrest amid complaints about crime, living costs and poor healthcare has paralysed French Guiana for days, shutting down its international airport and forcing the cancellation of the launch of two Arianespace rockets intended to place in orbit communication satellites.
Up to 600 agricultural workers a year kill themselves in France with low pay resulting from reduced farm prices seen as contributory cause.
As France opens its doors to migrants, the conservative mayor of Roanne in central France, said his town would only accept Christian refugees.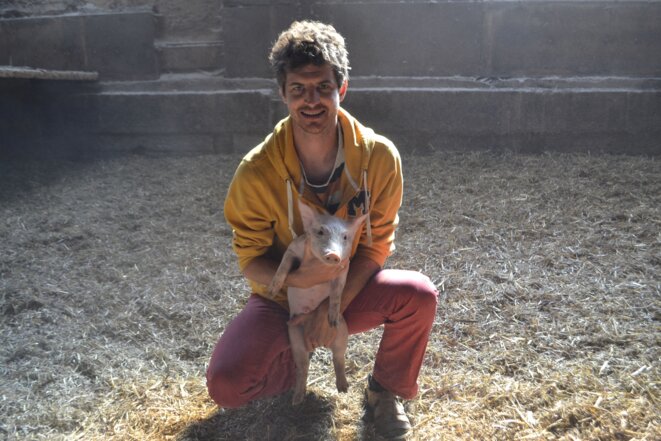 Pierre-Yves Floch, dans sa porcherie bio © JS
French farmers last week blocked Paris with more than 1,500 tractors in the latest of a series of protests at the dire financial difficulties many now find themselves in, which they blame on ever-lower prices paid for their produce, taxes and social charges, and industry standards that are strangling them in red tape. But a growing number of smallholdings in France are successfully bucking the trend, proving that there is an economically viable alternative to the failed model of conventional farming and mass production sold on the cheap - in the form of quality produce sold directly to local outlets. Julien Sartre reports from Brittany.
As benchmark pig auction in Brittany reopened Tuesday, the absence of large meat processors meant prices could fall below agreed minimum.
Many of France's rural and semi-rural regions have for years been blighted by the gradual but steady decline in the numbers of local doctors, notably general practitioners. The problem is now so acute in some areas that it is virtually impossible for patients, including the seriously ill, to receive proper medical treatment. That is the case in the Seine-et-Marne département (county) which stretches south-east from Paris. Caroline Coq-Chodorge travelled to Souppes-sur-Loing, a town with a population of 6,000 that sits on the southern edge of the département, where the crisis is typical of the medical 'desertification' witnessed across France. Facing the imminent loss of all remaining medical professionals, the municipal authorities are planning to fork out 1 million euros in a desperate attempt to attract new doctors, even though healthcare is not their brief.
The French, German and Russian leaders will be joined by Ukrainian President Petro Poroshenko for negotiations for a ceasefire in east Ukraine.
While the collapse of the French government highlighted policy divisions and personal ambitions, the cause is the crisis in the eurozone.
Despite high unemployment and recession, French president tells Japanese business leaders the four-year financial crisis that gripped EU is past.
In a once flourishing textile-producing region in central France, the challenges facing a small shirt-manufacturer paint a broader economic picture.
The common future of Europe's peoples is being played out in Greece - not only the future of our economies, but also that of our democratic institutions, writes Mediapart Editor-in-Chief Edwy Plenel. He argues here why the Greeks are not responsible for a crisis produced by Europe's blind leaders, who abandoned political vision to serve the interests of the world of finance, and why the crucial parliamentary elections to be held in Greece on June 17th offer an audacious alternative to the prevailing dogma that is sending us all towards catastrophe.
France has reached an unprecedented housing crisis, with an estimated 3.6 million people living in inadequate or substandard housing while the country lacks some 900,000 accommodations in the publicly-managed 'social housing'rented sector. That was the dire message of the latest yearly report released earlier this month by the Fondation Abbé Pierre, one of France's leading charitable organisations dedicated to improving housing conditions for the poor, which called on presidential election candidates to sign up to a "social contract" to meet the urgent demand for affordable and decent accomodation. Ellen Salvi reports.