Sushen Gupta, the Indian business intermediary paid several million euros for his role in helping French aircraft manufacturer Dassault Aviation conclude its sale to India of 36 Rafale fighter jets, provided remunerations to a former high-ranking Indian army officer and his daughter via offshore companies, involving questionable services and invoices. The retired officer and his daughter insist nothing illegal took place. Yann Philippin reports.   
Beginning on April 4th, Mediapart has published a series of investigations into the circumstances of the 7.8-billion-euro sale by France to India of 36 Rafale fighter jets, which is clouded by suspicions of corruption on a large scale. In this short video with English subtitles, Yann Philippin explains the key results of Mediapart's investigations into this most complex story.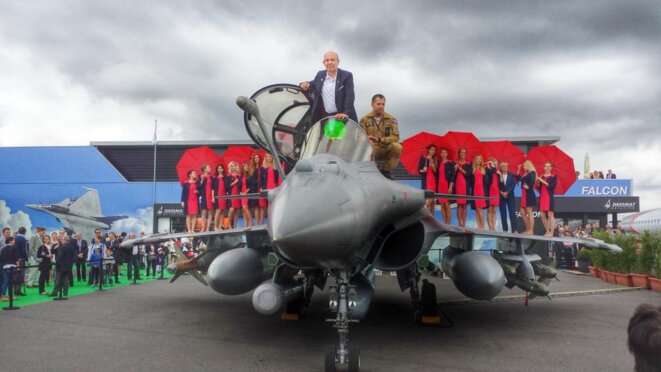 Éric Trappier, CEO of Dassault Aviation, standing on a Rafale jet fighter at the Le Bourget airshow near Paris in 2015. © Dassault
As India heads into tightly fought general elections on Thursday, outgoing Prime Minister Narendra Modi has become further engulfed in a suspected corruption scandal surrounding the sale by France to India of 36 Rafale fighter jets, built by French group Dassault Aviation, in a deal he signed in 2016. It emerged this weekend that, during negotiations over the contract, the French tax authorities extraordinarily wrote off a tax debt of more than 140 million euros owed by a French company belonging to Anil Ambani, an Indian businessman and friend of Modi's, whose company was made industrial partner in the deal in questionable circumstances. Meanwhile, anti-corruption NGO Sherpa has submitted further information to the French public prosecution services over numerous "irregularities" that implicate the different parties in the contract, worth 7.7 billion euros.
The defence ministers of the two countries will sign the deal in New delhi on Friday for Indias' purchase of 36 Dassault-built Rafale jets, reportedly at a cost of around 7.9 billion euros.
President François Hollande travelled to Doha to sign the Rafale deal, the fighter plane's third foreign contract after sales to Egypt, India.
Deal estimated in excess of €6bn is third such contract in under 3 months and highlights recent revival of the jet's commercial prospects.
Indian Prime Minister Narenda Modi said India had agreed to buy 36 Rafale jets which will be built in France, in a deal worth 4 billion euros.
Dassault's hopes of a multi-billion-euro deal to sell its Rafale fighter jet to Brazil have been dashed after the contract was given to Saab.
New evidence of senior managers leaving the country emerges as President François Hollande battles stalling economy and tumbling approval ratings.
As the 30th anniversary of the Falklands War approaches, the BBC reports on how a French arms technical team leant help to the Argentine junta.
The French defence minister says defence giant Dassault would halt production of its Rafale multirole fighter jet if it remains unable to sell any abroad.