Foreign minister Jean-Marc Ayrault suggested Britain appoint a new premier 'within a few days' and invoke EU's article 50 to start exit talks.
The surprise vote in Britain highlighted numerous fractures within British society, in particular between old and young voters. As Mediapart English's Michael Streeter reports, the referendum also persuaded many disgruntled and impoverished working class voters to vote for the first time in years – and punish the Establishment elites.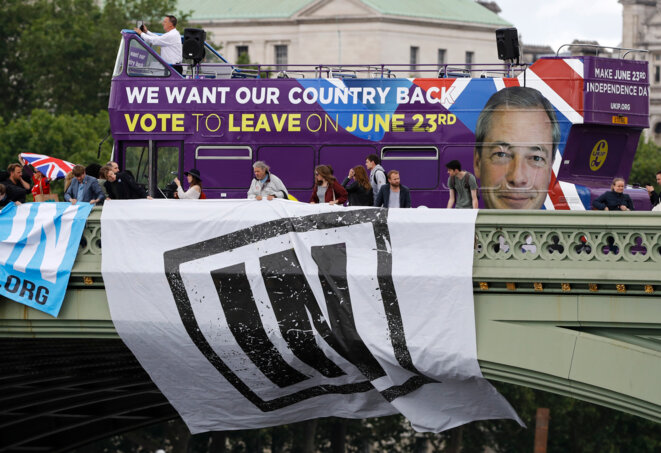 Proponents and opponents of Britain staying in the EU, June 15th, 2016. © Reuters
Whichever way Britain votes in its referendum on EU membership this Thursday, French president François Hollande has promised new "initiatives" in the coming days to reinvigorate the European Union. Hollande himself has gone out on a limb by associating himself strongly with British premier David Cameron's opposition to so-called 'Brexit'. Meanwhile, as Lénaïg Bredoux reports, the French Left is itself split over the issue of Europe and how to approach it.
Seeking a deal ahead of 'Brexit' referendum, the UK PM met with President François Hollande in Paris in a bid to gain French backing for concessions.
French president makes unusual intervention urging Britain's House of Commons to back PM's request for Britain to join military coalition.
British premier said he was convinced UK should pursue air strikes in Syria while French president vowed to step up attacks on Islamic State.
Economy minister Emmanuel Macron said creative ways can be found to amend EU treaties and prevent a European 'Brexit' crisis.
FN's Florian Philippot says French President François Hollande should 'follow the British example' and hold a vote on EU membership.
As David Cameron embarks on charm offensive with European leaders, French foreign minister describes EU referendum pledge as 'risky'.
Deal between Paris and Berlin on tighter political union seen as blow to British premier David Cameron's own hopes for treaty changes.
In major blow to British premier's efforts to change bloc's rules, French minister says attempt to change treaties would be 'doomed to failure'.
The French president congratulated the British PM for his election victory and invited him to France for talks on international affairs and the EU.
The emotional march, which is expected to attract more than a million people, will be led by relatives of the victims of last week's attacks.
Giving a speech in the heart of the City, prime minister Manuel Valls urged British businesses to invest in France.