The French government has finally announced it will not supply the Libyan coastguard with six speedboats destined to be used against clandestine crossings to Europe after several NGOs mounted a legal challenge to the sale, arguing that France was contributing to human rights violations in Libya where captured migrants face notorious internment camps, torture and being used as slave labour.
French and German officials have made comments suggesting they are open to agreeing a delay to the UK's withdrawal from the European Union due on March 29th, as Prime Minsiter Theresa May prepares to return to parliament with a revised Brexit deal after surviving a 'no confidence' vote by MPs on Tuesday evening.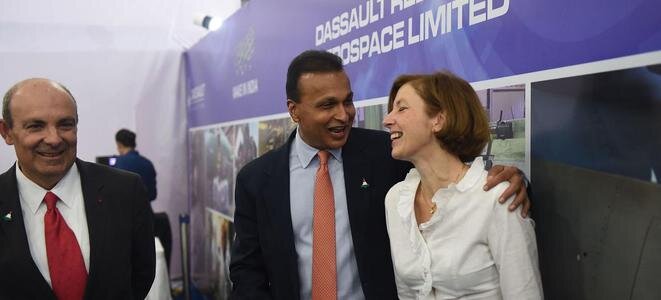 French defence minister Florence Parly with Reliance Group chairman Anil Ambani (centre) and Dassault CEO Éric Trappier (left), inaugurating the Nagpur joint venture plant, October 27th 2017. © Reliance Group
The sale to India by France of 36 Dassault Rafale jet fighters for close to 8 billion euros has become the centre of corruption allegations levelled against Indian Prime Minister Narendra Modi and his close friend, Indian businessman Anil Ambani, chairman of the Reliance Group which was handed the role of local industrial partner of Dassault to build parts for the jets despite no aeronautical expertise. The claim that Ambani was given the joint venture contract as a favour by Modi to save his struggling business is the subject of a complaint lodged this month with India's Central Bureau of Investigation. Now Mediapart has obtained a Dassault company document in which a senior executive is quoted as saying the group accepted to work with Reliance as an "imperative and obligatory" condition for securing the fighter contract. Karl Laske and Antton Rouget report.
Indian political opposition groups this weekend called on Prime Minister Narendra Modi to resign after a report in Mediapart on Friday in which former French president François Hollande's comments on an 8-billion-euro fighter deal with New Delhi suggested possible favouritism by Modi in the choice of the Indian partner in the joint venture.   
Organisers of the cycling race agreed a promotional deal with winemakers in southern France furious at a sponsorship agreement with Chilean wine brand.
The airline's proposed deal to SNPL union would see pilots work up to 10% more on same pay, while an extra 600 pilots would be hired by 2020. 
Ahead of next week's EU-Turkey summit, the French president said visa rules and respect of human rights would not be traded for migrant control.
Seeking a deal ahead of 'Brexit' referendum, the UK PM met with President François Hollande in Paris in a bid to gain French backing for concessions.
The complexity of the deal mapped out at the COP 21 negotiations that ended in Paris at the weekend are simplified in this BBC presentation.
The deal is the first ever to commit all countries to cut carbon emissions, in a bid to limit the rise in global temperatures to less than 2°C by 2050.
Renault's board approves capping French state's increased weight in shareholder votes and to abandon Renault's right to control Nissan strategy.
French interior minister Bernard Cazeneuve and his UK counterpart will meet in Calais on Thursday over new deal to contain migrant crisis.
The French president said Wednesday agreement between Athens and creditors may be found within hours as Greek PM arrived for talks in Brussels.
President François Hollande travelled to Doha to sign the Rafale deal, the fighter plane's third foreign contract after sales to Egypt, India.