A legal case brought by a 79-year-old French-Vietnamese woman against US firms that manufactured the highly toxic herbicidal cocktail known as Agent Orange, massively employed by US forces during the Vietnam War, causing deaths, diseases and malformations of those exposed to the chemical, has been dismissed by a French court on the grounds that the companies were acting 'on the orders' of the US government, which was engaged in a 'sovereign act'.  
Two groups of walkers in the alpine Savoie region of eastern France were separately struck by avalanches on Saturday, when seven of the ramblers were killed and one saved by rescue services.
At least four people, believed to be Iranian nationals and including two children aged 5 and 8, were drowned after their boat bound for Britain and carrying at least 19 people capsized in difficult weather conditions in the Channel after they embarked in a clandestine crossing from France.
Two French soldiers died and a third was wounded after an explosive device was triggered beside their armoured vehicle in the north-east of Mali, bringing the total number of French military personnel killed since anti-terrorist operations in the country and Sahel region began seven years ago to 45.
A French public health official also said there are 2,516 people needing life support.
Two bodies identified as those of a 17-year-old Iraqi Kurd and that of a 22-year-old Iraqi man were found washed up on a beach in northern France on Monday close to an inflatable boat believed to have been used in an attempt to cross the Channel to Britain.
Four officers of France's Foreign Legion are on trial for alleged manslaughter over the deaths of six recruits in an avalanche in January 2016 while on a training exercise in the French Alps.
The mysterious deaths of livestock on some French farms, which remain unexplained despite a recent scientific study, are being blamed by some farmers on electromagnetic fields created by nearby wind turbine installations and mobile phone transmitters.
Two couples and a child were found dead in an apartment in the town of Pau, south-west France, after neighbours reported smoke coming from inside it and seeing blood on a window.
Days of unusually heavy rainfall across France, forecast to ease as of Wednesday, have left four dead in weather-related accidents and several people injured after a waterlogged embankment collapsed causing a Paris suburban train to tip over, while homes in parts of the north-east of the country were damaged by flooding.
Guide held in police custody and an investigation launched into possible manslaughter and unintentional harm after tragedy in Entraunes area.
The men, ages 25 and 30, fell hundreds of metres after apparently slipping on rocks while skiing off-piste near Chamonix.
Abdullah Dilsouz, a 15-year-old Afghan who had a legal right to enter the UK under family reunification legislation, was one of three asylum-seekers to be killed over recent weeks on the roads around the French port, as NGOs say migrants are taking increasing risks to cross the Channel amid worsening living conditions.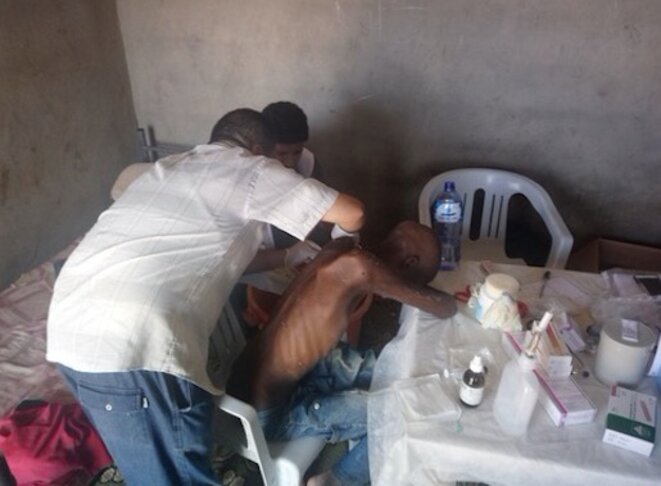 French medics treating a migrant who survived kidnapping in Libya © Aurélien Sigwalt
Behind the fate of thousands of migrants who have died while attempting to cross by sea to Europe lies the even greater tragedy of those who perish on the overland journey through Africa to reach the shores of the Mediterranean Sea, according to estimates of UN agency the International Organization for Migration (IOM). Those who survive the trying conditions of the clandestine routes north from sub-Saharan countries face further danger in Libya, where many are herded into detention centres amid appalling conditions, while others fall victim to kidnappers. Carine Fouteau reports.