TV channel forced to cancel its high-profile programme when head of France's far-right Front National pulled out at last minute.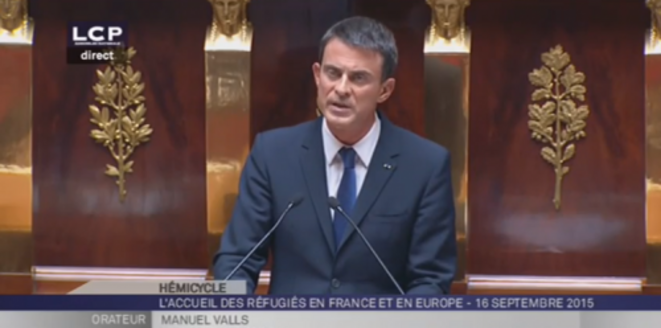 © LCP
The French parliament on Wednesday held a debate on "the accommodation of refugees in France and Europe", centred on the government's pledge to receive an extra 24,000 refugees over the coming two years, on top of the existing numbers of asylum seekers. But, writes Mediapart political correspondent Lénaïg Bredoux, it was a missed opportunity for political courage, in which Prime Minister Manuel Valls tempered France's announced welcome of refugees with the need to tighten border security, overshadowed by fears that the crisis is further fuelling support for the far-right Front National party.  
The bodies of the couple, both aged 86 and who had apparently meticulously planned their suicide, were found holding hands in their hotel room.
Conservative UMP party accuses French government of a 'fundamental' doctrine change that puts in danger France's influence on the world stage.
A stormy debate laid bare deep conflicts in French political opinion over President Hollande's plan to join the US in air strikes against Syria.
Opinions are sharply divided over French higher education minister's call for English-language university teaching to attract more foreign students.
Amid a six-month programme of national consultations commissioned by the French government to help define the country's future energy policies, a conference organised by two leading business organizations in central Paris on May 17th provided a platform for company bosses to argue that energy transition strategies should first and foremost be concerned not with the environment but with industrial competitiveness. Jade Lindgaard reports.
France's same-sex marriage bill has prompted vigorous national debate but, unlike in other countries, the world of showbiz has kept out of the fray.
The French government has accused the opposition Socialist Party of planning to undermine the nuclear industry in return for Green party support.
The two remaining candidates for the French Socialist Party's presidential nomination fought a tense but inconclusive televised debate Wednesday.