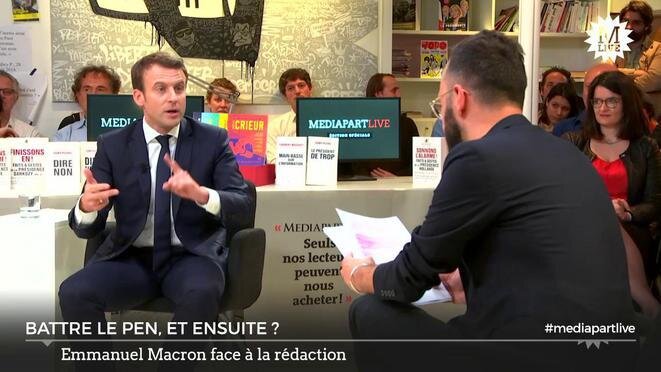 © Mediapart
Emmanuel Macron, who was elected as France's new president on Sunday, gave his last interview before his landslide victory to Mediapart, in which he detailed the measures and policies he would adopt over his five-year term of office. During the two-hour interview on Friday evening, he detailed his approach to a number of foreign policy issues - which were little mentioned during his campaign - including French military intervention abroad, his views on Donald Trump and Vladimir Putin, the Israeli-Palestinian conflict, the Greek debt crisis, and US reluctance to implement the Paris COP 21 measures to combat climate change.
Analysts say that while Germany remains EU's senior player, the debt talks saga has shown France can still be a key counterweight power.
Le Néerlandais Jeroen Dijsselbloem (de dos) et le Grec Yanis Varoufakis, en février à Athènes. © Reuters.
In this interview with Mediapart, a senior advisor to the Greek government, who has been at the heart of the past five months of negotiations between Athens and its international creditors, reveals the details of what resembles a game of liar's dice over the fate of a nation that has been brought to its economic and social knees. His account gives a rare and disturbing insight into the process which has led up to this week's make-or-break deadline for reaching a bailout deal between Greece and international lenders, without which the country faces crashing out of the euro and complete bankruptcy. He describes the extraordinary bullying of Greece's radical-left government by the creditors, including Eurogroup president Jeroen Dijsselbloem's direct threat to cause the collapse of the Hellenic banks if it failed to sign-up to a drastic austerity programme. "We went into a war thinking we had the same weapons as them", he says. "We underestimated their power".
Hours before a key summit meeting in Brussels, Manuel Valls said there could be 'no taboo subject' in talks to keep Greece within the eurozone.
The debt-ridden carrier said it will cut some routes to Spain, Italy, Norway and Malaysia, and sought 'to postpone delivery of long-haul aircraft.'
President Hollande agreed that Europe needed to spur more growth – but said that Greece also had to abide by EU rules and obligations.
But French officials say that new Athens government could be offered more time to pay off its debts if its reforms stay on track.
President's stark comments come as German officials privately warn French counterparts of need for structural reforms.
Statistical agency INSEE says total national debt is 2.023 trillion euros which represents 95.1 percent of French GDP.
Audit says the UMP must cut running costs and seek new credit agreements with its banks as new party bosses try to 'guarantee its survival'.
Health minister Marisol Touraine says health care spending will be maintained despite President Hollande's new pledge to reduce welfare 'abuses'.
The huge figure, which represents 95.1 percent of France's GDP, is far higher than previous government estimates.
Germany and France are determined Greece stays in the euro zone and that it makes "necessary efforts", says French finance minister Pierre Moscovici.
Ahead of a vote in parliament next month, the French cabinet on Wednesday approved adoption of the European fiscal treaty, the TSCG, which will require governments to limit their public deficits to 0.5 percent of gross domestic product. To prepare to meet the target, French President François Hollande has pledged to reduce the country's huge public deficit to 3% of gross domestic product (GDP) in 2013, with a raft of spending cuts and tax increases contained in a new public finances law to be presented before parliament on September 28th. It represents the most severe austerity programme to be introduced in France for 50 years. But a number of leading French economists, including several who publicly supported Hollande's election campaign, now warn of the potentially catastrophic effects of the tough austerity programme. They argue that the policies will further starve economic growth and thereby simply worsen public finances, leading to a never-ending spiral of recession and austerity. Lénaïg Bredoux reports.