The nuclear power plant at Fessenheim in north-east France, close to the border with Germany, which entered service almost 40 years ago and which environmental campaigners claim is dangerous, will close by 2020 when an EPR reactor being built in Flamanville is expected to come online.
The socialist government again used a decree to dispense with parliamentary approval for adoption of the bill which became law on Thursday evening.
Faced with a rebellion from its own socialist camp, the government will sidestep a parliamentary vote on its controversial law that has prompted mass street protests.
French President François Hollande announced a nationwide state of emergency on Saturday, granting the government exceptional powers in the wake of Friday's terrorist attacks in and around Paris that left at least 132 people dead. The powers initially last for 12 days, and Hollande announced on Monday he will seek parliamentary approval to prolong it for a period of three months. So just what are the special powers announced on Saturday? Michel de Pracontal explains.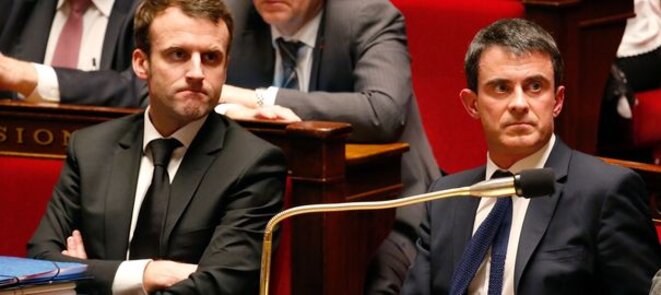 Le ministre de l'Economie Emmanuel Macron et le premier ministre Manuel Valls à l'Assemblée nationale ce mardi. © Reuters
The French socialist government on Thursday survived a no-confidence vote in parliament called for by the conservative opposition after Prime Minister Manuel Valls on Tuesday controversially resorted to the use of a decree to force through a bill of liberalizing economic reforms. The reforms, drawn up by economy minister Emmanuel Macron, were hotly contested by the rebel Left within the Socialist Party and among its radical-left allies, leaving Valls uncertain of its adoption in a vote by parliament. During the debates, Valls once again spoke of the need for national unity behind his government in the "spirit of January 11th", referring to the mass public turnout in marches held on January 11th in the aftermath of the terrorist attacks in Paris. "The spirit of January 11th is not a magical spirit, it belongs to us and we must maintain it," Valls told the National Assembly on Thursday. But in this opinion article, Mediapart editor François Bonnet argues that using the 49-3 decree has symbolised the political authoritarianism of a weak government, one that has begun manipulating the 'spirit of January 11th' and which is bent on bulldozing through its domestic and foreign policies without proper consultation, notably employing the notion of a "war on terror" to stifle debate.
PM Manuel Valls said the liberalizing reforms were 'crucial' for the French economy and he would not risk a defeat from a backbench revolt.
Surprise decree could be obstacle to General Electric's takeover of France's Alstom, as industry minister talks of need for 'economic patriotism'.
A government decree introduced in France this August contains an article that bars foreign students from outside the European Union from sitting an examination to qualify for a teaching post in the country's state-subsidised private schools. The education ministry, contacted by Mediapart, at first appeared unaware of the change, before finally dismissing its introduction as a mere "technical measure". Others see the move as a result of successful lobbying by the Catholic Church's education arm, which represents the majority of the state-subsidised private education sector. As Lucie Delaporte reports, the affair carries more than just a whiff of xenophobia.    
Thousands of cases to be reviewed after a French appeals court annulls a 2004 government decree that should have been voted by parliament.