In a speech ahead of the traditional Bastille Day military parade on Sunday, French President Emmanuel Macron announced that France, whose satellite-launching pad in French Guiana is a key hub for the European Space Agency, will establish a new military agency in September designed to "better protect our satellites, including in an active way".
The new European Parliament elected after final voting on Sunday will produce cross-national political groups, formed from alliances between the party candidates elected in each country. The parties standing in France, which has the second-highest number of seats in the parliament, will play an important part in establishing the political formations, which will have a key role in shaping future European legislation and the appointments to the key EU posts. So where do they stand on two issues that have been largely absent from the campaigning but which promise to occupy a central place in parliament's future debates, namely European defence policy and the future of a common agricultural policy? François Bonnet and Christophe Gueugneau report.
In a speech to French ambassadors in Paris, French President Emmanuel Macron said 'Europe cannot rely on the United States only for its security' and that 'it's up to us to meet our responsibilities and guarantee our security, and therefore European sovereignty', including in cooperation with Russia.
Meeting in New Delhi on Friday, Indian defence minister Nirmala Sitharaman and he French counterpart Florence Parly agreed to increase anti-terrorism cooperation defence ties, including greater industrial and research involvement by India in French weapons sales to the country, notably in an expected second order of Dassault Rafale fighter jets.
In a rare move, General Pierre de Villiers wrote an appeal in French financial daily Les Echos calling for military spending to increase to 2% of GDP over the next five years, including an upgrading of nuclear arsenals, in order to protect France from against "the full spectrum of threats".
Paper by country's defence ministers proposes setting up a European defence headquarters, a common surveillance system and sharing logistics.
An article of the EU treaty triggers mutual defence among member states and France will now conduct negotiations on available military help.
About 9,300 military and civil staff previously at different sites are now based in the 4.2 billion euro building in the south of Paris.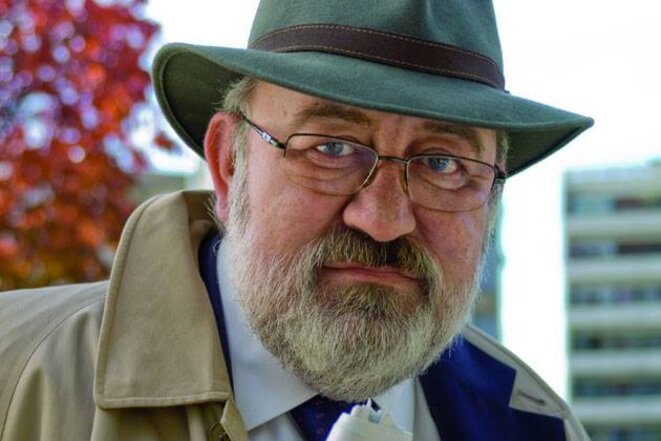 Maurice Dufresse, alias Pierre Siramy, s'est établi à Saint Lô. © DR
Maurice Dufresse is a former head of the French foreign intelligence service's technical support department - a sort of real-life Gallic equivalent to Ian Fleming's fictional 'Q Branch' within Britain's MI6. The publication five years ago of his book of anecdotes and analysis of his quarter of a century in French intelligence unleashed the wrath of his country's spy chiefs, who accuse him of compromising national security. The final chapter in this battle for freedom of expression will be concluded in September. Karl Laske reports.
President Hollande says spending will rise by nearly €4bn over four years from 2016 to tackle threats 'at home and overseas'.
At Paris talks Japanese premier Shinzo Abe and President Hollande also confirm plans to strengthen cooperation on nuclear energy technology.
France will also offer to send four fighter jets to Baltic states to boost NATO air patrols over the region should the military alliance request them.
The job cuts are due by 2019 and follow the shedding, ordered five years ago, of another 55,000, while defence policy broadly remains unchanged.
Wikipedia France's most popular article now is about a military installation - the very entry the country's spy agencies allegedly tried to suppress.