Related keywords

Does President Emmanuel Macron's approach to government encourage the confusion of public and private interests?
Two current affairs sum up the nature of 'Macronism', the approach to government adopted by the French president Emmanuel Macron since his election in May 2017. One involves his chief of staff at the Élysée and claims that he faces a clear conflict of interests between the public and private sectors, the other concerns the hefty discounts that the Macron campaign received on various campaign services during the presidential election. Both stories highlight the same problem: the failure of France's watchdogs to adequately monitor public life. Fabrice Arfi reports.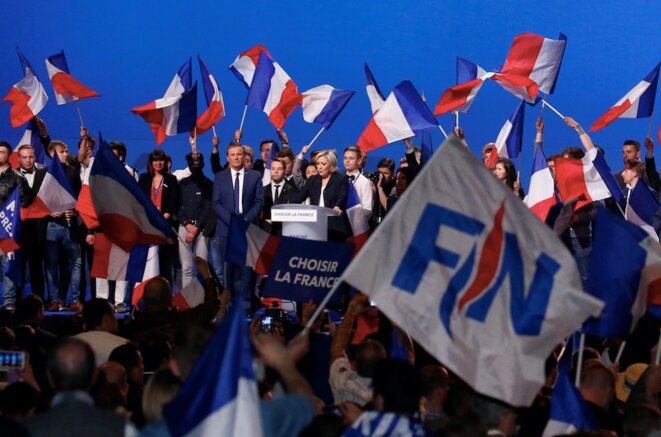 The far right's Marine Le Pen during a politcal rally at Villepinte near Paris on May 1st, 2017. © Reuters
Mediapart is calling for a vote for Emmanuel Macron against Marine Le Pen in the second round of the French presidential election on Sunday May 7th. This is not out of approval for his manifesto, writes Mediapart's publishing editor and co-founder Edwy Plenel, but in defence of democracy as an arena where one has the freedom to object - including against Macron's policies. For under the authoritarian and identity-obsessed far right, he says, this fundamental right would certainly come under challenge.
Last month, just before Mediapart broke the WikiLeaks revelations about US spying on France, a last-minute amendment was discreetly made to the French government's highly-controversial snooping bill shortly before it was due to become law. The change would have given the country's secret services complete freedom to spy on any individual who was not "French or a person habitually residing in the country". A French Parliamentary committee accepted the amendment, though the eventual outcry when details of it later emerged forced the government to remove the measure. However, argues Mediapart's editor-in-chief Edwy Plenel, in an article written before the WikiLeaks spying disclosures, the episode shows just how much the French government kowtows to the anti-democratic tendencies of a whole panoply of non-elected technocrats and officials - France's 'state within a state' or 'deep state'.
President François Hollande and his ministers seem determined to press ahead with their intelligence and surveillance bill which will give wide-ranging powers to the security services and police. It is the first time in more than half a century in France that a left-wing administration has been party to such a retreat from democracy. Instead of extending existing freedoms or creating new ones, the current government is following in the tradition of right-wing administrations, extolling the virtues of secrecy, refusing debate, acting in an authoritarian manner and handing greater powers to the hidden world of intelligence and surveillance, without offering any serious checks and counterbalances in return. Ahead of a day of protest on Monday May 4th against the bill, Mediapart's editor-in-chief Edwy Plenel argues that all the time that the nation's highly-personalised presidential system of government remains in place, France will continue to suffer from politics that lack true democracy.
France is a democracy but in the sense of a "flawed democracy", according to latest Economist Intelligence Unit Democracy Index.