Comment la police a saboté la manifestation du 12 décembre 2020. Enquête vidéo. © Mediapart
Mediapart has gathered and analysed hundreds of videos taken during a demonstration staged in Paris on December 12th 2020 against the French government's controversial "global security" law. Our investigation shows the unlawful nature of dozens of police charges carried out that day. It also documents the arbitrary arrests of demonstrators, baton blows given for no reason and the misleading statements made by interior minister Gérald Darmanin, especially over the nature and outcome of the arrests made. Sébastien Bourdon, Camille Polloni, Antton Rouget and Antoine Schirer investigate.
A group of hundreds of mostly West Afican migrants stormed the Panthéon mausoleum in the Paris Latin Quarter on Friday to demand that the government review their status as illegal residents unable to obtain recognised rights to work and live in France.
The youth arms of France's Rassemblement national (National Rally) party, formerly called the Front National, and its far-right Italian ally, the League, staged a joint demonstration near the French-Italian border on Sunday to demand tough measures against what they said was the 'overwhelming' of Europe by migrants.
A feminist group urged French women to leave work at 4.34 p.m. on Monday to highlight the pay gap between men and women's average hourly wage which, at 15.1% in 2010, means a woman will work 38.2 days more than a man for the same salary.
The movement that unsuccessfully opposed a 2013 reform to introduce same-sex marriages in France held its first demonstration in two years on Sunday in Paris, which police estimated drew 24,000 while the organisers claimed an attendance of 200,000.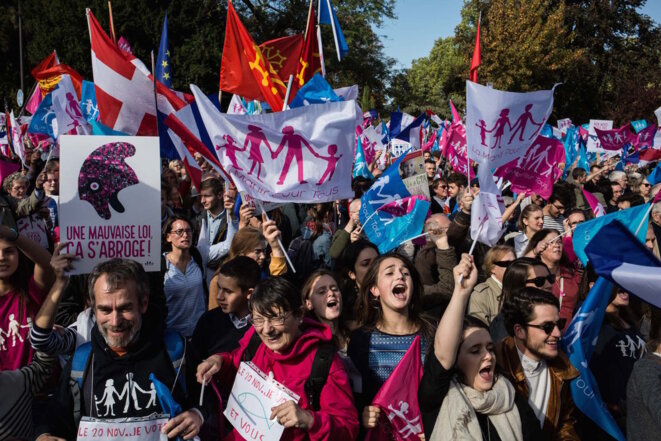 Anti-gay marriage demonstrators on the streets of Paris, Sunday October 16th. © Nicolas Serve
The movement that led opposition to France's law allowing for same-sex marriages, which was introduced in May 2013, called its supporters back on the streets of Paris on Sunday, in a test of its strength to influence conservative candidates in next year's presidential and parliamentary elections. While calling for a repeal of the law, it more realistically also targets, among other issues, adoption rights for gay couples and their access to artificial reproduction methods and surrogate pregnancy. As Lucie Delaporte reports, the largely right-wing and Catholic movement called 'La Manif Pour Tous' is, a fact unknown to many in France, part of a broad alliance of similarly-minded campaigning groups across Europe, the United States and Russia.
Police arrested 14 people after they torched tyres and blocked bridges in the Channel port in protests against thousands of migrants gathered there.
Cars were set alight and rocks thrown at police, who reported 14 officers injured, in clashes after the outlawed protest at Israel's Gaza offensive.
Two days before a final vote onFrance's same-sex marriage bill, thousands of opponents demonstrated in Paris in a last bid to block the legislation.
An estimated 250,000 people marched through Paris on Sunday in support of a same-sex marriage bill due to go before parliament on Tuesday.