Related keywords
Nationwide street protests called by public sector workers' unions against government plans to reduce 120,000 jobs by 2022 drew between around 110,000-250,000 demonstrators according to, respectively, interior ministry estimates and those of unions, ahead of draft legislation due to be debated before parliament next week.
An 18th weekend of action in so-called 'yellow vest' protests against falling standards of living for low- and middle-income earners left about 60 people, including police officers, injured in Paris where stores, restaurants, banks and vehicles were set ablaze and more than 190 arrests were made.
France's so-called 'yellow vest' demonstrations against falling living standards among low- and middle-income earners, which since its beginnings in November has become a protest movement against the governement and the political elite, again drew tens of thousands of protestors nationwide on Saturday, which the interior mionisrty estimated to number 46,600, an increase on last weekend.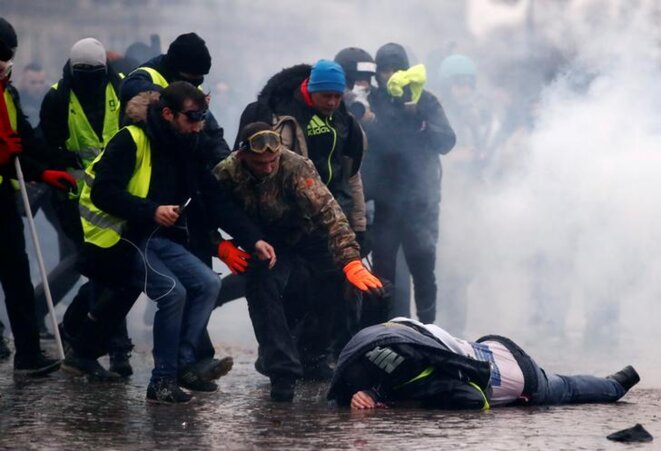 A 'yellow vest' protestor lies injured in Paris, January 12th 2019. © Reuters
France's 'yellow vest' protestors were back on the streets this weekend, as their movement calling for better living standards for low- and middle-income earners held its tenth nationwide day of action. While some demonstrations have been marred by violence from extremist groups, there is mounting criticism of aggressive police tactics. These notably include the widespread and often indiscriminate use of rubber bullets and stun grenades that have caused, according to several estimations, around 100 serious and life-changing injuries to protestors and bystanders. Mediapart co-editor Carine Fouteau argues here why these highly dangerous weapons, which France is one of very few countries to deploy in such situations, should be immediately banned from crowd-control policing.
French interior minister Gérard Collomb has ignited a fierce row after accusing union organisers of recent nationwide street marches against government policy, during which there have been violent attacks by extremist anti-capitalist groups on shops, banks and vehicles, of being 'accomplices' to the events by not preventing them.
State sector employees, and notably railway workers, staged one-day strikes and demonstrations across France on Thursday in protest at planned government reforms that will see spending cuts and job reductions and which President Emmanuel Macron's government intends introducing by decree and without parliamentary debate.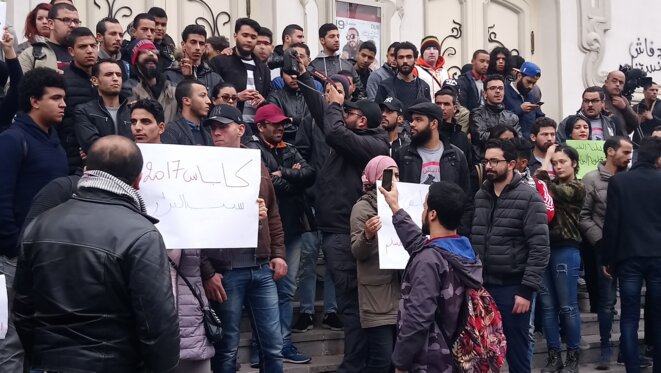 Demonstrators in Tunis earlier this month demanding an end to new austerity measures. © L. B.
Austerity measures imposed in Tunisia at the start of the year in a new public finance law, and which follow a multi-billion-dollar loan from the International Monetary Fund, sparked demonstrations across the country earlier this month that were marked by violence. The protests were mostly mounted by the younger population, particularly affected by rising living costs and unemployment. The unrest has rocked the government, whose authoritarian reaction has prompted some observers to draw parallels with the events that led to the downfall in 2011 of Tunisia's former dictator, Zine al-Abidine Ben Ali. Lilia Blaise reports from the capital Tunis.
During a one-day strike on Tuesday by French public sector workers over pay and budgetary cuts, a move aligning all nine public sector staff unions together for the first time in ten years, street protests across town and cities in France drew more than 400,000 people according to trades unions - and half that number according to interior ministry estimations.
Hospital staff, teachers and air traffic controllers were among millions of employees from the French public sector staging a one-day strike on Monday in protest over pay and budgetary restrictions, and notably a wage freeze for certain categories introduced by Presuident Emmanuel Macron, with street demonstrations held in several major towns and cities.
Angry French police officers on Saturday held a sixth day of national demonstrations in protest over dilapidated and inadequate equipment, undermanning, recurrent attacks on officers, and what they describe as the leniency of sentencing judges, all in a context of the exceptional demands placed on them for anti-terrorism operations. The movement, which has wrongfooted the government and taken even police union officials by surprise, was prompted by a horrific petrol-bomb attack on several officers earlier this month in a Paris suburb. President François Hollande has now announced he will meet with representatives of the officers next week. As Loup Espargilière reports, the angry protests illustrate a deep disquiet across the ranks which has now become a political hot potato ahead of next year's presidential and parliamentary elections.
Nationwide demonstrations against labour law reforms have seen fierce battles involving protestors and police, causing serious injuries.
Bernard Cazeneuve was speaking after regular violence during weeks of protests against labour law reforms, with casualties among police and protestors alike.
The street protests, led by trades unions and often marred by violence by hooded youths, attracted tens of thousands in Paris and other major cities.
Police unions call a national protest on Wednesday over accusations of their violent behaviour during recent demonstrations against labour law reforms.