State sector employees, and notably railway workers, staged one-day strikes and demonstrations across France on Thursday in protest at planned government reforms that will see spending cuts and job reductions and which President Emmanuel Macron's government intends introducing by decree and without parliamentary debate.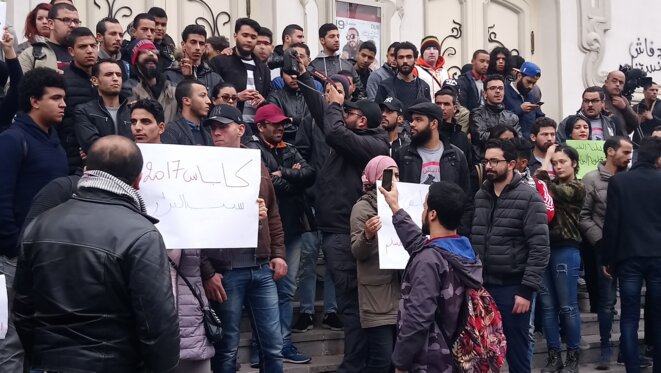 Demonstrators in Tunis earlier this month demanding an end to new austerity measures. © L. B.
Austerity measures imposed in Tunisia at the start of the year in a new public finance law, and which follow a multi-billion-dollar loan from the International Monetary Fund, sparked demonstrations across the country earlier this month that were marked by violence. The protests were mostly mounted by the younger population, particularly affected by rising living costs and unemployment. The unrest has rocked the government, whose authoritarian reaction has prompted some observers to draw parallels with the events that led to the downfall in 2011 of Tunisia's former dictator, Zine al-Abidine Ben Ali. Lilia Blaise reports from the capital Tunis.
During a one-day strike on Tuesday by French public sector workers over pay and budgetary cuts, a move aligning all nine public sector staff unions together for the first time in ten years, street protests across town and cities in France drew more than 400,000 people according to trades unions - and half that number according to interior ministry estimations.
Hospital staff, teachers and air traffic controllers were among millions of employees from the French public sector staging a one-day strike on Monday in protest over pay and budgetary restrictions, and notably a wage freeze for certain categories introduced by Presuident Emmanuel Macron, with street demonstrations held in several major towns and cities.
Angry French police officers on Saturday held a sixth day of national demonstrations in protest over dilapidated and inadequate equipment, undermanning, recurrent attacks on officers, and what they describe as the leniency of sentencing judges, all in a context of the exceptional demands placed on them for anti-terrorism operations. The movement, which has wrongfooted the government and taken even police union officials by surprise, was prompted by a horrific petrol-bomb attack on several officers earlier this month in a Paris suburb. President François Hollande has now announced he will meet with representatives of the officers next week. As Loup Espargilière reports, the angry protests illustrate a deep disquiet across the ranks which has now become a political hot potato ahead of next year's presidential and parliamentary elections.
Nationwide demonstrations against labour law reforms have seen fierce battles involving protestors and police, causing serious injuries.
Bernard Cazeneuve was speaking after regular violence during weeks of protests against labour law reforms, with casualties among police and protestors alike.
The street protests, led by trades unions and often marred by violence by hooded youths, attracted tens of thousands in Paris and other major cities.
Police unions call a national protest on Wednesday over accusations of their violent behaviour during recent demonstrations against labour law reforms.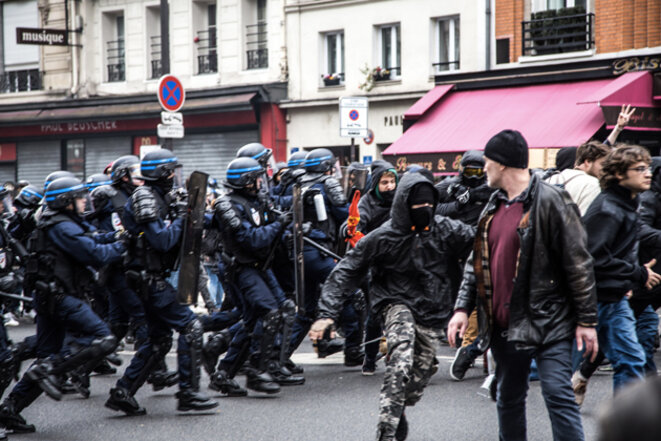 A clash during a protest in Paris on April 10th, 2016. © Jérôme Chobeaux
There have been claims of police brutality during some of the many protests that have taken place in France in recent weeks against labour law reforms. Yet the police have also been applauded by sections of the public for their role in dealing with terrorist attacks over the past year or so. Meanwhile police officers themselves increasingly resent being painted as defenders of unpopular policies such as the employment law proposals. Matthieu Suc reports on the evolving role of the forces of law and order.
Trades and student unions took to the streets across France against reforms that put almost all of France's strictly codified labour relations up for negotiation.
Early reports were of a lower than expected turnout for the protests against proposed reforms that reduce rights and safeguards for employees.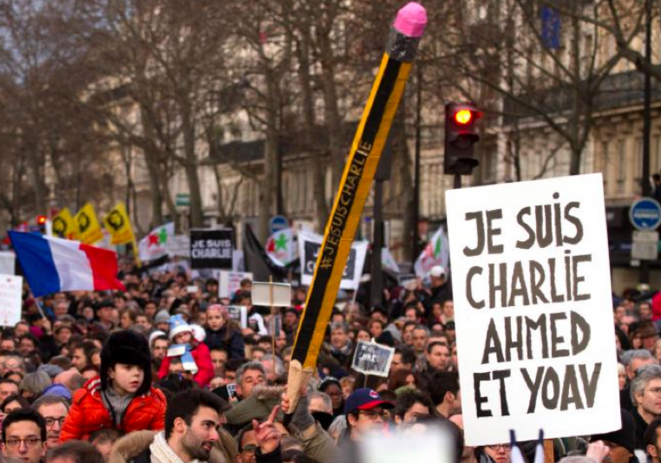 Manifestation du 11 janvier 2015 à Paris. © Thomas Haley
Following the January 2015 terror attacks in and around Paris which left 20 people dead, including the three gunmen, there were huge marches held across France to express public outrage over the events. On Sunday January 11th, an estimated four million people took to the streets of the country's major towns and cities, with an estimated two million in Paris alone. The French government, and in particular Prime Minister Manuel Valls, has since coined the phrase 'the spirit of January 11', using it repeatedly as a rallying call for national unity, notably as it drove through its recent law to introduce mass surveillance powers for the security services. But the recurrent references to what was a remarkable day have now turned sour, amid a heightening debate, as critics on the Right and Left accuse the government of attempting to invent a false conception for cynical political gain. One of them is Christian Salmon, a writer and researcher with the Paris-based Centre for Research in the Arts and Language. In this opinion article he argues that the 'spirit of January 11' has "evolved into a confusing scrum, a macabre dance with a cortege of grimacing masks, heroic posturing and denunciations".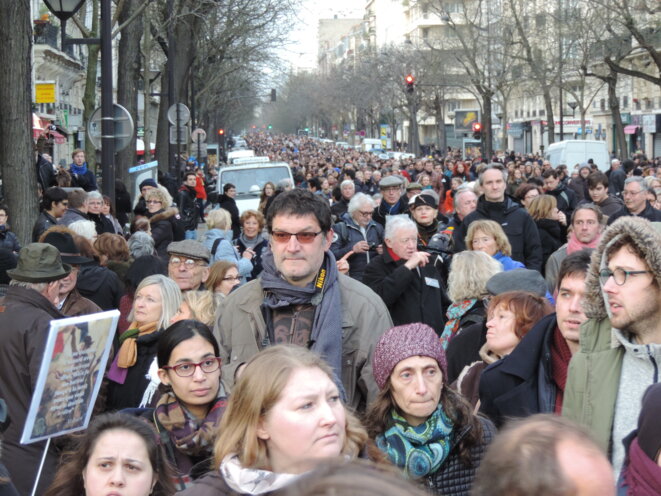 © Graham Tearse
Four days after the massacre at Charlie Hebdo magazine, followed by the murders of two police officers and two bloody sieges which saw four people executed in a Jewish supermarket, the people of France have taken to the streets in record numbers - 3.7 million - in a day of solidarity with the 17 victims of the attacks. For the first time in a quarter of a century the French president marched with the people as François Hollande joined more than 40 world leaders on the streets of Paris which he said had become the "capital of the world" for the day. But the most moving part of the massive march between two major squares in Paris, the place de la République and the place de la Nation, part of the biggest public gatherings seen in France since the Liberation in 1944, was the volume of ordinary citizens who turned out to show support for the victims' families and their determination that people's freedoms should not be undermined by terrorists. Mediapart reports on the turnout in words and pictures (updated Monday).