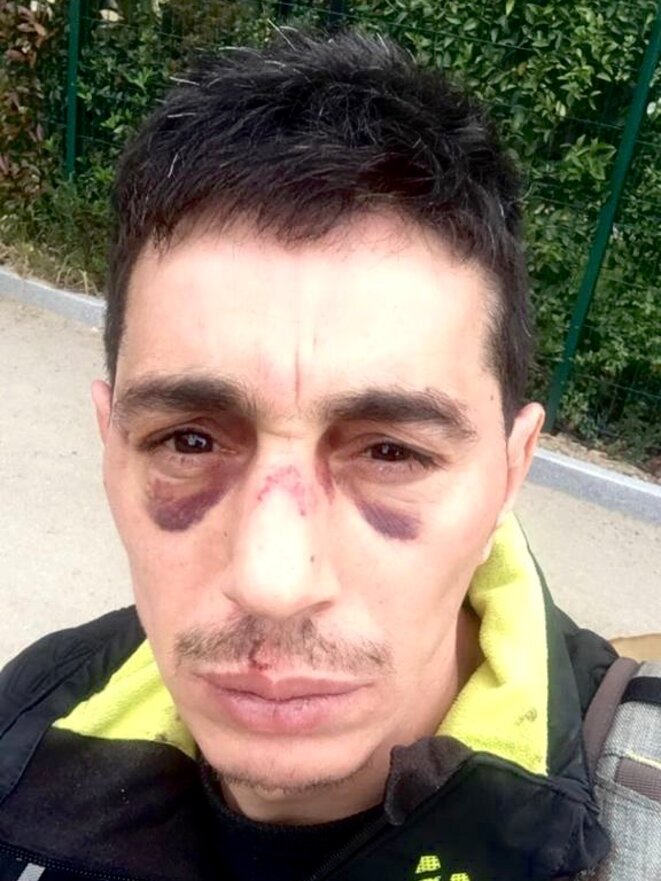 Mehdi Medjaheb, five days after his arrest.
Mehdi Medjahed has lived in France for 13 years, is a qualified fire safety security guard and is one of those "front line" heroes praised by French president Emmanuel Macron for working during the coronavirus epidemic. Yet when the 36-year-old was stopped by police and questioned over his immigration status, the situation not only developed into a violent confrontation, he was arrested, placed in custody and then a detention centre, and now finds himself the subject of a deportation order. Olivier Bertrand reports.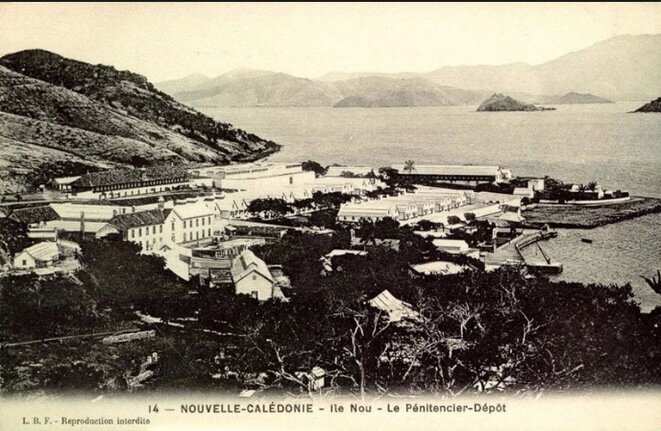 A postcard view of the notorious New Caledonia penal colony at Île Nou. © DR
The French overseas territory of New Caledonia will hold a referendum on November 4th to decide whether the South Pacific archipelago should opt for self-rule. It comes after a 30-year political process to ease continuing high tensions between pro-independence militants from the indigenous Kanak population and the community of ethnic Europeans. The territory has a chequered and often violent history since it became a French possession in 1853, which Mediapart is charting this summer in a series of articles which examine the construction of what was a most singular colonial project. Here, Lucie Delaporte returns to the story of how the defeated militants of the 1871 Paris Commune were deported to New Caledonia alongside Algerian tribesmen who led one of the first major revolts against French rule in Algeria.
Loup Bureau, 27, who has been detained for almost two months in Turkey since he was arrested on the Iraqi-Turkish when he was found in posession of pictures and interviews with members of a Kurdish militia, is due to be deported back to France this weekend.
Watchdog says France spends too much money on asylum seekers, too few failed applicants are being deported and the process is too long.
The French interior ministry said that the 28-year-old Tunisian played 'a key role' in the recruitment of young jihadists in the Grenoble area.
White House warns US states not to take action that could harm talks with French rail firm SNCF which deported Jews to WW2 death camps.
School students in France have resumed their protests over the deportation of Roma schoolgirl Léonarda who was arrested during a school trip. However, this controversial case was not an isolated incident. Under socialist president François Hollande the deportation of school students who have reached the age of majority and lack residence permits has occurred with greater frequency than under his right-wing predecessor Nicolas Sarkozy. Mediapart's Michaël Hajdenberg gives the background to the deportations and then hears the moving story of a school pupil in France who was arrested this summer on his way to an exam and sent back to Mali five days later.
The French president is slammed by Right and Left for offering a deported immigrant teenager a return to France but without her family.
The French president says Leonarda Dibrani, 15, deported to Kosovo earlier this month with her family, is allowed to return to France, but alone.
A senior figure in the Socialist Party has angrily criticised French culture minister Aurélie Filippetti for allegedly snubbing Rivesaltes, a former internment and deportation camp in southern France which is set to become a memorial in 2015, during a recent trip to the area. The culture minister has dismissed the claims as 'absurd'. To understand the importance of the memorial site behind this political squabble, Mediapart asked historian Denis Peschanski to describe the political and historical issues at stake in a camp that revives some of the worst memories of the Second World War in France. Antoine Perraud reports.
President Hollande's commemoration of 1942 Vél d'Hiv roundup of Jews was important for addressing European anti-Semitism, argues Denis MacShane.
President Hollande has recognised France's role in the Holocaust at a ceremony to mark the 70th anniversary of a round-up of 13,000 Jews in Paris.