Two former agents with the French foreign intelligence service, the DGSE, are to go on trial in a closed-door Paris courtroom on Monday accused of 'delivering information to a foreign power' and 'damaging the fundamental interests of the nation'.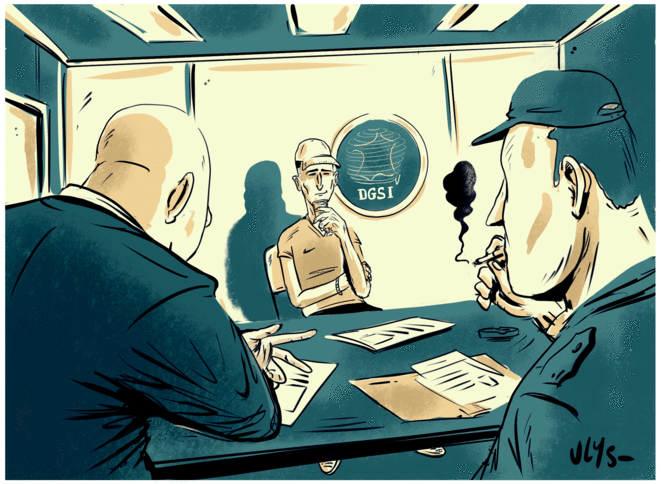 Abominor: "Snitching is not my thing, I'm a man." © Ulys
Over several years, the French intelligence services gained vital information about the activities of the so-called Islamic State group thanks to a man who infiltrated its terrorist network. A Muslim who became a spy by chance, he risked his life by befriending jihadists, and notably helped to foil two planned terror attacks. Matthieu Suc reveals the story of an unsung hero, codenamed Abominor.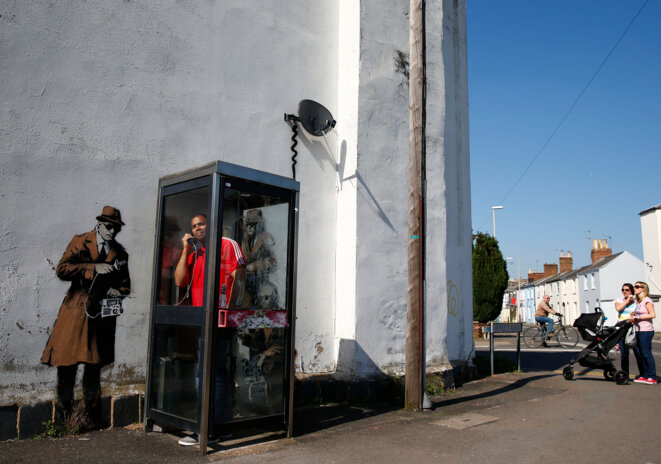 A mural by street artist Banksy close to Britain's signals intelligence agency GCHQ,in Cheltenham, England. © Reuters/Eddie Keogh
The British and French intelligence agencies are deeply concerned that their close bilateral cooperation, notably on counter-terrorism activity, remains intact after the UK leaves the European Union. But they are fearful of the consequences, especially in the case of a hard Brexit, when, the EU warns, "The UK will be disconnected from all EU networks, information systems and databases" concerned with police and judicial cooperation. Matthieu Suc reports.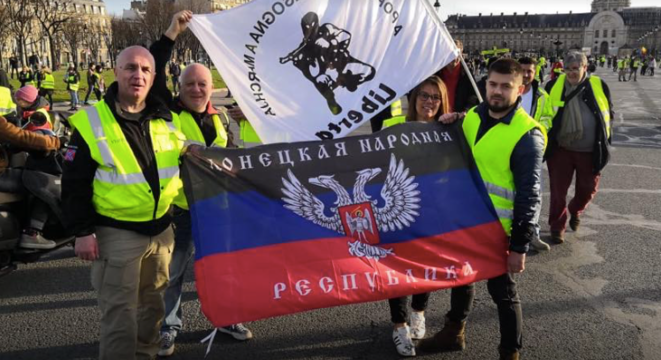 Screen grab from the Facebook page of Sergei Munier, a follower of former soldier Victor Lenta, at a 'yellow vest' protest. © DR
When President Emmanuel Macron spoke to a group of journalists at the end of January this year he claimed there were "40,000 to 50,000 extreme militants" stirring up the 'yellow vest' protests, and he warned that violence was being orchestrated by political hardliners. Yet at the very same time the president's own intelligence services were producing an analysis which came to precisely the opposite conclusion. According to those security agencies, the ultra-right and ultra-left are "virtually non-existent" in the protest marches. Matthieu Suc reports on the president who appears to be ignoring or contradicting his own secret services.
A driver fleeing a crash scaled a fence to land in one of the most high-security spots in Paris - the HQ of overseas intelligence agency the DGSE.
Two officers with France's foreign intelligence agency, the DGSE, have been held in detention since December accused of passing secrets to a foreign power, while one of their wives was released on bail, French defence minister Florence Parly has confirmed, while security sources told AFP news agency the agents are suspected of helping China.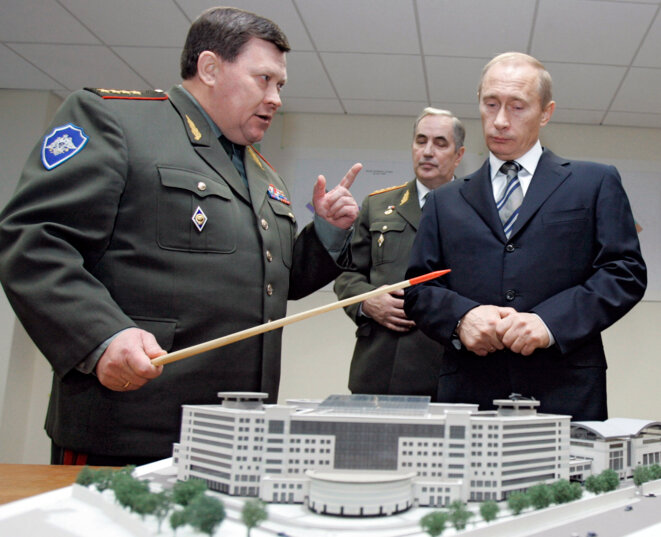 Vladimir Putin, himself a former KGB officer, listening to officials from the Russian foreign military intelligence agency the GRU in 2006. © Reuters/Itar-Tass/Service de presse présidentiel russe
Russian spies in France are trying to recruit business people, diplomats and military personnel, using resources and methods similar to those used at the height of the Cold War. French counter-intelligence officials are meanwhile working hard to unmask the Russian agents. Though Russia and France are co-operating over antiterrorism issues, their respective intelligence agents are engaged in a parallel, largely hidden struggle, with French soil as the battleground. Matthieu Suc and Jacques Massey report.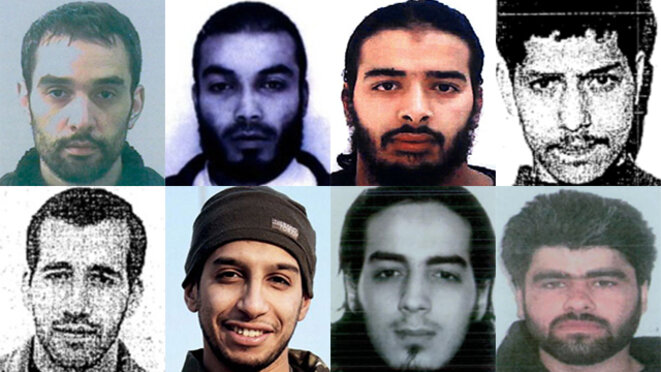 Eight of the terrorists behind attacks against Europe. From left to right and from top to bottom: Oussama Atar, Boubakeur el-Hakim, Salim Benghalem, Samir Nouad, Abdelnacer Benyoucef, Abdelhamid Abaaoud, Najim Laachraoui and Ahmad Alkhald. © DR
Jihadi veterans have been seeking to cause disarray among European intelligence agencies with hoax attacks that distract from real ones and attempts to infiltrate public agencies and companies. As a result security official are having huge difficulties in trying to measure the true scale of the terrorist threat that faces us. In the last of this lengthy series of investigations on Islamic State's intelligence operations, Matthieu Suc reports on the dangers still posed by jihadist agents operating within Europe despite Islamic State's major reverses in Iraq and Syria.

Nicolas Sarkozy, Bachir Saleh et Alexandre Djouhri © Reuters et DR
Declassified reports from France's foreign intelligence service show how President Nicolas Sarkozy helped a senior figure in the Gaddafi regime escape from war-torn Libya in 2011, Mediapart can reveal. They show that Muammar Gaddafi's ex-chief of staff Bashir Saleh was taken to France in November 2011 with the aid of the French presidency and businessman Alexandre Djouhri. However, Saleh later fled France after Mediapart published details of a letter addressed to him outlining the Gaddafi regime's agreement to fund Nicolas Sarkozy's 2007 election campaign. Fabrice Arfi and Karl Laske report.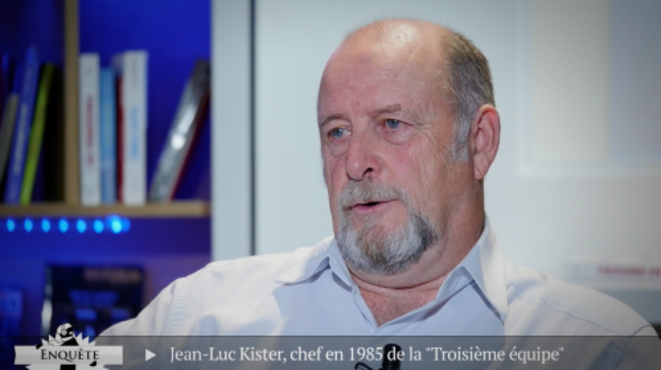 The French naval frogman who sank the Greenpeace boat Rainbow Warrior in New Zealand in July 1985, causing the death of photographer Fernando Pereira, has spoken publicly for the first time. Jean-Luc Kister, who was ordered to sink the boat that took part in protests against France's nuclear tests in the Pacific, has given a long interview to Mediapart's editor-in-chief, Edwy Plenel, the journalist who broke the story of French involvement in the attack 30 years ago. This interview is published simultaneously with a public apology given by Kister on New Zealand state television.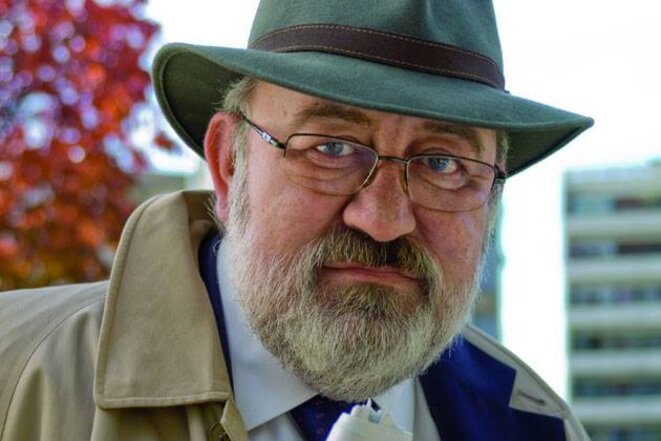 Maurice Dufresse, alias Pierre Siramy, s'est établi à Saint Lô. © DR
Maurice Dufresse is a former head of the French foreign intelligence service's technical support department - a sort of real-life Gallic equivalent to Ian Fleming's fictional 'Q Branch' within Britain's MI6. The publication five years ago of his book of anecdotes and analysis of his quarter of a century in French intelligence unleashed the wrath of his country's spy chiefs, who accuse him of compromising national security. The final chapter in this battle for freedom of expression will be concluded in September. Karl Laske reports.
Bernard Squarcini, once boss of France's counter-espionage and counter-terrorism agency, said allied countries 'spy on each other all the time'.
In a series of exclusive reports that began in July, Mediapart has revealed the longstanding close links between France-based businessman and arms dealer Ziad Takieddine and the inner circle of advisers and aides surrounding Nicolas Sarkozy, before and after he became French president. Here, Fabrice Arfi and Karl Laske reveal how the French intelligence agency, the DGSE, has sought to conceal all it knows about the businessman's activities.
In May 2002, a group of 11 French engineers died in a bomb attack on their minibus in Karachi, Pakistan. They were helping to build submarines sold to Pakistan in a murky deal involving huge bribe payments. For years the blast was officially attributed to Islamic terrorists, a theory now dismissed. Mediapart has gained exclusive access to secret intelligence reports, hidden for almost nine years, which strengthen suspicions of a cover-up in a political scandal that runs all the way to the doors of the French presidency.