The number of new cars registered in 2017 rose nearly five percent to 2,110,751, according to the industry body, the CCFA.
Paris City Hall said it is working towards a ban on petrol-powered vehicles in the capital by 2030, following its recent announcement of a similar ban on diesel-driven vehicles by 2024, in a drive to reduce chronic air pollution. 
Move by Emmanuel Macron's government comes a day after Volvo said it would only make fully electric or hybrid cars from 201.
French car firm denies any suggestion it cheated on tests for diesel engines making the vehicles dangerous for human or animal health.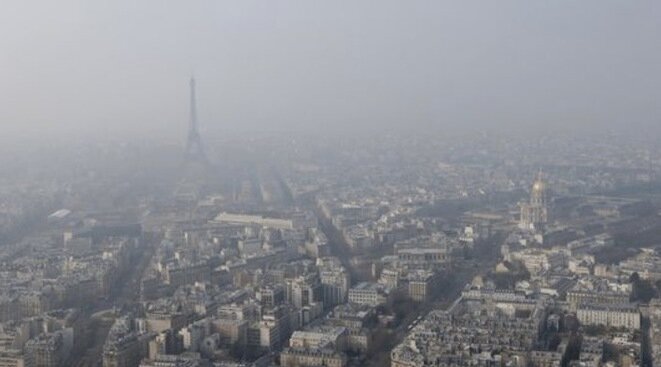 A smoggy Paris on March 18th, 2015. © Gonzalo Fuentes/Reuters
Last Sunday Paris banned cars from many of its roads and on Monday the city's councillors voted to pedestrianise a busy route along the River Seine. Both measures are aimed at tackling the problem of air pollution that is affecting Paris as well as other large French cities. It is estimated that such pollution kills up to 2,500 people a year in the French capital, some 60 times more people than perish in road accidents on the city's streets. Mediapart's environment correspondent Jade Lindgaard reports.
Environment ministry says investigation shows a large number of diesel cars emit much higher levels of pollution than manufacturers claim.
In the early hours of November 18th, 2015 officers from the French police's elite antiterrorism unit RAID staged an assault on a flat at Saint-Denis, just north of Paris. The operation led to the death of two terrorists who had carried out the attacks in Paris on November 13th. Mediapart has discovered that though the police claim they came under "sustained" fire during the assault, in fact the terrorists in the flat only fired eleven rounds, against more than 1,500 from police officers. Most of the shots sustained by the police came from their own officers. Matthieu Suc reports.
Diesel, the police dog who inspired the 'Je Suis Chien' hashtag after he was killed in Paris siege, is to be awarded the Dickin Medal.
Environment minister Ségolène Royal told TV interview: 'It's obvious that it's necessary to prepare the end of diesel.'
Total of 984,064 cars in France are involved in the emissions-rigging scandal, mostly Volkswagen models, but also Skoda and Seat cars.
 Michel Sapin said tests are also needed on French-made cars though he says he has no 'particular reason' to suspect wrongdoing.
Initiative by mayor Anne Hidalgo is first step on the way to making the French capital a diesel-free city by 2020.
Anne Hidalgo aims to outlaw diesel vehicles in the French capital entirely by 2020 and to limit the number of all cars in city centre.