Keyword: Dieudonné M'bala M'bala
Human rights court upholds hate crime conviction in France after show with Holocaust denier and an actor dressed as concentration camp inmate.
A Paris court gave the stand-up comic a fine and a suspended jail term for posting on Facebook his support for terrorist Amedy Coulibaly.
Some black supporters of French comic have turned against him over comedian's association with right-wing extremist Alain Soral.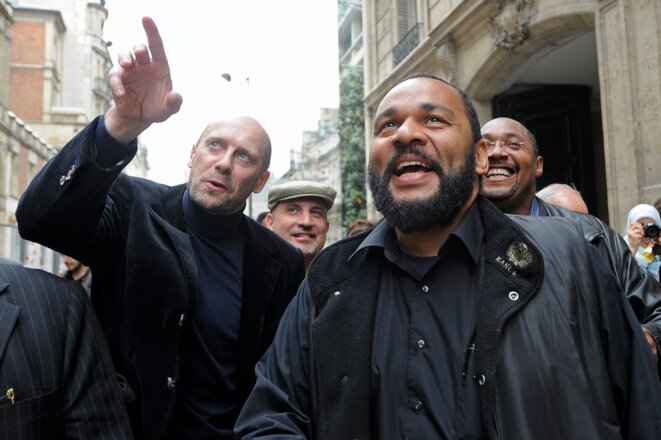 Alain Soral et Dieudonné en mai 2009 lors du dépôt de leur liste aux européennes. © Reuters
The stand-up comedian Dieudonné M'bala M'bala, whose one-man show was banned earlier this year in France and who has been convicted of anti-Semitism, is setting up a new political party to rival the far-right Front National. His co-president will be Alain Soral, the anti-Semitic publisher and essayist who has split with Marine Le Pen's far-right party on the grounds that it is too "pro-Israeli" and that he has been "betrayed" by a senior FN official. According to documents seen by Mediapart the new party is to be called 'Réconciliation Nationale' or 'National Reconciliation'. The two leaders are said to be hoping for a dissolution of the National Assembly before 2017 so the new organisation can get its hands on state funding of political parties. Karl Laske and Marine Turchi report.
Dieudonné M'bala M'bala faces probe after he mocked the killing of the American journalist and showed footage of it in a video.
After France's top court upholds bans on his tour, Dieudonné says new show about Africa will not contain language that courts objected to.
After ban on shows, interior minister says law 'must be able to act' against the online publication of what he calls 'racist and anti-Semitic speech'.