The city in east France has been  rocked by clashes and vehicle burnings after an assault this month on a 16-year-old Chechen boy that prompted other members of the community to stage reprisal raids.
Reported score-settling by members of the Chechen community appear to have been sparked by an alleged assault this month on a 16-year-old Chechen boy in the city in eastern France.
The French town of Dijon has been the scene of four days of hightening violence between groups of Chechen and North African origin, apparently sparked by an attack on a youth by drug dealers.
With just days to go before the first round of the French presidential elections, radical-left candidate Jean-Luc Mélenchon is mounting a serious challenge to the frontrunners, with opinion polls this week placing him neck-and-neck against conservative candidate François Fillon, and ever closer to the far-right's Marine Le Pen and centrist Emmanuel Macron, the longstanding favourites now losing ground. Christophe Gueugneau followed the firebrand's last major meeting this week, when Mélenchon, who wants to install a Sixth Republic with stronger powers for parliament, a system of regular referenda, and a renegotiation of EU treaties, attempted to reassure voters that he is not the anti-democratic revolutionary his detractors claim him to be.
At least 14 people were injured, two seriously, when an apartment block was reduced to rubble in an explosion after an apparent gas leak in the centre of Dijon in east-central France on Friday.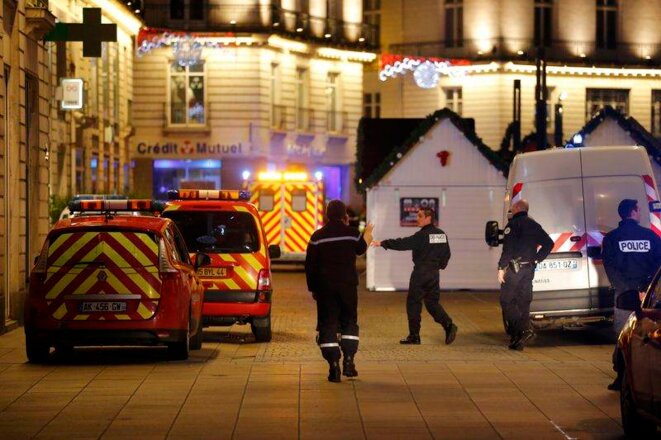 © Reuters
Three separate and shocking incidents in France over recent days raised fears that a terrorist campaign had been launched over the Christmas period. They began with an attack last Saturday by a knife-wielding man, shouting 'god is  great' in Arabic, on a police station in central France, when three officers were wounded and the assailant shot dead. On Sunday, a car was driven into pedestrians in the south-east city of Dijon by a man also reportedly chanting in Arabic, in which 13 people were injured. Then on Monday, a man drove a van into a crowded Christmas market in the western city of Nantes, injuring ten people, one of whom later died. The strange message from the government, writes political affairs correspondent Hubert Huertas in this opinion article, is that the situation is not alarming, but is alarming. For while finally dismissing a combined terrorist plot, it has also slammed the 'go' button on the machine that produces fear.
Officials said the driver who ran down 13 pedestrians in the south-eastern city has severe mental illness and no links to terrorism.
Eleven people were injured, two seriously, after a man in his forties slammed his car into groups of pedestrians in Dijon, south-east France.