Related keywords
An anti-discrimination association is preparing legal action against property owners advertising holiday homes online who a French radio investigation has found turned away potential renters with North African names for no reason other than their Arabic names, a practice described by one journalist as affecting 'tonnes of people each day'. 
The Paris City Hall is this week staging an event highlighting discrimination forms including a catwalk show of  rounded models who will parade to raise awareness that overweight people are subject to prejudice that results in intolerable social 'rejection, disdain' and 'hostility'.
The racist advert, placed in an estate agent's office in a Paris suburb and subsequently photographed and posted on social media, demanded that candidates to become tenants of an apartment should be of French nationality and not black.
Railway company ordered to pay 150 million euros damages to more than 800 contract workers recruited in the 1960s and 1970s.
Reports says that discrimination is 'main source of inequality' in France for young men of sub-Saharan African or north African origins.
Discrimination is alive and kicking in France, according to a study by the state's official statistical agency INSEE. Whether it involves education, career progression, pay or getting access to housing, there are obstacles and hurdles at all levels of society for disabled, women and gay people as well as those from immigrant backgrounds. Nor does having good qualifications always make the situation better - indeed, in some cases the inequality gets worse higher up the workplace ladder. As Carine Fouteau reports, the study suggests there is a real need for more concrete action despite the pledges and fine words from President Hollande and his government.
The French citizens' rights watchdog, the Défenseur des droits, is investigating a complaint that a bus driver with the Paris public transport system, the RATP, refused to let three young Roma men with valid travel passes climb aboard his vehicle, allegedly saying 'dirty Romanians, you're like dogs'. Witnesses have come forward to confirm the incident which, as Carine Fouteau reports, is just one of a series involving allegedly discriminatory behaviour against Roma by RATP staff, and which drivers' union officials say they "cannot deny" happen.
An official French citizens' rights watchdog has launched an investigation into allegedly discriminatory recruitment practices by fashionable US clothes retail chain Abercrombie & Fitch, which is accused of selecting only physically attractive people as sales staff for its French stores. As Michaël Hajdenberg reports, the affair highlights a problem that several studies show affects vast numbers of people on the job market, whose professional opportunities are daily compromised by a secret discrimination over their weight, size or blemishes.
French court has found airline guilty of discrimination for removing a pro-Palestinian activist from a flight to Israel because she was not Jewish.
Country's top court rules in favour of woman fired by a private nursery school five years ago for refusing to remove her Islamic veil at work.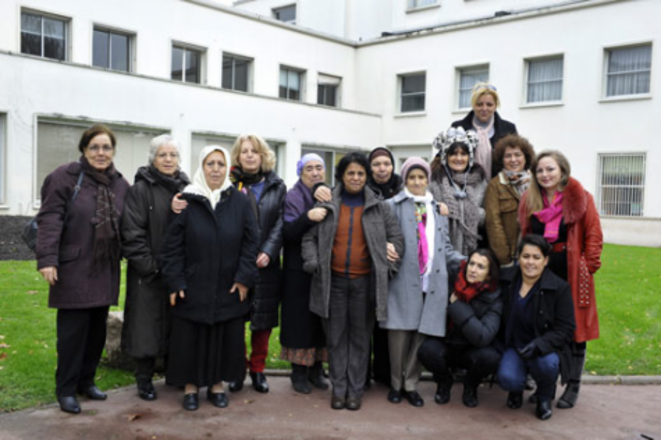 © Michel Le Moine
The Paris suburb of Le Blanc-Mesnil is typical of dozens of socially-deprived agglomerations that surround the capital's northern perimeter, characterized by zones of high-rise public housing estates, higher than average unemployment, especially among the young, and a significant population of North and West African origin who complain of being stigmatized and discriminated against. While the stereotypes of those who live in what are commonly called les banlieues are reinforced by regular incidents of violence, drug dealing and social unrest, local inhabitants are rarely offered a public stage to challenge the narrow perceptions that ignore the broader realities of their community. But now, in a rare and insightful book published last month, a group of women residents of Le Blanc-Mesnil recount with frankness and simplicity their everyday experiences, both positive and negative, of life amid the troubled suburbs. Carine Fouteau reports.
The French Republican mantra of Liberté, Égalité, Fraternité has arguably cast a veil over prejudice and discrimination in some of the country's institutions because of a widespread belief that if equality has been decreed, it must exist. But now, an unusual grass-roots study is being run in five schools in the city of Grenoble, southern France, to investigate evidence that children from families of non-French ethnic origin are, against their will, guided to a future professional life that offers fewer opportunities than for others. Lucie Delaporte reports on a taboo subject that has divided experts and evaded proper public debate.  
Muslims in France and elsewhere in Europe face discrimination in education, employment and religious freedom, says Amnesty International report.