In an open letter published in the press, 660 French public hospital doctors have threatened to resign unless the health ministry opens urgent talks to redress funding shortfalls that have caused severe disruption to services and the departure of staff towards the private sector.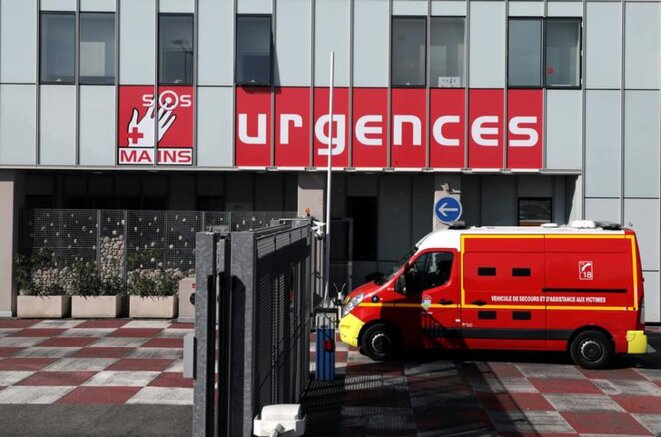 The A&E service in Nice, which is one of more than 200 where paramedics are on strike. © Reuters
French hospitals are witnessing an unprecedented nationwide strike movement  by paramedical personnel in Accident and Emergency (A&E) services in protest over under-staffing, patient over-crowding, inadequate equipment and poor wages. Despite short-term financial measures announced by the government in June to defuse the situation, the movement has snowballed from 60 hospitals in March to more than 200 this month, when A&E doctors announced they too may now take strike action over what they called "catastrophic" working conditions. Rouguyata Sall reports on the deepening crisis and talks to members of Inter-Urgences, the collective leading the strike movement.
Models will have to produce medical certificate to confirm they are a healthy weight and magazines must label Photoshopped images.
Doctors said security fears blocked a decision on fate of Vincent Lambert, 39, whose family is divided over maintaining him on life support.
Many of France's rural and semi-rural regions have for years been blighted by the gradual but steady decline in the numbers of local doctors, notably general practitioners. The problem is now so acute in some areas that it is virtually impossible for patients, including the seriously ill, to receive proper medical treatment. That is the case in the Seine-et-Marne département (county) which stretches south-east from Paris. Caroline Coq-Chodorge travelled to Souppes-sur-Loing, a town with a population of 6,000 that sits on the southern edge of the département, where the crisis is typical of the medical 'desertification' witnessed across France. Facing the imminent loss of all remaining medical professionals, the municipal authorities are planning to fork out 1 million euros in a desperate attempt to attract new doctors, even though healthcare is not their brief.
A French doctors' union has called on its members to refuse off-duty calls over the Christmas holiday period in a protest at working conditions.
Earlier this summer, France's new socialist government announced a crackdown on the increasing number of self-employed doctors who charge fees well in excess of the standard rates refunded by the country's social security system. The government is concerned that the explosion in fees charged by specialist practitioners is excluding many medium and lower income earners from being able to pay for consultations that are only partially reimbursed, often at less than a quarter of the fee demanded. Doctors' representative bodies and the state social security office have been given until October 17th to thrash out an agreement, without which the government says it will introduce legislation this autumn to force the fees down. Vincent Manilève reports.
Many French rural regions are becoming 'healthcare deserts', where doctors serving as General Practitioners have become a rare and overworked species, unable to cope with patient demand. Elodie Berthaud examines the underlying causes and reports from a region of north-west France where patients are being turned away from surgeries while head-hunters offer villages Romanian doctors - for a 14,325-euro commission.