Keyword: Doctors Without Borders
The French-founded international medical aid organsiation MSF (Doctors Without Borders) said it was prompted by the growing scandal engulfing British NGO Oxfam to reveal that it investigated 24 allegations of sexual harassment or abuse last year and which resulted in the dismissal of 19 of its staff.
French NGO Doctors Without Borders has announced it is suspending its boat's operations to search and rescue migrants crossing the Mediterranean Sea in hazardous conditions after what it said was 'threatening behaviour' by Libyan coatsguards.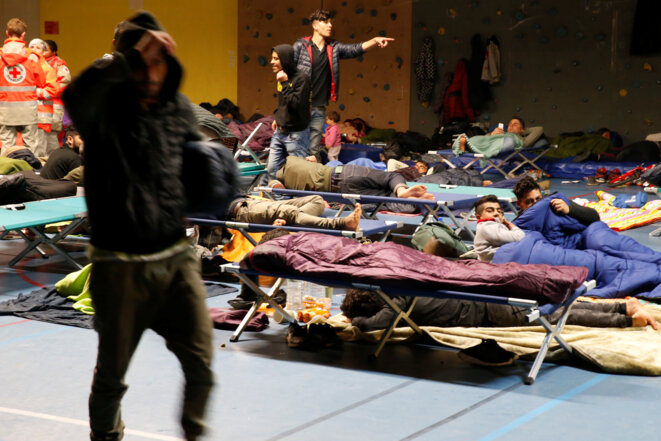 Displaced migrants from the destroyed Grande-Synthe camp were offered shelter inside one of the town's gymnasiums. © Reuters
A migrant camp close to the Channel port of Dunkirk, in north-east France, which housed about 1,500 people in wooden sheltered accommodation, was razed to the ground in a huge blaze on Monday that was started during fighting between groups of Iraqi Kurds and Afghans. The events have further fuelled anti-immigrant rhetoric from candidates campaigning in the French presidential elections, and placed in question the outgoing socialist government's already reluctant support for the site. But, as Carine Fouteau reports, the local mayor behind the creation of the camp, which opened only last year, has pledged to rebuild it.
The woman, on assignment with the Doctors Without Borders association in the capital Monrovia, is to be returned to France for treatment.
Bernard Kouchner was French foreign affairs minister until the reshuffle. It was a largely undignified departure for the former Socialist Party bigwig and humanitarian aid pioneer. In this article first published in September, Thomas Cantaloube, with help of ministry insiders, charts the demise of a man who ended his career as an ineffectual minister serving his former political adversaries.