Keyword: Dominique de Villepin
The middleman Alexandre Djouhri has been released on bail by a court in London pending proceedings to extradite him to France. Examining magistrates in Paris investigating claims that Libyan regime money was used to finance Nicolas Sarkozy's 2007 election campaign want to question Djouhri over crucial documents found at his Swiss home. Mediapart understands these show that the middleman did indeed oversee the payment of half a million euros of Libyan origin to President Sarkozy's most trusted lieutenant, Claude Guéant. Karl Laske and Fabrice Arfi report.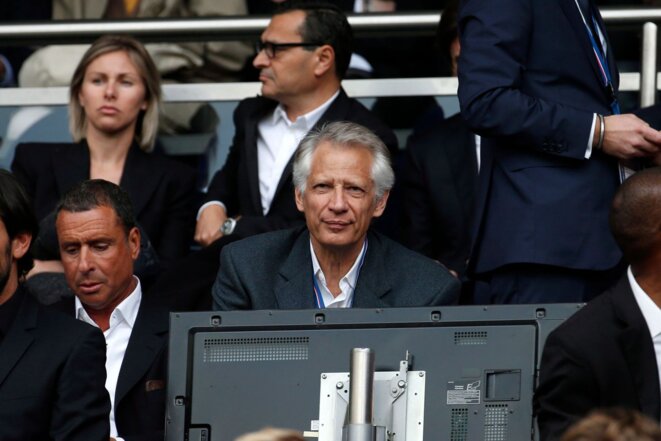 Alexandre Djouhri, centre left, and former premier Dominique de Villepin, centre, at the Parc des Princes football stadium, April 23rd, 2014. © Benoit Tessier Reuters
In 2009 the former French prime minister Dominique de Villepin was paid nearly half a million euros in money which originated in a Libyan state fund, Mediapart can reveal. Details of the payment, which came via middleman and business Alexandre Djouhri, have been unearthed by investigators examining another 500,000 euro payment, which was made to Nicolas Sarkozy's former right-hand man Claude Guéánt and which passed through a similar route. Villepin has told detectives he was unaware of the Libyan origin of the money. Karl Laske and Fabrice Arfi report.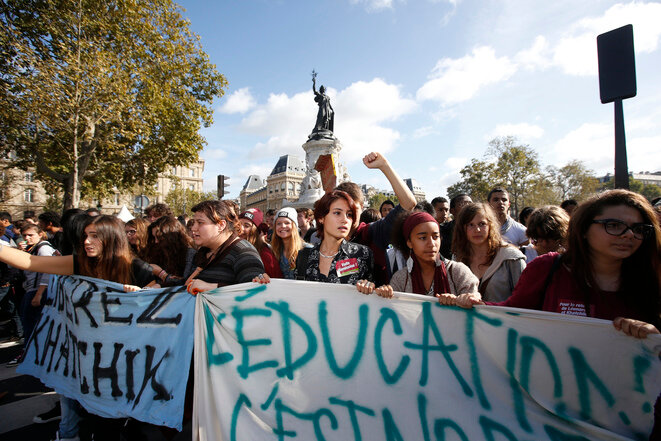 What French governments fear: when students take to the streets. © Reuters
A total of 20 student and youth organisations have called for protests on Wednesday, March 9th against the government's proposed reforms of employment law. Though the formal presentation of the bill has now been postponed pending further discussions with trade unions, ministers still fear the spectre of widespread social mobilisation, of the kind seen ten years ago that sank plans for new workplace contracts. In particular, President François Hollande is afraid the final months of his presidency would be doomed if students take to the streets in large numbers. Lénaïg Bredoux and Faïza Zerouala report on the unpredictability of France's student protests.

Facing trial? Ex-ministers Michèle Alliot-Marie, Dominique de Villepin and Michel Barnier. © Reuters
In November 2004 nine French soldiers and an American humanitarian worker were killed at Bouaké in the Ivory Coast in a bombing raid carried out by that country's air force. Yet more than eleven years later the foreign mercenaries who are thought to have conducted the raid have never been brought to account. Now a French investigating judge has recommended that three senior French ministers who served under President Jacques Chirac at the time - Dominique de Villepin, Michèle Alliot-Marie and Michel Barnier – stand trial for hindering the initial investigation. Antton Rouget reports.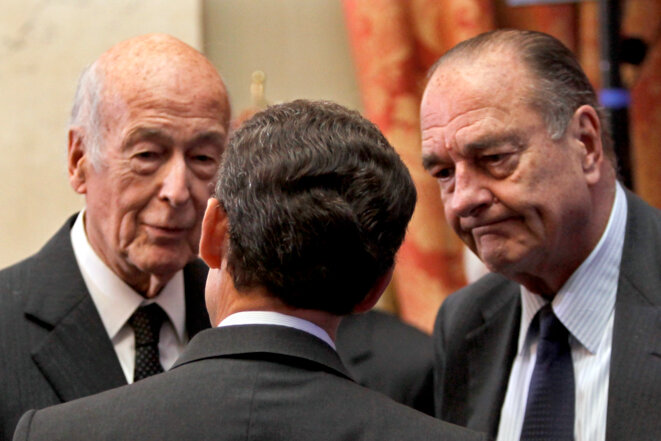 France's three surviving presidents (left to right): Valéry Giscard d'Estaing, Nicolas Sarkozy and Jacques Chirac. © Reuters
Mediapart has gained access to a detailed account of the annual payments made to former French presidents and prime ministers in a lifelong system of perks and privileges that beggars belief. With items ranging from newspaper and dry-cleaning costs to the payment of staff, offices and vehicles, the country's three surviving former heads of state cost the taxpayer a yearly 6.2 million euros. Former prime ministers, meanwhile, receive tens of thousands of euros annually for staff and vehicles, including one who left office 25 years ago. Mathilde Mathieu reports.
Supporters of the former president have queued up to say he should stand for leadership of conservative UMP party which is engulfed by crisis.
Officials now say the former diplomat was illegally granted the huge sum after returning to the foreign ministry for just one day.
Former French PM Dominique de Villepin is questioned by French police investigating alleged embezzlement at the Relais & Chateaux hotel group.
Former French prime minister and centre-right politician Dominique de Villepin announces he will stand for president in the 2012 election.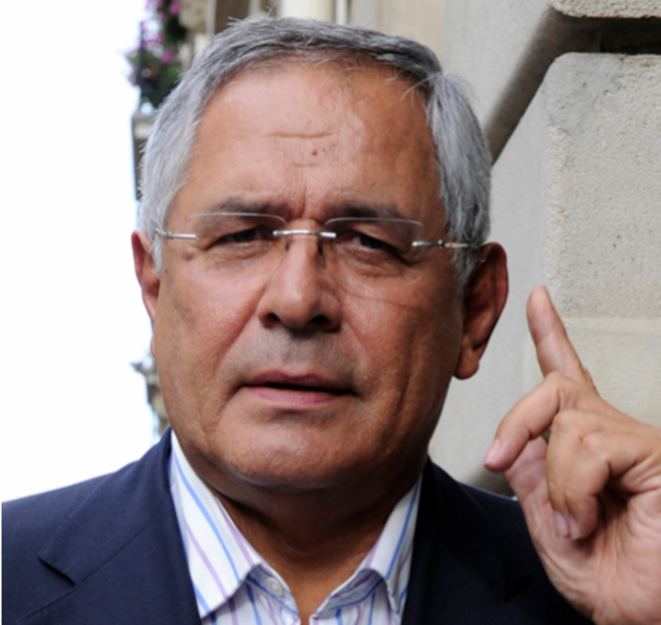 R.Bourgi. © Reuters
For decades he has enjoyed close personal and professional relations with French-speaking Africa's most prominent leaders, including notorious despots. Robert Bourgi (photo), dubbed 'Monsieur Afrique' in France, is an advisor and go-between for both the French presidency and African heads of state. He created a political storm in September after publicly accusing his one-time boss, former President Jacques Chirac, along with former Prime Minister Dominique de Villepin, of receiving millions of euros in secret cash payments from several African leaders. Mediapart has obtained exclusive access to a statement he gave earlier this month to magistrates in which he details the cash payment claims, including an alleged lunchtime gift to Villepin of one million euros by the president of Equatorial Guinea. Fabrice Arfi and Karl Laske report.
Key suspect in French probe into illegal political funding via arms sales abroad accuses former PM Dominique de Villepin of smear campaign.
French appeal court upholds acquittal of former French PM on charges of slandering Nicolas Sarkozy in Clearstream scandal.
A lawyer claimed he secretly delivered cash from African leaders to ex- president Jacques Chirac and former prime minister Dominique de Villepin.
No control: President Nicolas Sarkozy. © Reuters
French President Nicolas Sarkozy has re-appointed François Fillon as prime minister, and the long-awaited ministerial reshuffle has happened. The president hopes it will turn a political page on a volatile social crisis and the scandals rocking his presidency. But, argues Mediapart's Laurent Mauduit, the stage-managed media rumours surrounding the future government and an abscence of political debate before its composition speak volumes about the president's attachment to democracy as well as the extent of a crisis within his own political camp.