Keyword: Dominique Strauss-Kahn
Strauss-Kahn came second in poll out of a group of Socialist Party figures regarded as potential candidates for France's 2017 election.
Last Friday a French court acquitted former International Monetary Fund chief Dominique Strauss-Kahn of aggravated pimping charges, relating to his regular participation in group sex orgies with prostitutes. It followed on the acquittal in May, in an unrelated case, of former conservative minister Éric Woerth of charges that he manipulated senile L'Oréal heiress Liliane Bettencourt to obtain cash sums, and of influence peddling to obtain a job for his wife in exchange for awarding Bettencourt's wealth investment manager with the Légion d'honneur. The unsuccessful prosecutions prompted some conservatives, and their allies, to call – and not for the first time - for an end to the French system of examining magistrates, the independent judges who lead major crime investigations carried out in the field by police, and who alone have the ultimate decision on whether to press charges. But in this op-ed article, Mediapart's legal affairs correspondent Michel Deléan argues that such calls are a recurrent knee-jerk reaction on the part of those whose distaste for investigating judges is rooted in the latter's independence in face of the rich and powerful, as demonstrated over several decades of French judicial history.   
French judges said there was no proof he knew that some of the women he had sex with at orgies organised by close associates were prostitutes.
The presiding judge of the trial of the former IMF chief, accused of pimping in orgies organised with cohorts, will deliver his verdicts in June.
Prostitutes' testimony during the trial in which the former IMF chief answered charges of pimping reveals world of deprivation and abuse.
A former prostitute told a French court the former IMF boss, on trial for pimping, sodomised her as if she was 'an object for his consumption'.
The former IMF boss told French court that sex parties in France and the US were 'festive and playful', despite prostitute's harrowing testimony.
The former IMF boss appeared in court in Lille in northern France on Monday accused of pimping for sex orgies at luxury hotels.
The disgraced former IMF chief launches legal action for defamation over film inspired by his 2011 arrest in New York on rape charges.
Movie inspired by scandal that brought down IMF chief Dominique Strauss-Kahn got its world premiere in Cannes to mixed reviews.
Disgraced IMF chief does not see the funny side to his name on a Belgian brothel whose owner claims the initials mean 'Dodo Sex Klub'.
The poll shows most find the disgraced former IMF chief more competent than both François Hollande and his predecessor Nicolas Sarkozy.
Former IMF boss will serve as an economic adviser for Serbia's top officials despite facing aggravated pimping charges in France.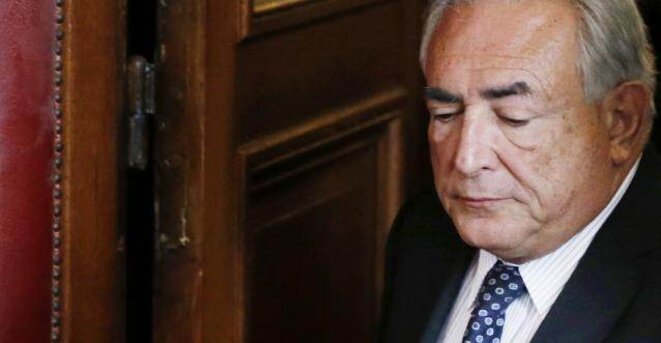 Former International Monetary Fund managing director Dominique Strauss-Kahn (pictured) has been sent for trial on charges of taking part in pimping activities at the end of a more than two-year investigation into a prostitution ring that staged orgies for his benefit in France, the US and Belgium. Michel Deléan reports on the background of the 'Carlton affair' and details the case levelled against DSK.