It is not the first time that South Korean-born MP Joachim Son-Forget has got into trouble for impersonating a politician on the social media platform.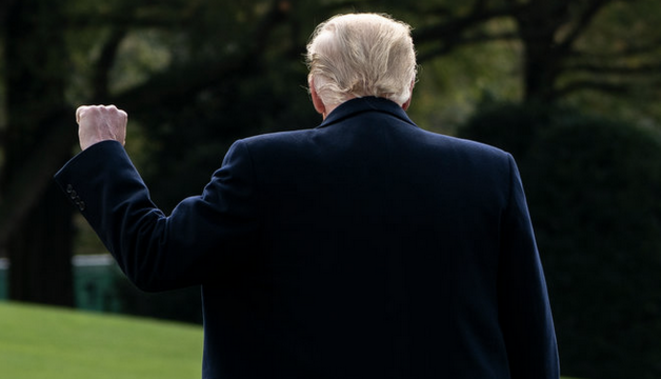 Going, going.....Donald Trump at the White House on October 30th 2020. © AFP
Though Joe Biden won a knife-edge victory in the United States presidential election the Democrats suffered heavy defeats in other electoral contests. Mediapart's co-founder François Bonnet argues that despite his defeat the huge voter turnout for Donald Trump serves as a reminder that the extreme populist right can only be beaten by alternative political projects that focus on citizens and concrete actions on the ground. Here he outlines four lessons from the US elections for European countries - and in particular France.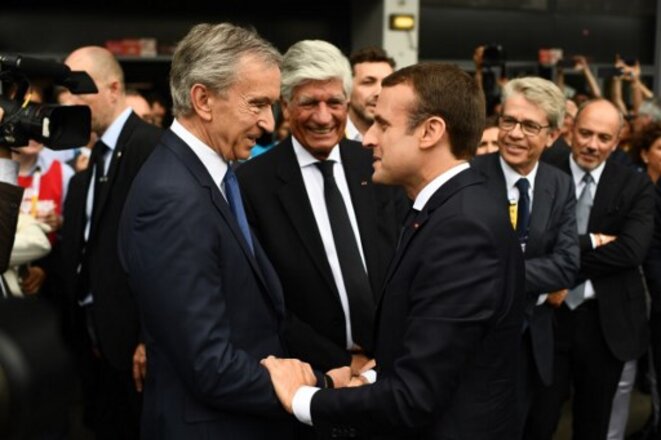 LVMH boss Bernard Arnault and Emmanuel Macron in June 2017. © Martin BUREAU / AFP
France's foreign minister has written an extraordinary letter that provides 'cover' for the French luxury goods group LVMH to pull out of an expensive deal to buy famous American jewellery firm Tiffany it no longer wanted to complete. That letter came after LVMH chief executive Bernard Arnault reportedly asked foreign minister Jean-Yves Le Drian for help. The affair is now likely to lead to a long and bitter legal battle, one that could even end up with the French state facing claims for compensation from disgruntled shareholders. Mediapart's Martine Orange argues in this op-ed article that no French government has ever gone out on such a limb to support a private company.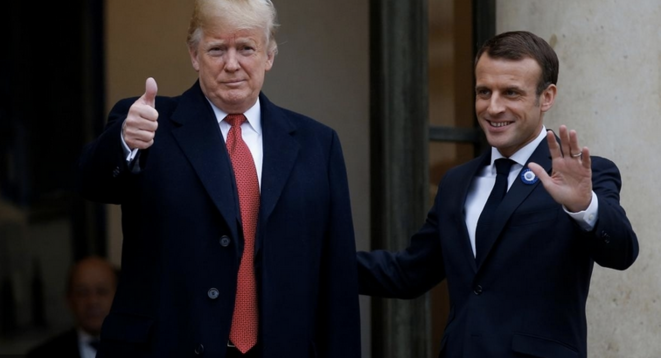 Donald Trump and Emmanuel Macron. © Reuters
Carried out on the orders of Donald Trump, the assassination of General Qasem Soleimani, a top Iranian military commander, is one step further towards the abyss of war. Though the future is never written in advance, how can one avoid the thought that the America government has put the world in peril by behaving as a rogue state, trampling on international law, asks Mediapart's publishing editor Edwy Plenel. France, he argues, would do itself great honour by saying so loudly and clearly.
At a press conference in London ahead of a summit to mark Nato's 70th anniversary, US President Donlad Trump said comments earlier this month by his French counterpart Emmanuel Macron who said the military alliance was 'brain dead' were 'very, very nasty' and 'disrespectful', adding a jibe that France was 'not doing well economically at all'.
Maria Svart is the national director of the Democratic Socialists of America (DSA), an activist organisation funded by its members, whose numbers have swollen tenfold since Donald Trump became president. Mediapart's New York correspondent Mathieu Magnaudeix interviewed her about the Democratic primary candidate Bernie Sanders, the rising star on the Left congresswoman Alexandria Ocasio-Cortez, and the return of the Left in the United States.
Robert Paxton talking about how Vichy France is remembered. © Mathieu Magnaudeix / Mediapart
When the French language version of his book 'Vichy France' appeared in 1973, the American historian Robert Paxton opened French eyes to the Vichy regime's collaboration with the Nazis in World War II. At the age of 87 he remains one of the most knowledgable people about fascism. Mediapart spoke with the emeritus professor at Columbia University about Donald Trump, nostalgia for the wartime era of Vichy president Marshal Philippe Pétain, and the spectre of a return to the 1930s. Mathieu Magnaudeix reports from New York.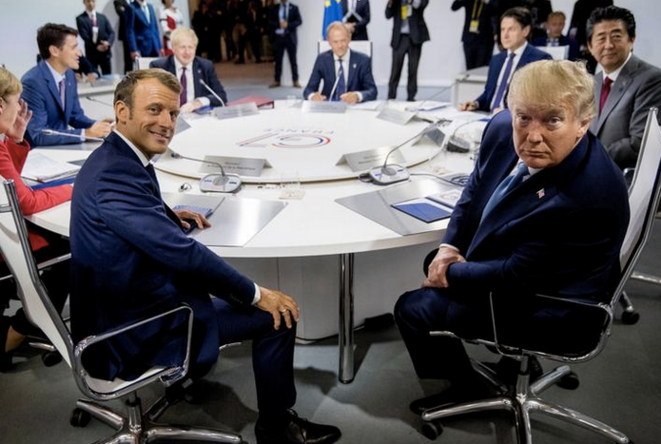 Emmanuel Macron and Donald Trump during the G7 at Biarritz, south-west France, August 25th 2019. © Andrew Harnik/Pool via REUTERS
The reaction to Donald Trump's behaviour and the attempts at impeachment highlights the vitality of democratic culture in the United States when faced with executive abuse of power. In contrast, argues Mediapart publishing editor Edwy Plenel, France is served by a low-intensity democracy that has been undermined by the country's system of presidential monarchy.
French president tells reporters en route to New York: 'We need to be clear-eyed.'
Presidents Donald Trump and Emmanuel Macron at the G7 summit in Biarritz, August 26th 2019. © Reuters
In 2018 President Emmanuel Macron experienced a catastrophic period in domestic politics after the summer break. In 2019 the French head of state has tried to hit the ground running by placing himself firmly at the centre of the international stage. His hosting of the G7 summit in Biarritz in south-west France was greeted with unanimous approval by the French press which hailed it a success. Yet as Mediapart's Ellen Salvi reports, nothing in the substance of the issues tackled at the international gathering has changed.
French president attempted to engineer progress at leaders' gathering in Biarritz despite deep divisions over issues.
Surprise lunch came just a day after Trump reiterated his threat of tariffs against French wine in retaliation for new tax on major US tech firms.
Comment from French foreign minister came after President Trump accused President Macron of sending 'mixed signals' to Tehran.
French agriculture minister Didier Guillaume has described US President Donald Trump's threat to increase tariffs on French wine imports in retaliation to France's 'foolishness' in deciding to tax sales of digital retail and commercial activities by tech companies, notably US giants like Amazone and Apple, as being 'completely moronic' and 'absurd'.