Related keywords
French president attempted to engineer progress at leaders' gathering in Biarritz despite deep divisions over issues.
Surprise lunch came just a day after Trump reiterated his threat of tariffs against French wine in retaliation for new tax on major US tech firms.
Comment from French foreign minister came after President Trump accused President Macron of sending 'mixed signals' to Tehran.
French agriculture minister Didier Guillaume has described US President Donald Trump's threat to increase tariffs on French wine imports in retaliation to France's 'foolishness' in deciding to tax sales of digital retail and commercial activities by tech companies, notably US giants like Amazone and Apple, as being 'completely moronic' and 'absurd'.
In a vitriolic message posted on Twitter, US President Donald Trump slammed a new tax to be levied by France on sales in the country by multinational digital tech firms like Google and Apple, announcing he will take "substantial reciprocal action on Macron's foolishness" and hinting this would be a raising of tariffs on French wine imports. 
Carole Ghosn, wife of Carlos Ghosn who was arrested in Japan last November on accusations of financial misconduct, has appealed to US President Donald Trump to help end his continued detention in Tokyo by lobbying the Japanese prime minister at the forthcoming G20 summit.
In what might be perceived by some as a reflection of increasing tensions between US President Donald Trump and his French counterpart Emmanuel Macron, a young oak tree presented as a gift by the French president during an official visit to the US last year, and which was symbolically planted in the White House gardens by the two leaders before being placed in obligatory quarantine, has died.
French president praised the multilateralism of NATO and the EU while offering gratitude to the United States.
Macron and French officials hoping for smoother run than last time French head of state hosted US president, which became a diplomatic fiasco.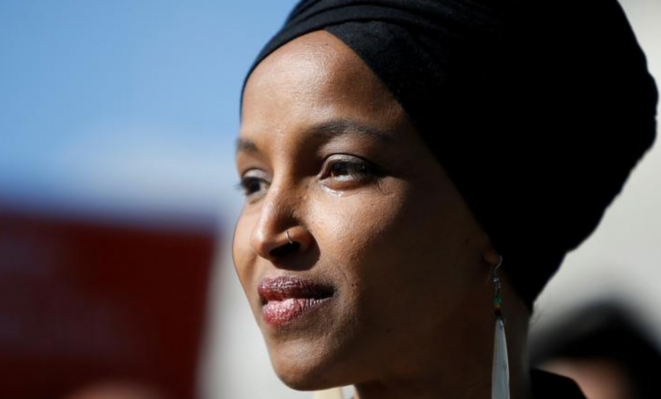 Ilhan Omar. © Reuters
US Congresswoman Ilhan Omar, elected to the House of Representatives last November, has since become a focal target for President Donald Trump and many among of the American Right. Arriving in the country as a child with her refugee family from Somalia, obtaining US nationality at the age of 17, she has engaged a political career as an outspoken, hijab-wearing Muslim politician who espouses radical-left policies. She also denounces American support of the Israeli government, and her controversial comments on that subject and the place of Muslims in US society have prompted death threats and accusations of anti-Semitism. Just what does Ilham Omar really represent, and what is behind the virulent campaign by Trump and his allies over recent months to make her a political pariah? Mediapart's US correspondent Mathieu Magnaudeix reports.      
Following revelations of previously unseen footage of US President Donald Trump's former advisor Steve Bannon taking part in discussions in London with France's far-right Rassemblement National party, broadcast by a French TV current affairs programme and during which he was invited and accepted to discuss with the party's sympathisers from among France's high-ranking civil servants, has prompted calls for a parliamentary inquiry.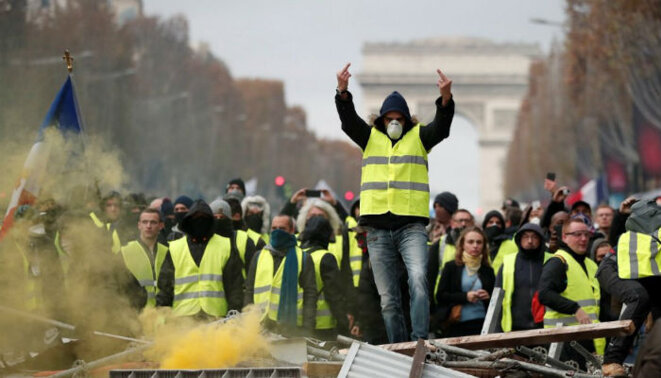 Yellow vest protestors on the Champs-Élysées avenue in Paris, November 2018. © Reuters
The two-month-long 'gilets jaunes', or 'yellow vest', movement in France, protesting the fall in living standards for low- and middle-income earners and against the powers of the country's social and political elite, continues largely unabated. It has attracted worldwide attention, and not least in the United States, where the Left sees it as an echo of the Occupy Wall Street movement, where also supporters of President Donald Trump have hi-jacked it as a new symbol of protest against the liberal establishment, and where the latter interpret it as a devil of populism. Mediapart's US correspondent Mathieu Magnaudeix reports from New York on the confused reactions across the Atlantic to the largely misunderstood revolt in France.
FDrench President Emmanuel Macron, speaking during a visit to Chad, said he "very deeply' regrets the decision by his US counterpart Donald Trump to withdraw American troops from Syria, commenting that 'An ally should be dependable'.
In a message he posted on Twitter on Wednesday, US President Donald Trump, currently battling for approval of a budget to beef up immigration barriers with a wall on the US border with Mexico, cited the terrorist shooting spree on Tuesday in Strasbourg to justify a clampdown on migrants, apparently ignorant of the fact that the suspect in the attack was born in the the eastern French city.