Related keywords
A former US national security official has claimed that President Donald Trump has a 'bizarre' desire to 'constantly' call French President Emmanuel Macron, sometimes for no particular reason and leaving Macron bemused.
France and Germany have reacted strongly at a decision by US President Donald Trump to withdraw his support for the concluding joint statement issued by the Group of Seven summit in Canada of leading world economic powers, with a French presidential source calling it an act of 'incoherence and inconsistency' and the German foreign minister saying trust had been 'lost'. 
French President Emmanuel Macron, asked during a press conference about a phone conversation with US President Donald Trump last week on the latter's decision to impose import tariffs, borrowed a saying by 19th-century Prussian statesman Otto von Bismarck to the effect that it's best not to know what lies inside sausages.
US president suggested 2015 attacks could have been stopped by giving people guns and mimicked gunmen summoning victims one by one.
French president addresses Congress, presenting himself as an advocate of liberal world order – the opposite of Trump's image
French president's offer seems calculated to appease US president's discontent with the current 'bad deal' on Iran's nuclear programme.
On Monday president and First Lady dined with Macron and his wife, Brigitte, at Mount Vernon, home of first president, George Washington.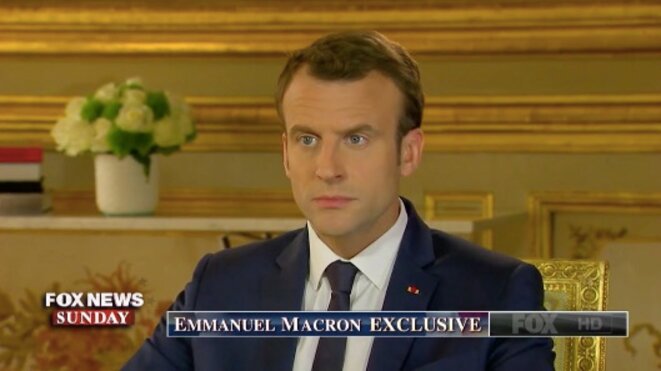 Emmanuel Macron interviewed by Fox News. © Fox News
French President Emmanuel Macron arrived in the United States on Monday for a three-day state visit, the first of its kind by a foreign head-of-state since the election of Donald Trump as president. Mediapart's US correspondent Mathieu Magnaudeix analyses American perceptions of the French president as a bulwark against the advance of populist politics and an antidote to Trump, who one US media commentator even ventured to describe as "a beacon for progressives hoping to find their way back to the halls of power across the democratic world".  
Presidents Trump and Macron are expected to tackle pressing foreign policy issues from Iran deal to Syria as French leader starts US state visit.
Former Trump adviser addresses Front National as its beleaguered president Marine Le Pen attempts to relaunch her party.
French President Emmanuel Macron is to make the first official visit of a foreign leader to the United States under the Trump administration, expected to take place in late April, when he will notably address Congress.
French President Emmanuel Macron, speaking in a television interview with the BBC, said he shared the outrage of African countries after US President Donald Trump reportedly described Central American and African nations as 'shithole countries' at a White House meeting with lawmakers earlier this month.
At the start of the New Year President Emmanuel Macron told a gathering of journalists that his government was preparing a new law to clamp down on 'fake news' on social media. But already the French media are wondering whether an attack on 'fake news', however desirable, would not end up damaging freedom of information in general. Hubert Huertas looks at the pitfalls presented by the plan.
The French president said the US move went against international law and 'all the resolutions of the UN Security Council'.