Related keywords
In what might be perceived by some as a reflection of increasing tensions between US President Donald Trump and his French counterpart Emmanuel Macron, a young oak tree presented as a gift by the French president during an official visit to the US last year, and which was symbolically planted in the White House gardens by the two leaders before being placed in obligatory quarantine, has died.
French president praised the multilateralism of NATO and the EU while offering gratitude to the United States.
Macron and French officials hoping for smoother run than last time French head of state hosted US president, which became a diplomatic fiasco.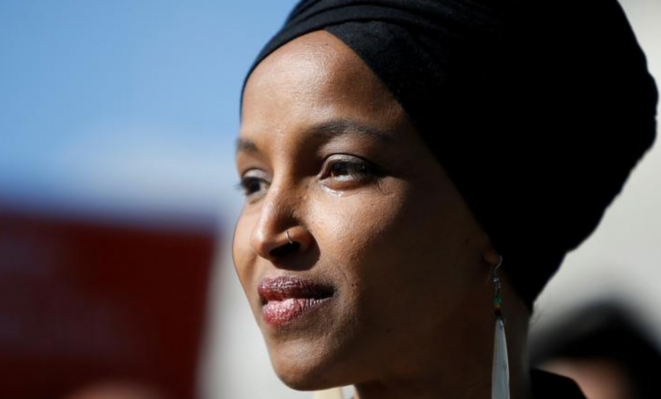 Ilhan Omar. © Reuters
US Congresswoman Ilhan Omar, elected to the House of Representatives last November, has since become a focal target for President Donald Trump and many among of the American Right. Arriving in the country as a child with her refugee family from Somalia, obtaining US nationality at the age of 17, she has engaged a political career as an outspoken, hijab-wearing Muslim politician who espouses radical-left policies. She also denounces American support of the Israeli government, and her controversial comments on that subject and the place of Muslims in US society have prompted death threats and accusations of anti-Semitism. Just what does Ilham Omar really represent, and what is behind the virulent campaign by Trump and his allies over recent months to make her a political pariah? Mediapart's US correspondent Mathieu Magnaudeix reports.      
Following revelations of previously unseen footage of US President Donald Trump's former advisor Steve Bannon taking part in discussions in London with France's far-right Rassemblement National party, broadcast by a French TV current affairs programme and during which he was invited and accepted to discuss with the party's sympathisers from among France's high-ranking civil servants, has prompted calls for a parliamentary inquiry.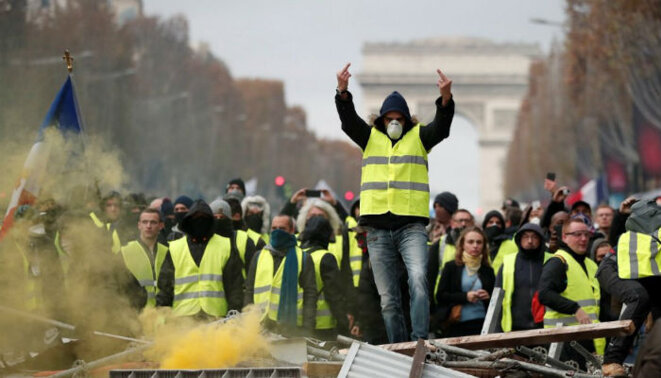 Yellow vest protestors on the Champs-Élysées avenue in Paris, November 2018. © Reuters
The two-month-long 'gilets jaunes', or 'yellow vest', movement in France, protesting the fall in living standards for low- and middle-income earners and against the powers of the country's social and political elite, continues largely unabated. It has attracted worldwide attention, and not least in the United States, where the Left sees it as an echo of the Occupy Wall Street movement, where also supporters of President Donald Trump have hi-jacked it as a new symbol of protest against the liberal establishment, and where the latter interpret it as a devil of populism. Mediapart's US correspondent Mathieu Magnaudeix reports from New York on the confused reactions across the Atlantic to the largely misunderstood revolt in France.
FDrench President Emmanuel Macron, speaking during a visit to Chad, said he "very deeply' regrets the decision by his US counterpart Donald Trump to withdraw American troops from Syria, commenting that 'An ally should be dependable'.
In a message he posted on Twitter on Wednesday, US President Donald Trump, currently battling for approval of a budget to beef up immigration barriers with a wall on the US border with Mexico, cited the terrorist shooting spree on Tuesday in Strasbourg to justify a clampdown on migrants, apparently ignorant of the fact that the suspect in the attack was born in the the eastern French city.
Reacting to a message posted on Twitter by US President Donald Trump, in which he goaded his French counterpart over current social unrest in France, foreign minister Jean-Yves Le Drian said 'I say this to Donald Trump and the French president says it too: leave our nation be'.
The Guardian's world affairs editor Julian Borger argues that in the spat between US President Donald Trump and his French counterpart Emmanuel Macron, 'the outcomes of Trump's meltdown could be far worse when it is not Macron on the receiving end but, say, Kim Jong-un'.
US President Donald Trump, apparently displeased with remarks warning against rise of nationalism pronounced by French President Emmanuel Macron during Armistice Day ceremonies attended in Paris by the US head of state, took to Twitter on Tuesday to say that 'They were starting to learn German in Paris before the U.S. came along', underlining that France suffers from high unemployment, adding, 'By the way, there is no country more Nationalist than France'.
In a post on Twitter, the French army mocked US president Donald Trump's decision on Sunday to cancel a visit to a cemetery of US soldiers killed in WWI, when bad weather conditions were cited as the reason, during his visit to France to mark the centenary of the 1918 armistice.
While the centenary commemorations in France marking the end of WWI saw German Chancellor Angela Merkel take part in a symbolic ceremony with French President Emmanuel Macron, US President Donald Trump began his visit with a Twitter message attacking Macron's championing of a joint European defence force, and cancelled a visit to a US cemetery of fallen US soldiers, citing bad weather conditions.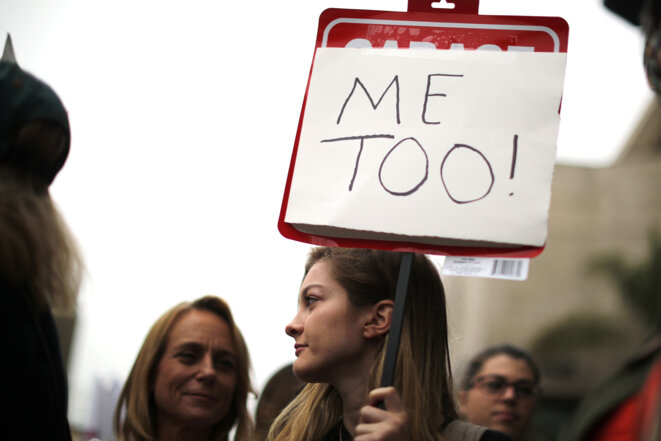 Why has the #MeToo movement not had such an impact in France as it has had in America? © Reuters
The different ways in which the two countries have reacted to the #MeToo movement has been striking. In the United States there was a strong and powerful response whereas in France there has been a backlash, in some quarters. To find out why France has been slower to embrace this movement, which began a year ago, Mediapart asked women who had supported or led the campaign on this side of the Atlantic. Marine Turchi reports.