Former Trump adviser addresses Front National as its beleaguered president Marine Le Pen attempts to relaunch her party.
French President Emmanuel Macron is to make the first official visit of a foreign leader to the United States under the Trump administration, expected to take place in late April, when he will notably address Congress.
French President Emmanuel Macron, speaking in a television interview with the BBC, said he shared the outrage of African countries after US President Donald Trump reportedly described Central American and African nations as 'shithole countries' at a White House meeting with lawmakers earlier this month.
At the start of the New Year President Emmanuel Macron told a gathering of journalists that his government was preparing a new law to clamp down on 'fake news' on social media. But already the French media are wondering whether an attack on 'fake news', however desirable, would not end up damaging freedom of information in general. Hubert Huertas looks at the pitfalls presented by the plan.
The French president said the US move went against international law and 'all the resolutions of the UN Security Council'.
Former US president, who had a private meeting with President  Macron and also ex-head of state François Hollande, is on a lecture tour.
French President Emmanuel Macron, British Prime Minister Theresa May and her German counterpart Angela Merkel have issued a joint statement in support of the 2015 agreement with Iran limiting its use of nuclear technology which US President Donald Trump said on Friday he would not recertify, while Macron phoned Iranian President Hassan Rouhani to assure him in person of France's committment to the deal.
French president also said he 'profoundly respects' Trump's decision to withdraw US from agreement and said the 'door will always remain open'.
French foreign minister warns US that abandoning nuclear agreement with Iran would trigger a 'spiral of proliferation' in the Middle East.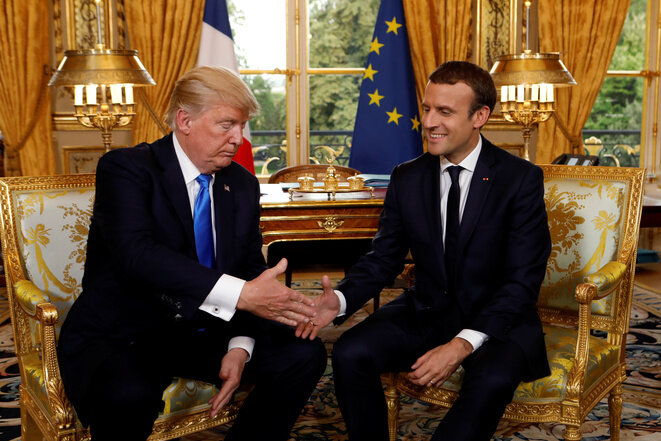 Donald Trump and Emmanuel Macron at the Elysée Palace july 13th. © Reuters
US President Donald Trump's two-day visit to Paris last week saw him courted with great pomp and ceremony by his French counterpart Emmanuel Macron whose red-carpet welcome provided Trump with a welcome diversion from political turmoil at home and a rare break from his isolation on the international stage. Macron, meanwhile, seized the opportunity of the vacuum created by Brexit and forthcoming elections in Germany to position Paris as Washington's new "special friend" in Europe. Mediapart's Washington correspondent Philippe Coste reports on how the manoeuvring was viewed from across the Atlantic.

In the final moments before his two-day visit to France ended, US President Donald Trump, known for his peculiar virile handshakes, shook and held French President Emmanuel Macron's hand for 25 seconds, latterly also joining hands with Macron's wife, in what some commentators called 'a Mr Bean moment'.
On a tour of the Hôtel des Invalides military complex in Paris during his two-day state visit to France, accompanied by his wife Melania and French President Emmanuel Macron and his wife Brigitte, US President Donald Trump was filmed telling the latter, who is aged 64, 'You're in such good shape' and insisting to Macron 'She's in such good physical shape'.
US President Donald Trump was guest of honour at the traditional Bastille Day military parade in Paris, where French and American military took part in a tribute to the centennial anniversary of the US entry into World War One, appearing happy and relaxed while news at home was increasingly dominated by the controversy over his son's meeting last year with Russian contacts. 
US President Donald Trump, speaking at a joint press conference with his French counterpart Emmanuel Macron during a two-day visit to Paris, told reporters that 'something could happen' with regard to his decision to withdraw US compliance with the 2015 UN COP 21 agreement in Paris to combat climate change.
US President Donald Trump arrived in Paris on Thursday for a two-day visit when he will take part in the traditional French Bastille Day military parade and commemorations of the entry 100 years ago of US troops into World War One, while also holding several meetings with French President Emmanuel Macron who officials said was keen to de-frost relations with the US leader.