However key differences between the two – and the French electoral system – stand in the way of Marine Le Pen emulating Donald Trump.
French President François Hollande who, with UN Secretary-General Ban Ki-moon, was attending a meeting of almost 200 nations in Morocco on ways to slow global warming, said US 'must respect the commitments it has undertaken' with last year's UN pact to combat climate change, which president-elect Donald Trump has called into question.
Front National party leader Marine Le Pen's hopes in next year's French presidential elections were given a clear boost by the victory of Donald Trump, whose anti-immigrant, xenophobic and protectionist rhetoric she shares.
Donald Trump's victory in the US presidential elections largely caught political experts, commentators, opinion poll agencies and the media by surprise. But, argues Mediapart editor François Bonnet in this op-ed article, Trump's accession to the White House is a "political 9/11" and the most spectacular manifestation of a worldwide cycle that has seen the inexorable rise of strongman leaders, warmongering, nationalism and xenophobia, together with the arrival of extremists at the heart of the ideological landscape.
Front National leader Marine Le Pen, who opinion polls predict will garner strong support in next year's French presidential elections, hailed Donald Trump's as that of a 'free' US, while her party's vice-president announced 'their world is collapsing, ours is being built'.
Foreign minister Jean-Marc Ayrault said that after Donald Trump's election as US president, and following the British referendum majority vote to leave the European Union, 'Europe must stand together more, be more active and go more on the offensive even if it is just to protect itself'.
François Hollande, who has been outspoken in his criticism of Donlad Trump during the US presidential election campaign, said the billionaire's victory 'opens a period of uncertainty' in the world.
French president says democracy is at stake in 2016 US election and victory for the Republican could make global politics more conservative.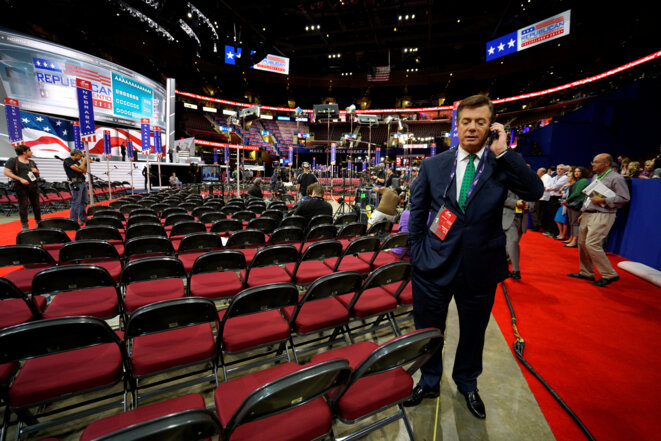 Paul Manafort, campaign manager for Donald Trump, at the Republican convention in Cleveland. © Reuters
Donald Trump's election campaign manager Paul Manafort is suspected by a French judicial investigation of having signed a fake contract with Paris-based arms dealer Ziad Takieddine to help the latter hide the real origin of cash seized by customs officers which he had smuggled into France from Switzerland. The incident occurred at the height of what has become known as the "Karachi Affair", involving suspected illegal funding of former French prime minister Édouard Balladur's 1995 presidential election campaign. Manafort is also suspected by the investigation of having invoiced the Balladur camp for unnecessary opinion polls during the campaign. Karl Laske and Fabrice Arfi report.  
French leader said 'the best thing' US Democrats could do would be to get Hillary Clinton elected, as he attacked views of Donald Trump.