A 36-year-old police officer has died after he was shot during an operation against drug dealers in the centre of the south-east French town of Avignon on Wednesday.
Large numbers of packages containing what the authorities describe as 'very pure cocaine' along with other drugs have been found on beaches along a lengthy strip of France's Atlantic coast over recent weeks, with those found so far estimated to have a potential street value of about 60 million euros.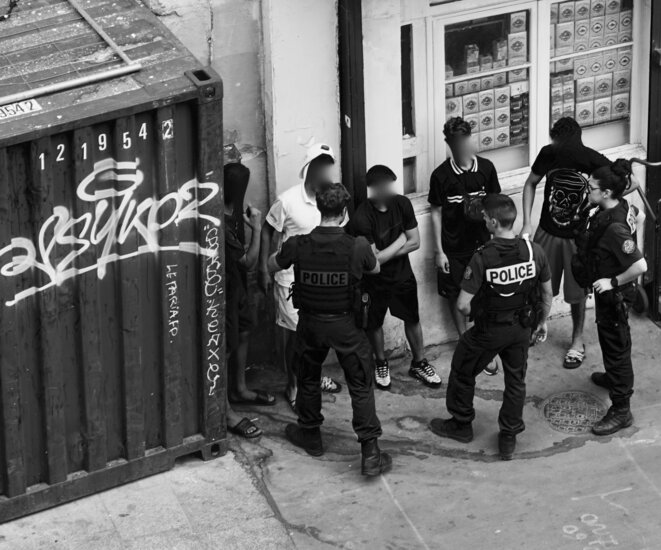 Police intervene in an altercation between Moroccan youths and a local trader in the Goutte d'Or district of Paris, July 2018. © Rachida El Azzouzi
Dozens of Moroccan youths roam the Goutte d'Or district of Paris, where they are both the authors and victims of violence and have been making life a misery for local inhabitants. Unable to cope, over the summer the French authorities called on Moroccan police officers to help arrange possible repatriation of some of the youngsters. Rachida El Azzouzi and Mathilde Mathieu report on a policy that has alarmed some local support groups.
Michael Blanc, now aged 45, was arrested on Boxing Day in 1999 with 3.8 kilogrammes of hashish hidden inside scuba diving canisters, which he claimed he was unaware of, and after becoming a cause célèbre in France notably through the determined campaign of his mother who fiercely protested his innocence, narrowly escaped the death penalty before finally arriving back in Europe.
Former head of France's anti-drugs agency, François Thierry, is being investigated on suspicion of complicity in drug-trafficking.
The room in northern Paris, which is expected to be used by about 100 addicts daily after it opens on Friday and which is entirely financed by the French health minsistry, will provide clean needles and operate under medical supervision.
Christophe Naudin is wanted in the Dominican Republic for alleged involvement in escape of two pilots sentenced to prison in a drugs case.
Newspaper says that drug which left one person dead and four others with suspected brain damage had killed dogs in pre-clinical trial.
On Tuesday February 2nd France's pharmaceuticals giant Sanofi announced that it would be shedding up to 600 jobs over three years. Just before Christmas another drug maker, Servier, revealed that more than 600 posts will go, while Swiss company Novartis is also discreetly losing up to 200 positions in France. The news of the job losses comes despite the fact that some of the firms are not only profitable but have also been picking up taxpayers' cash aimed at protecting employment. Mathilde Goanec reports.
Three other men are in intensive care in a Rennes hospital with what doctors fear may be irreversible brain damage after the Phase 1 clinical trial.
For many years successive French governments have opposed the decriminalisation of cannabis, unlike many other countries. However, France did recently bring in on-the-spot police fines in a bid to simplify procedures and avoid lengthy and costly court cases for cannabis users. However, this new approach will not end the disparities and lack of coherence in the existing repressive policy, under which prosecution for using cannabis depends as much on who you are and where you live as on what you smoke. Michaël Hajdenberg reports.
The two pilots had arrived last week in France after fleeing Dominican Republic where they were appealing conviction for drugs smuggling.
The two 15-year-olds and a man, 24, were standing near stairwell of apartment block when they were gunned down by occupants of two cars.
The most unpopular president in French polling history, Hollande plays up his rustic roots, backs police, and visits underprivileged suburbs.