Keyword: dual nationality
Related keywords

Caught in their own trap? President François Hollande and prime minister Manuel Valls.
On Friday February 5th, 2016, the National Assembly began debating plans to alter the French Constitution, including adding the power to strip convicted terrorists of their French nationality. It was supposed to be President François Hollande's grand response to the Paris terror attacks of 2015. Instead, amid general confusion, the government has become bogged down and endlessly changed its mind over the issue. To the point, argues Mediapart's Mathieu Magnaudeix, where the entire affair has become a national farce.

Gone: left-wing justice minister Christiane Taubira.
Justice minister Christiane Taubira quit the French government on Wednesday January 27th over her opposition to controversial plans to strip dual nationals of their French citizenship if they are convicted of terrorism. To the last this iconic figure on the left of French politics showed her flamboyance, Tweeting that "sometimes resisting means going" and later declaring: "I leave the government over a major political disagreement." As Mediapart's political correspondent Lénaïg Bredoux reports, her replacement as justice minister by Jean-Jacques Urvoas, a close ally of prime minister Manuel Valls, is the final step by this government towards the liberal and security-based political line that President François Hollande has been seeking.
President François Hollande's socialist government has been at the centre of a political controversy since it announced that convicted dual-national terrorists would be stripped of French nationality. Many of its own supporters on the Left, including senior figures, are bitterly opposed to the idea. Now, as an alternative, some party MPs are suggesting a revival of the old offence of "national unworthiness", which would entail the citizen concerned losing their civil rights and status, and which was last used at the end of World War II. Mathieu Magnaudeix explains.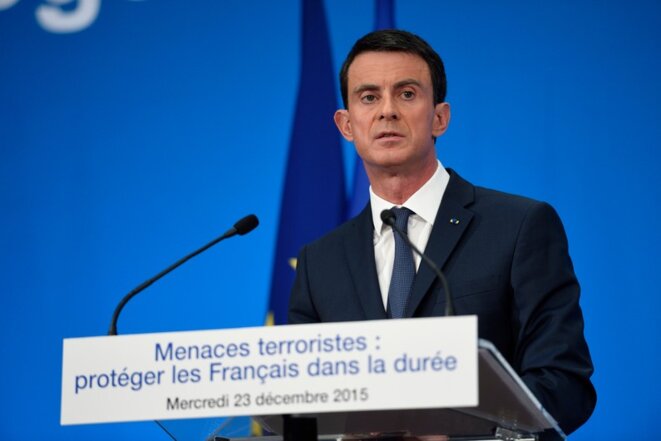 Prime minister Manuel Valls presented the reform on December 23rd, 2015. © Reuters
President François Hollande and Prime Minister Manuel Valls are forging ahead with plans to strip French nationality from anyone with dual nationality who commits terrorist acts against the country. This is despite strong opposition from many on the Left, including senior figures in the ruling Socialist Party. Here Mediapart's editor-in-chief Edwy Plenel argues that in following this path the socialist government is removing traditional political and historical reference points from its supporters. In particular, he says, the authorities have forgotten the warnings set out in philosopher Hannah Arendt's masterpiece 'The Origins of Totalitarianism'.
Some 86% of public back constitutional change to allow French citizenship to be taken from bi-nationals if convicted of terrorist offences.
Far-right leader says disturbances in France after Algeria's win show immigration policy had 'failed' and that dual-nationals refuse to 'assimilate'.