Health minister Olivier Véran said the authorities would also increase vaccine supplies for the port in Northern France.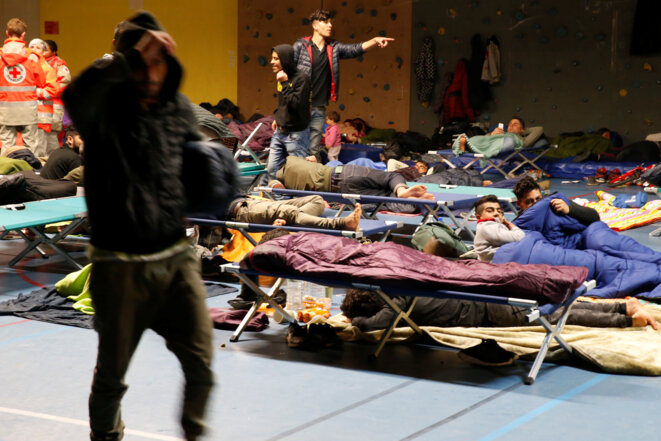 Displaced migrants from the destroyed Grande-Synthe camp were offered shelter inside one of the town's gymnasiums. © Reuters
A migrant camp close to the Channel port of Dunkirk, in north-east France, which housed about 1,500 people in wooden sheltered accommodation, was razed to the ground in a huge blaze on Monday that was started during fighting between groups of Iraqi Kurds and Afghans. The events have further fuelled anti-immigrant rhetoric from candidates campaigning in the French presidential elections, and placed in question the outgoing socialist government's already reluctant support for the site. But, as Carine Fouteau reports, the local mayor behind the creation of the camp, which opened only last year, has pledged to rebuild it.
The UK-registered Audi was chased by Belgian police across border into France where its four occupents, reportedly Iraqis, were shot at and arrested.
Jeremy Corbyn met migrants and aid workers during a tour of the Grande-Synthe camp where he said 'dreadful' conditions made it a 'disgrace'.
The £1.1 million migrant centre will be built near existing shanty town at Grande-Synthe, just five miles from the ferry port at Dunkirk.
Around 50 small boats arrived in the French port to commemorate Operation Dynamo in which 338,000 troops were rescued from Nazi forces.
The eight-year-old was killed after being hit in the head while sitting in the stands at a match in the Dunkirk arena.