Related keywords
France's nuclear saftey regulator, the ASN, has ordered utilities giant EDF to repair faulty welding at its EPR reactor under construction at Flamanville, northern France, initially due to enter service in 2012 but which has been dogged by a series of safety issues while also running well over its initial budget.
EDF's nuclear plants along Rhone river use its waters to regulate temperature of their reactors, discharging warm water back into the waterway.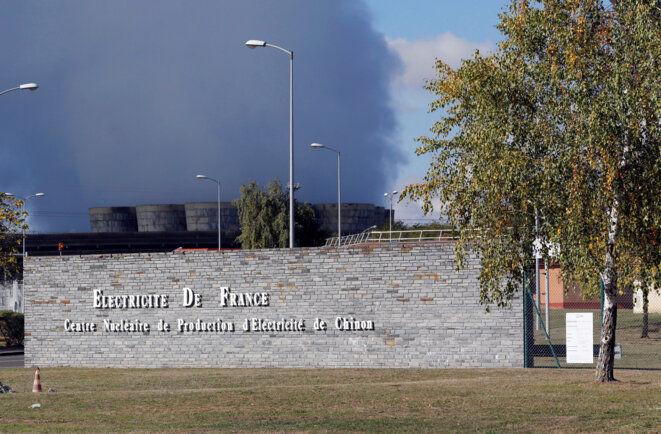 The nuclear power station at Chinon in western France, where a number of safety issues were identified. © Reuters
A Parliamentary report recently called for improvements in safety at the country's nuclear power plants. In response, the state-backed power utility EDF, which operates the plants, insisted that safety is its top priority. But documents from the French nuclear watchdog the Autorité de Sûreté Nucléaire seen by Mediapart – but not by French MPs who wrote the report – reveal a different story. They show that procedures to prevent explosions in areas of several nuclear plants are deeply inadequate and in some cases non-existent. Pascale Pascariello reports.
Parliamentary report puts pressure on state-backed power utility EDF which operates nuclear plants and faces massive bill to extend their life.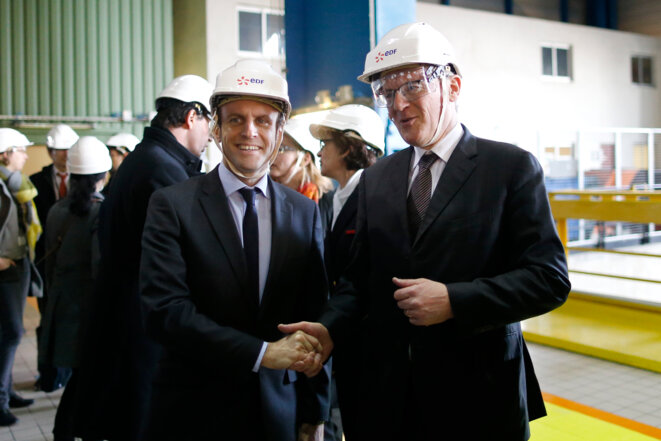 Emmanuel Macron, then economy minister, and EDF boss Jean-Bernard Lévy at a nuclear power station at Civaux, near Poitiers, March 17th, 2016. © Reuters
The new French government has reacted as if it were surprised at the news that the French-led project to build a new nuclear power station in south-west England is already behind schedule and over budget. Yet it has known about the financial and technical risks posed by the Hinkley Point scheme for a long time, says Martine Orange. For the minister who personally backed and oversaw the massive project during the last presidency now himself occupies the Élysée.
French tility giant EDF has dismissed a TV report that it has a secret plan to delay reducing the share of nuclear power in France's energy mix to 50% by 2025, as required by a law passed two years ago, to 2050 instead, describing the suggestion as "malicious rumours". 
Utility giant EDF has agreed a compensation deal for the closure, now planned for 2018, of the almost 40-year-old power station at Fessenheim, close to the border with Germany in eastern France and built in an area vulnerable to earthquakes and above one of Europe's biggest underground water reservoirs.
French utilities giant EDF, which will build the controversial new nuclear power station extension in south-west England, greeted the news as "the relaunch of nuclear in Europe".
Just hours after EDF board voted to go ahead with the controversial project to build new reactors at English power plant, London postponed decision until autumn.
The French utilities giant is now committed to the controversial project in south-west England, despite fears the cost could threaten EDF's future.
French head of state threw his weight behind it after his energy minister Ségolène Royal questioned financial sense of £18 billion project.
Thomas Piquemal, who resigned in March over plan to build nuclear plant in UK, told French parliament it carries a 'major construction risk'.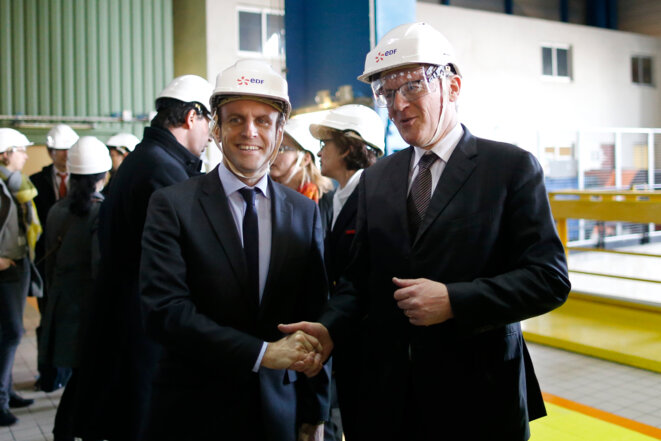 Economy minister Emmanuel Macron and EDF boss Jean-Bernard Lévy are under fire over the Hinkley Point project. © Reuters
On Friday April 22nd the board of directors at French energy giant EDF announced they were delaying a final decision on building two European Pressurised Reactors (EPRs) at Hinkley Point in Britain. The news came in the wake of an unprecedented rebellion by EDF staff against the 23-billion-euro project which some fear could even lead to the demise of the state-owned French company. Mediapart has seen a letter backed by 400 managers which calls on EDF's directors to face up to their corporate responsibilities, or face potential legal action if the Hinkley project damages the company. Martine Orange reports.
French energy firm admits there will be no final word on £18 bn project until at least the summer as it pledges to consult works committee.