French economy minister Emmanuel Macron said utility giant EDF will be given extra ressources for disputed project to build nuclear reactors in UK.
French utility giant EDF is facing mounting pressure to abandon its project to build two nuclear reactors at Hinkley Point in south-west Britain. Days after the resignation on March 7th of the state-owned group's finance director over the financial risks involved, it was the turn of France's national court of auditors to sound the alarm amid a damning report on EDF's international operations. Martine Orange reports.
The Swiss canton, or state, of Geneva has launched legal action aimed at forcing the closure of the ageing, accident-prone French nuclear plant at Bugey, which lies just 70 kilometres from the border with Switzerland. The lawsuit is for "the deliberate endangering of lives" and "water pollution". If successful, this extraordinary move could encourage other countries bordering France and its network of 58 nuclear reactors to take similar action. Agathe Duparc reports from Geneva where the local authorities presented their case at a press conference on Monday.
The French utility giant's shares fell on the news Thomas Piquemal had resigned amid internal divisions over feasability of UK EPR project.
A project by French energy giant EDF to build two European Pressurised Reactors (EPRs) at the Hinkley Point nuclear power plant in south-west Britain has mobilised large numbers of its staff and management against the move. They believe that the huge industrial and financial risks for EDF may result in a meltdown of the group. Martine Orange reports.
The French utilities group EDF is now officially the sole company overseeing France's nuclear industry. This follows an agreement in principle signed earlier this week between EDF and the ailing French nuclear firm Areva which will create a joint company in charge of designing and building new nuclear reactors. France's economy minister Emmanuel Macron has sought to draw a line under the French nuclear industry's recent financial fiasco, preferring to speak instead of a "new adventure" for the sector. Mediapart's Martine Orange analyses the deal.
Deal seen as crucial for France which generates three quarters of electricity from nuclear and needs Areva to service its existing reactor fleet.
The European Commission said France failed to charge all corporation tax owed by state-owned utilities giant in 1997, adding interest to the sum due.
Sale of ailing nuclear giant's power station development activities to utilities firm EDF will likely entail major costs for the latter and the state.
EDF staff work an average of 39.5 hours a week, more than 35-hour legal limit, so they won deal in 1999 to get an extra 23 days off a year.
The former EDF chief, now advisor to Russian national nuclear corporation Rosatom, was pushed to withdraw bid by French economy minister.
The giant French nuclear group Areva, whose core business is making nuclear reactors, has just announced staggering losses of 4.8 billion euros in 2014. That comes on top of nearly 3 billion euros of losses racked up in preceding years. In a bid to resolve this disastrous situation the state-owned company is now drawing up a restructuring plan that could lead to thousands of job losses. However, the group's woes cannot simply be blamed on recent events such as the Fukushima nuclear disaster in Japan or a cyclical downturn. Instead the group's terrible financial position has been building for many years thanks to industrial squabbles, bad management decisions and poor strategy. But as ever, says Mediapart's Martine Orange, it looks as if it will be the workforce who will pay the price of the group's failings rather than France's industrial, civil service and political elites despite their responsibility for this industrial fiasco.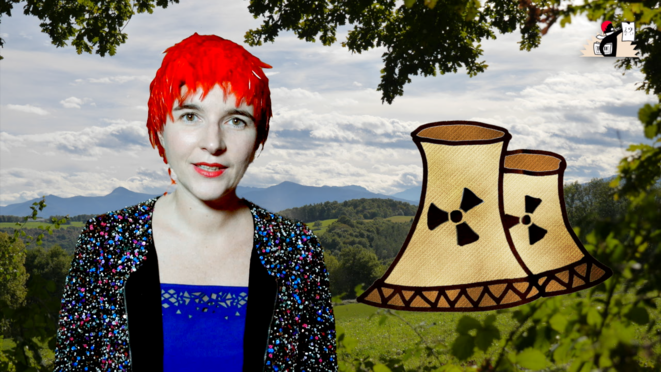 Dear Neighbours, remember that clouds have no border...
Mediapart's resident singer and songwriter La Parisienne Libérée, who regularly commentates current affairs in music and images, says France's European neighbours should be concerned about the potential dangers of the country's 58 nuclear reactors. Earlier this week, the oldest French nuclear plant, at Fessenheim close to the border with Germany, was shut down after a pipe from an engine room condenser was discovered to be leaking. It was the latest in a series of recurrent incidents and safety alerts over recent years at Fessenheim and several other plants across the country, including two on the Channel coast. La Parisienne Libérée composed a 'Nuclear SOS', written and sung in English, to remind countries surrounding France that nuclear clouds "have no borders", made all the more pertinent by the events at Fessenheim this week.
The trio are 'unconnected' to other flights while sources say there may have been more than the 13 drone incidents cited at EDF nuclear plants.
The two men and one woman in their early twenties were detained with at least one drone near a nuclear power station, say officials.