Keyword: Edouard Balladur
Related keywords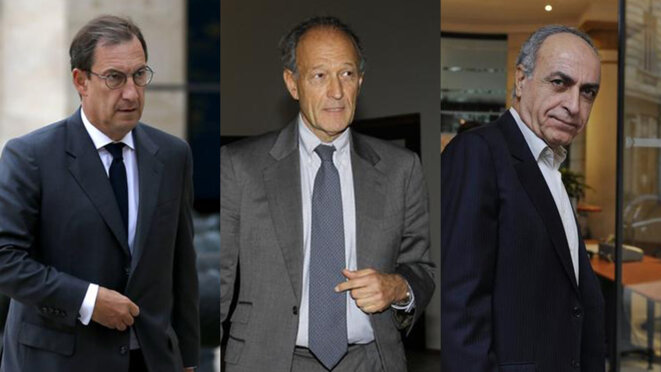 Three of the defendants (l-r): Nicolas Bazire, Thierry Gaubert and Ziad Takieddine. © Reuters
A Paris court has handed prison sentences to six men found guilty of organising a vast political funding scam involving kickbacks on French weapons sales to Saudi Arabia and Pakistan. The kickbacks, secretly transferred in cash sums, were to finance former French prime minister Édouard Balladur's 1995 presidential election campaign. The men, who were on Monday given jail terms of between three and five years, include former minister Renaud Donnedieu de Vabres and Nicolas Bazire, a senior executive at luxury goods group LVMH. The verdicts end the financial chapter of what has become known as the "Karachi Affair", an ongoing judicial saga that centres on the murders of 11 French naval engineers in Pakistan in 2002. Karl Laske and Fabrice Arfi report on the conclusions of the sentencing magistrates.
Balladur to face trial for allegedly diverting commissions on arms sales to Pakistan and Saudi Arabia to his failed 1995 presidential election bid.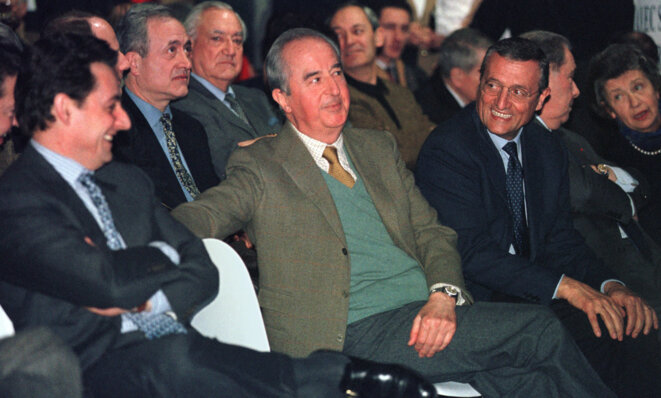 Édouard Balladur (centre) in 1995 with François Léotard (right) and Nicolas Sarkozy. © Reuters
Senior public prosecutor François Molins has concluded that former French prime minister Édouard Balladur and the defence minister who served under him, François Léotard, should be sent for trial for siphoning payments from public weapons contracts with Saudi Arabia and Pakistan to fund Balladur's presidential election campaign. Molins's formal recommendations follow a lengthy judicial investigation into what has become known in France as "the Karachi affair", a complex and far-reaching alleged corruption scam which surfaced after the murders of 11 French naval engineers in the Pakistani port city in 2002.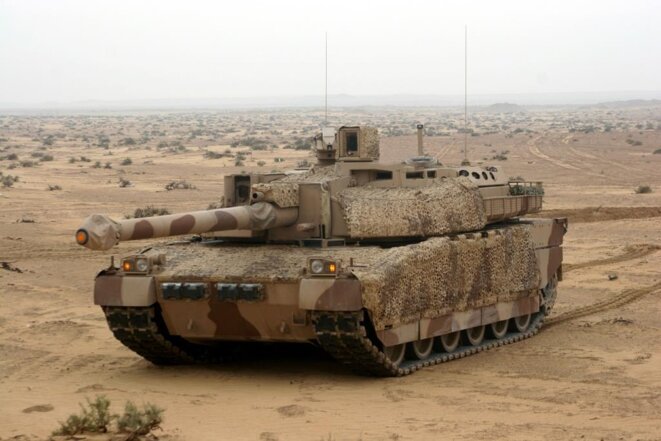 A Leclerc tank sold to the United Arab Emirates by France. © Nexter
Documents obtained by Wikileaks and shared with Mediapart, German publication Der Spiegel and Italy's La Repubblica have revealed a state secret: the hidden corruption behind the sale of French tanks to the United Arab Emirates. The tanks involved in that deal have since been deployed in the current war in Yemen, a conflict which, according to the United Nations, has led to the worse humanitarian crisis in the world. Fabrice Arfi reports.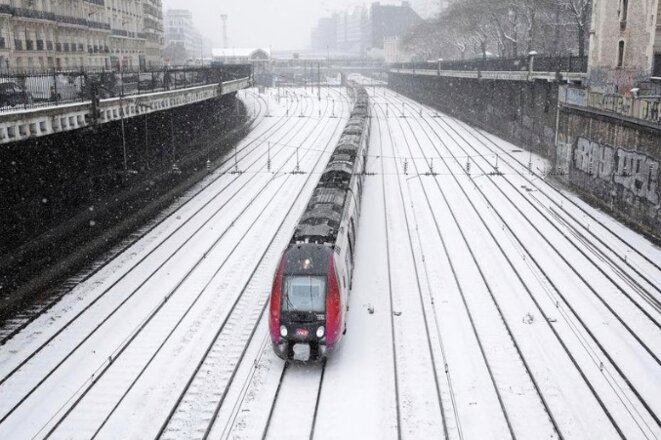 The rail strike will be a big test of Emmanuel Macron's presidency.
This week is the start of a critical period in Emmanuel Macron's presidency. Workers from the rail industry, Air France and the supermarket chain Carrefour have been taking industrial action while students have held sit-ins at a number of universities. The government says that these various actions with their different causes show an irrational fear of the "new world" that is dawning. In fact, argues Hubert Huertas, these protests stem from a weariness with years of talk about the need for austerity and reform - and they could yet threaten the presidency's power.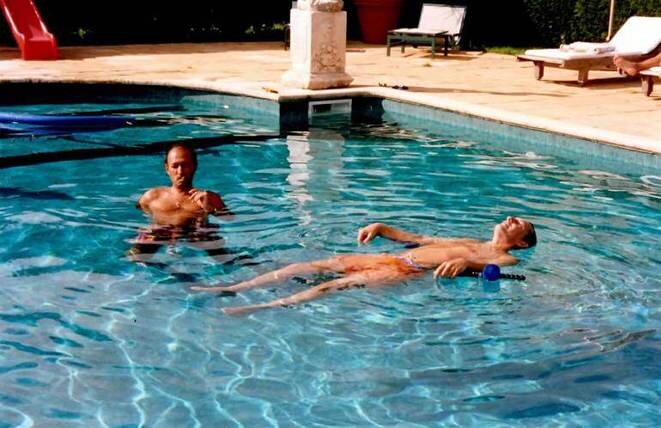 Facing trial? Former government aides Thierry Gaubert and Nicolas Bazire. © DR
An investigation into claims that kickbacks from French arms deals were illegally used to finance the 1995 presidential campaign of former prime minister Édouard Balladur has been bogged down in legal wrangles since early 2016. Now, however, a senior prosecutor has called for six men said to be at the heart of the corruption scandal known as the 'Karachi affair' to stand trial. Fabrice Arfi reports.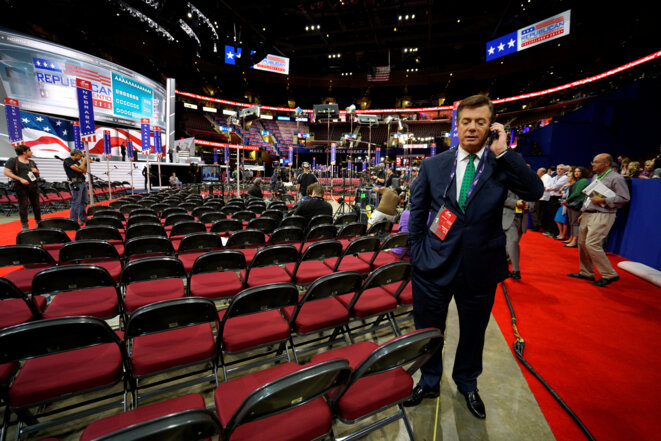 Paul Manafort, campaign manager for Donald Trump, at the Republican convention in Cleveland. © Reuters
Donald Trump's election campaign manager Paul Manafort is suspected by a French judicial investigation of having signed a fake contract with Paris-based arms dealer Ziad Takieddine to help the latter hide the real origin of cash seized by customs officers which he had smuggled into France from Switzerland. The incident occurred at the height of what has become known as the "Karachi Affair", involving suspected illegal funding of former French prime minister Édouard Balladur's 1995 presidential election campaign. Manafort is also suspected by the investigation of having invoiced the Balladur camp for unnecessary opinion polls during the campaign. Karl Laske and Fabrice Arfi report.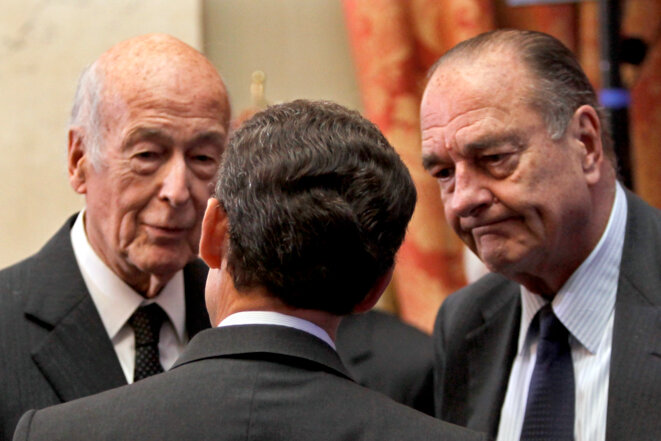 France's three surviving presidents (left to right): Valéry Giscard d'Estaing, Nicolas Sarkozy and Jacques Chirac. © Reuters
Mediapart has gained access to a detailed account of the annual payments made to former French presidents and prime ministers in a lifelong system of perks and privileges that beggars belief. With items ranging from newspaper and dry-cleaning costs to the payment of staff, offices and vehicles, the country's three surviving former heads of state cost the taxpayer a yearly 6.2 million euros. Former prime ministers, meanwhile, receive tens of thousands of euros annually for staff and vehicles, including one who left office 25 years ago. Mathilde Mathieu reports.
Ex-premier and his former defence minister face investigation over claims that arms sale commissions were used to fund 1995 presidential campaign.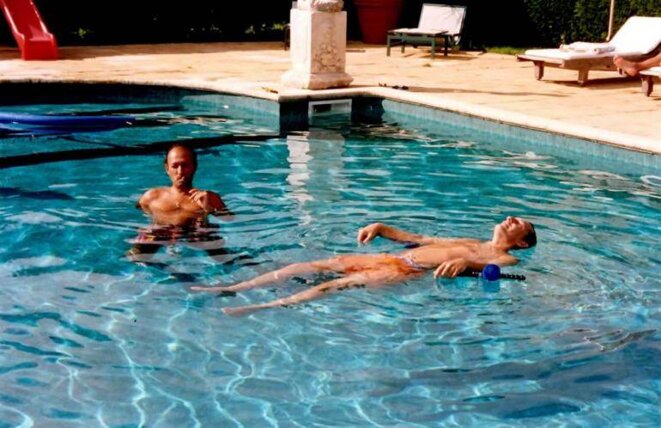 Thierry Gaubert et Nicolas Bazire © DR
At the end of an investigation that has lasted more than three years, six people, including a former minister and the current managing director of luxury goods firm LVMH, have been sent for trial for their alleged roles in a gigantic political funding scam that centred on secret cash kickbacks from French weapons sales abroad.  The case, one the biggest political corruption scandals to have emerged in France in recent decades, yet threatens to engulf the political masters of those accused - former French prime minister Édouard Balladur, his defence minister François Léotard, and Balladur's budget minister, later French president, Nicolas Sarkozy. Fabrice Arfi reports.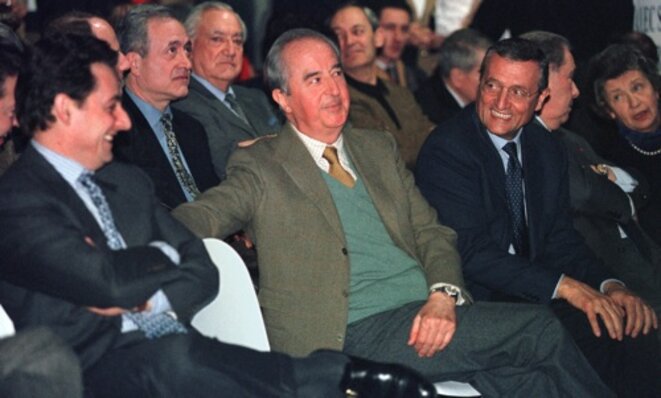 MM. Sarkozy, Balladur et Léotard. © Reuters
The prosecution authorities in Paris have recommended that six people, including three former senior political aides, face trial over the Karachi affair. The ex-aides, who at the time of the alleged offences were working for prime minister Édouard Balladur, defence minister François Léotard and budget minister Nicolas Sarkozy, are accused of setting up a massive system to siphon "commissions" from major arms deals back to France for political funding, or of receiving those illegal kickbacks. Mediapart has now obtained a copy of the prosecutors' legal reasoning, which details this complex web of networks and bank accounts and which, confirm the prosecutors, was aimed at the "secret funding of French politicians". As Fabrice Arfi reports, the question still remains as to whether the advisors' political masters will one day face trial over the affair.
Investigating magistrates want court that deals with alleged ministerial wrongdoings to hear former president as 'assisted witness' in Karachi affair.
Probe into ex-president's role in Bettencourt affair is over but other cases threaten damage to his reputation as he mulls over poltical comeback.
Pierre Mongin, chief of staff of former prime minister Edouard Balladur, has been placed under formal investigation by magistrates.