Keyword: Edouard Philippe
Related keywords
Édouard Philippe and Khalid Bouksib. © DR
A friend of French prime minister Édouard Philippe was arrested and placed in custody on Sunday June 23rd for having reportedly hit an off-duty police officer. According to legal sources he was, unusually, freed just a few hours later after having claimed – falsely - that he was the premier's diplomatic advisor. He is now due to face trial in November on charges that include passing himself off as a ministerial advisor. Fabrice Arfi, Antton Rouget and Matthieu Suc report
French Prime Minister Édouard Philippe on Tuesday anounced his government's raft of measures to overhaul the unemployment benefits system, which he claimed would lower the jobless rate and save 3.4 billion euros over three years, and which will include extending the period people have to work before being eligible for aid, a cut in indemnities for high-income earners, ensuring benefits are lower than job pay, and the  penalizing of companies which repeatedly use short-term contracts.
Presenting the second stage of legislative reform of his goverment after two years in power, French Prime Minister Édouard Philippe has told parliament that environmental issues and 'social justice' will be at the forefront of future policy-making over the remaining three years of its mandate, and also announced that it will end a ban on IVF for lesbian couples and single women.
More than €650m worth of new goods is destroyed or thrown away each year, says prime minister Édouard Philippe.
PM Édouard Philippe and his team spent a day coming up with concrete measures to improve daily life in response to yellow vest protests.
French Prime Minister Edouard Philippe on Monday announced the closure of the 12-million-euro series of nationwide consultations of citizens' grievances with government policies, held in town hall meetings and online and prompted by the so-called 'yellow vest' protest movement over falling living standards, when he defined the principal demands as being a broad lowering of taxes, a halt to the decline in public services in some regions, greater democratic consultation and more positive action over environmental concerns.
. 
French Prime Minister Edouard Philippe, reacting to sharp criticism of policing during Saturday's 'yellow vest' anti-government demonstrations in Paris which saw buildings, stores, restaurants and newsstands torched in the capital's centre, announced on Monday that the Paris police chief  has been sacked, that future rallies in established trouble spots around the country may be banned, while he also approved wider use by police of the controversial LBD rubber bullet weapons which have left more than two hundred injured, many of them seriously, during the three months of rolling protests.
During a visit on Sunday to the Mali HQ of French military operations against jihadist insurgents in the Sahel, French Prime Minister Édouard Philippe said 'durable stabilisation' in the region could not be assured without 'the backing of others'.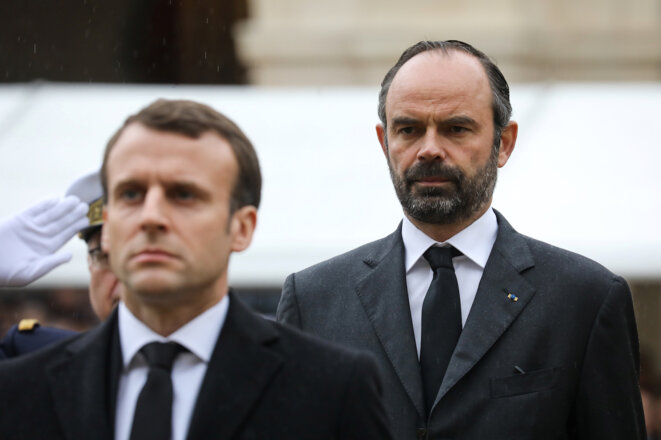 President Emmanuel Macron and prime minister Édouard Philippe in Paris in March 2018. © Reuters
It was an intervention from the office of France's prime minister Édouard Philippe which caused the opening of an investigation into the source of secret recordings involving a former presidential aide, Mediapart can reveal. This investigation then led to an attempt by prosecutors to search Mediapart's office – which Mediapart prevented, citing laws designed to protect its sources. The prosecution authorities, meanwhile, are remaining silent about the information they received which caused them to start the probe. Fabrice Arfi, Antton Rouget, Matthieu Suc and Marine Turchi report.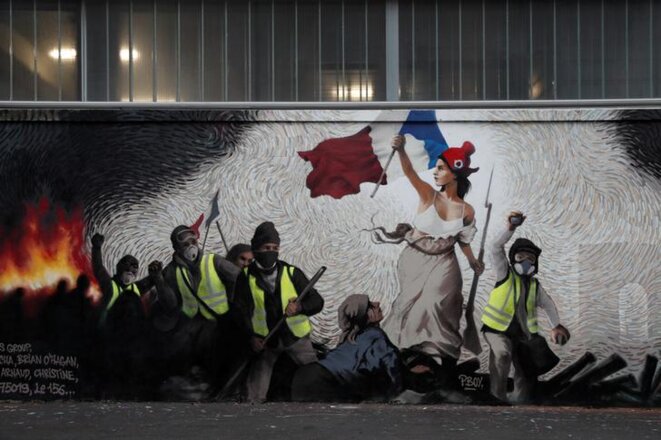 A work by artist Pascal Boyart, alias PBOY, in homage to the 'yellow vests', on the walls of Paris, January 7th 2019. © Reuters
On Monday January 7th the French prime minster Édouard Philippe announced plans to boost the array of security powers at the state's disposal with, in particular, a new law against rioters and undeclared demonstrations, plus preventative targeting of protestors presumed to be violent. Mediapart publishing editor Edwy Plenel points out that the prime minister did not utter a word about police violence, demonstrating that in making this repressive decision the government has turned its back on the sometimes vague democratic demands made by the 'yellow vest' protestors.
Édouard Philippe says government considering football hooligan-style register in bid to combat the violence across France.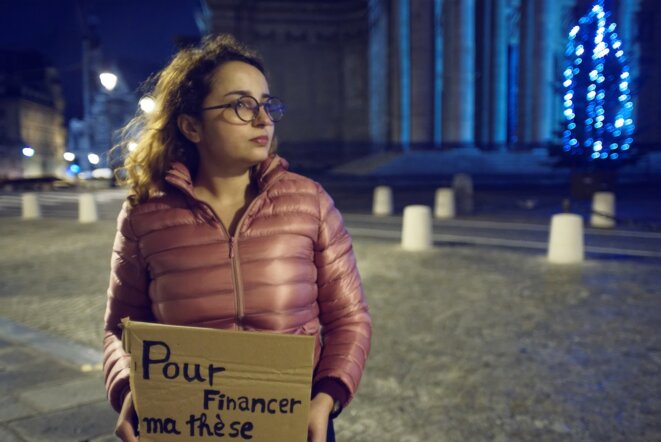 Tunisian student Dorra Mahjoubi in front of the Panthéon in Paris, December 2nd 2018. © Karim AL
Many families in Tunisia take great pride in being able to send their children to university in France. Already the recent fall in the value of the dinar has made it harder for Tunisians to afford to study in French establishments. Now plans by the French authorities to increase tuition fees for students coming from non-EU countries threatens to shatter the dreams of many Tunisians hoping to study in France. Lilia Blaise reports.
In newspaper interview, Édouard Philippe said the government had  'not listened enough to the French people'.
 U-turn comes after protests by 'gilets jaunes' protesters led to scenes of violence in central Paris and other areas of country over fuel tax rises.