Keyword: Edouard Philippe
Related keywords
Prime Minister Édouard Philippe has asked ministers to discuss plans ahead of a possible exit of Britain from the European Union without mutual agreement terms, and to prepare measures necessary to mitigate difficulties 'linked with this unprecedented challenge', including facilitating the stay of British citizens currently living in France and ensuring smooth border controls.
Interviewed about his budgetary plans for 2019, French Prime Minister Edouard Philippe said 4,500 public sector jobs would be shed next year when pensions and family and housing benefits will no longer be pegged to inflation, while also forecasting economic growth of 1.7 percent, down on previous predictions.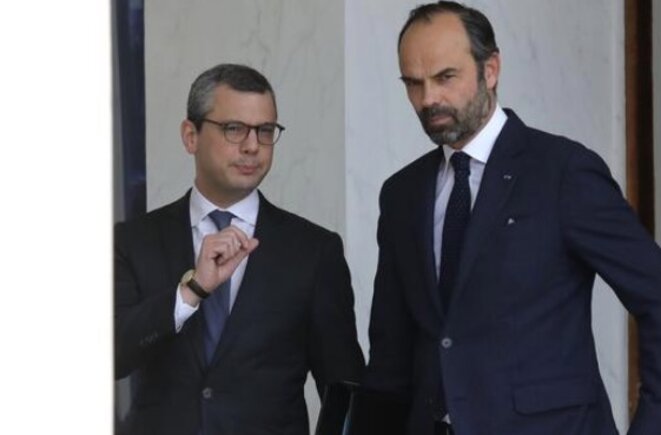 Chief of staff Alexis Kohler and PM Edouard Philippe, both members of the Le Havre Supervisory Board from 2010 to 2012. © LCI
Contrary to what he has stated, President Emmanuel Macron's chief of staff Alexis Kohler has not always revealed his family links to the Mediterranean Shipping Company (MSC), and in his duties as a senior public servant has not always stood aside from issues involving the giant Italian-Swiss shipping firm. Official documents from the major French port of Le Havre, seen by Mediapart, show that Kohler took part in discussions and votes concerning the company while he sat on the port's Supervisory Board as a civil servant from 2010 to 2012. Laurent Mauduit and Martine Orange investigate.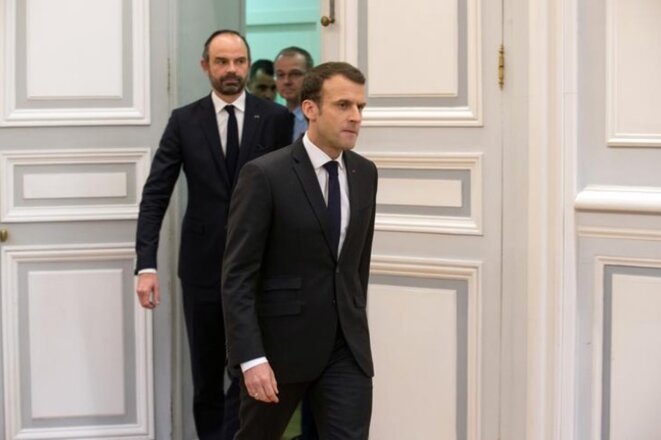 The Macron Method: union leaders says the government talks a lot but says nothing. © Reuters
On Monday April 9th France's National Assembly is due to begin examining the government's proposed legislation for a "new railway agreement". Yet the consultations with the unions about this new pact are still going on. Those unions - whose members began the latest round of two-day rail strikes on Sunday April 8th - are now dismissing the talks with the government as a "farce" and intend to step up their action. Their aim is to expose what they see as a deliberate method employed by President Emmanuel Macron's government: one of talking but not saying anything and of listening without hearing. Ellen Salvi examines the workings of the Macron Method.
Latest reform proposals from President Macron's government include electing 15% of lawmakers via a proportional representation system.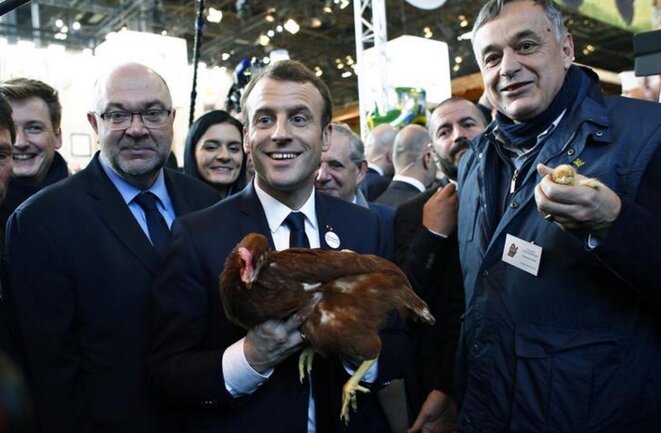 President Emmanuel Macron and a chicken at the Paris farm show, the Salon de l'Agriculture, February 24th, 2018. © Reuters
Emmanuel Macron has always insisted he is not worried about opinion polls and that, as head of state, he is willing to court unpopularity to do what he considers right for France. That has not stopped him basing his political strategy around what the public says, sometimes playing off the polls against critics of his reforms – even if that risks dividing the French people. Ellen Salvi looks at the French president's approach to public opinion.
Men are still paid on average 9% more than women in France despite equal pay laws going back 45 years.
Édouard Philippe told the World Government Summit, known as the 'Davos of the Gulf', in Dubai that government's aim was to fix France.
Unions described it as a 'massive public-sector jobs cut plan in disguise' which did not augur well in a country still with 'mass unemployment'.
Prime minister Édouard Philippe has sought to clarify plans after aid and emergency agencies accused government of planning mass expulsions.
Government says it will lower the speed limit on two-lane highways to 80 kilometres per hour from 90 kilometres (55 miles) per hour.

French Prime Minister Edouard Philippe is at the centre of controversy over his decision to charter a luxuriously equipped Airbus plane at a cost of 350,000 euros to fly him and his staff back to France from Japan, leaving a French air force jet at his disposition to return empty, which he said was because of night-flight comfort and the need to return early to Paris before President Emmanuel Macron left on a foreign trip.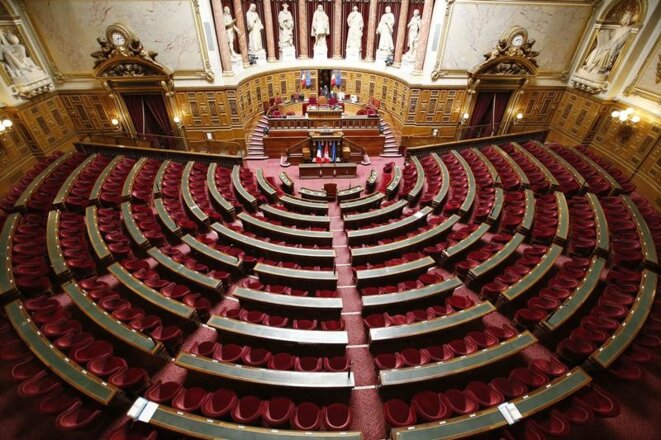 The chamber of the French Senate. © Reuters
The events of last weekend have been revealing about the state of French politics and the balance of political power. The elections for the Senate, in which the Right consolidated its position in France's upper chamber, showed the limits and weakness of President Emmanuel Macron's government. At the same time the relatively modest turnout for a protest march in Paris organised by the radical left La France Insoumise highlighted the lack of major political opposition. But as Hubert Huertas says, this does not mean that opposition to the government's measures has melted away.
Plans unveiled by prime minister Édouard Philippe entail spending billions on education, digitization and the environment.