Keyword: Edouard Philippe
Former French prime minister Édouard Philippe, who stepped down on Friday to become mayor of the town of Le Havre, former health minister Agnès Buzyn and her successor Olivier Véran, are to be investigated over their handling of the Covid-19 virus epidemic after a special court for judging members of government over wrongdoing while in office accepted nine complaints lodged against them.
After serving three years in office, beginning with the election of President Emmanuel Macron, and days after his re-election as mayor in his political fiefdom of Le Havre, France's prime minister Édouard Philippe has been replaced by Jean Castex, 55, a high-ranking civil servant and conservative, largely unknown to the public, and who will lead a reshuffled government on what the Élysée Palace announced would be a 'new path'. 
France held the first round of voting three months ago as coronavirus took hold - a decision President Emmanuel Macron was widely criticised for.
TV viewers have watched as prime minister Édouard Philippe's white patch grew, along with his popularity.
A ban on travelling more than 100km (60 miles) has also been relaxed, but the bar on gatherings of more than 10 people remains in France.
The first round was held on March 15th two days before France entered a nationwide coronavirus lockdown, and the  second round, scheduled for March 22, was postponed. The new date is June 28th.
French Prime Minister Édouard Philippe on Thursday presented an 18-billion-euro package to help the country's tourist industry weather the coronavirus crisis, including cash investments and deferred loan payments, while also announcing that restaurants and bars in regions less affected by the epidemic could re-openshortly before the summer, conditional to no upsurge of cases, when French tourists would be able to holiday in the country.
Businesses and some schools to reopen on May 11 but restaurants and cafés will stay closed.
French Prime Minister Édouard Philippe has pledged frontline healthcare staff treating patients with the Covid-19 virus will receive tax-free bonus payments of up to 1,500 euros and higher overtime rates, part of an 8 billion-euro injection into the country's health system.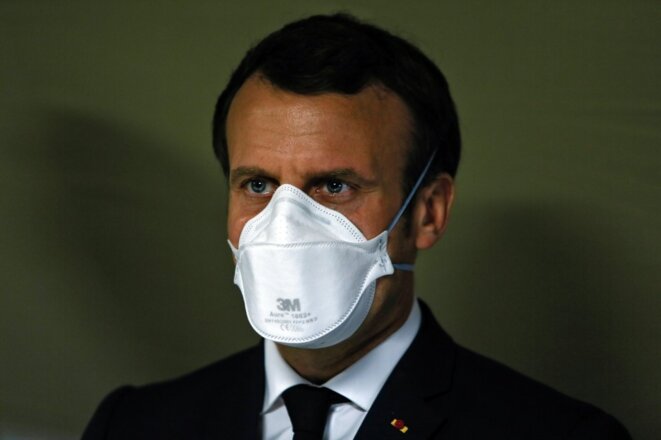 President Emmanuel Macron during a visit to a Covid-19 field hospital at Mulhouse in eastern France on March 25th 2020. © AFP
An investigation by Mediapart has revealed the chaotic management at the highest levels of the French state over the crucial issue of providing protective masks to help tackle the Covid-19 coronavirus pandemic. Our probe, which has analysed the situation since January and is based on numerous witness accounts and documentary evidence, highlights the hidden shortages, the unreliable health instructions, the neglected offers of help with importing masks, the continuing shortage of stocks and the way that some companies have been favoured. It also reveals the lies that have accompanied this mismanagement. Meanwhile hundreds of nurses have become infected with the virus. Yann Philippin, Antton Rouget and Marine Turchi report.
Édouard Philippe said the first two weeks of April would be harder than the last two weeks as French officials reported 319 more deaths.
As France entered the second week of a nationwide lockdown, the toal number of confirmed coronavirus cases also increased Monday to 19,856, or a rise of about 20 percent in 24 hours.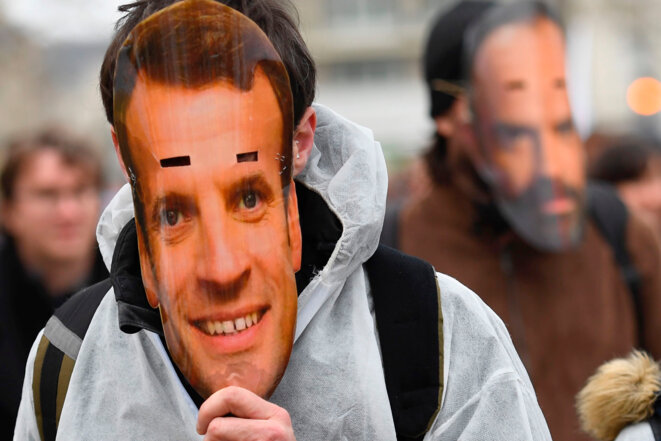 A protest against President Macron's pension reforms at Rennes in west France on December 10th 2019. © AFP
On Saturday February 29th, during an emergency meeting of ministers called to discuss the Coronavirus crisis, the French government took the decision to force its bitterly-opposed pension reforms through Parliament without a vote. In adopting the "nuclear option" of invoking Article 49-3 of the French Constitution to do this, President Emmanuel Macron is hoping that public debate will now shift to other issues. But as Ellen Salvi writes, the move is likely to plunge the remaining two years of his presidency into greater political uncertainty and even undermine his chances of re-election in 2022.
Édouard Philippe said he was willing to withdraw a proposal which would raise age at which French workers can claim their pension from 62 to 64.