Keyword: Edouard Philippe
Unions described it as a 'massive public-sector jobs cut plan in disguise' which did not augur well in a country still with 'mass unemployment'.
Prime minister Édouard Philippe has sought to clarify plans after aid and emergency agencies accused government of planning mass expulsions.
Government says it will lower the speed limit on two-lane highways to 80 kilometres per hour from 90 kilometres (55 miles) per hour.

French Prime Minister Edouard Philippe is at the centre of controversy over his decision to charter a luxuriously equipped Airbus plane at a cost of 350,000 euros to fly him and his staff back to France from Japan, leaving a French air force jet at his disposition to return empty, which he said was because of night-flight comfort and the need to return early to Paris before President Emmanuel Macron left on a foreign trip.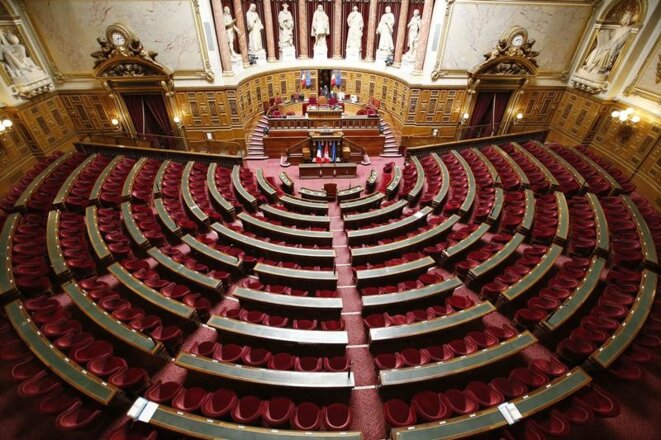 The chamber of the French Senate. © Reuters
The events of last weekend have been revealing about the state of French politics and the balance of political power. The elections for the Senate, in which the Right consolidated its position in France's upper chamber, showed the limits and weakness of President Emmanuel Macron's government. At the same time the relatively modest turnout for a protest march in Paris organised by the radical left La France Insoumise highlighted the lack of major political opposition. But as Hubert Huertas says, this does not mean that opposition to the government's measures has melted away.
Plans unveiled by prime minister Édouard Philippe entail spending billions on education, digitization and the environment.
New government vows to 'free up the energy of the workforce' with reforms aiming to make it easier for French bosses to hire and fire.

Facing problems: President Emmanuel Macron.
The first series of the Macron show has come to an end. Now, as the political world returns after the summer break, the show threatens to become more of a (grim) reality TV series. President Macron is confronted by three main issues: his economic policy is right-wing, many of his key measures are unpopular and he lacks heavyweight communicators in his party's ranks. As a result the new head of state seems set to change his communication strategy and get more involved in the fray. Mediapart's editor François Bonnet reports.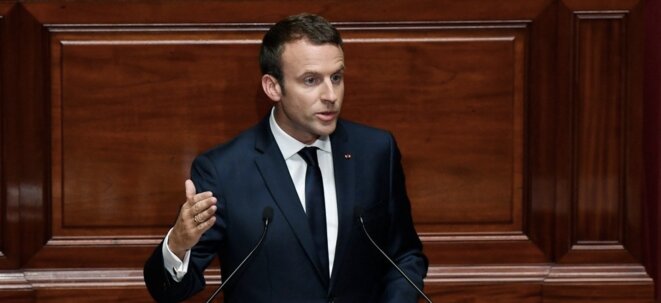 President Emmanuel Macron addressing the special Congress at Versailles, July 3rd, 2017. © Capture d'écran France 2
In a high-profile and highly-unusual speech before both chambers of the French Parliament in the sumptuous surroundings of Versailles on Monday July 3rd, President Emmanuel Macron claimed to be setting the "course" for his presidency. But, says Ellen Salvi, it turned out to be an hour-and-a-half of messages that had already been delivered during his election campaign and he announced little more than a promise of some institutional reforms.
Édouard Philippe said for every 100 euros Germany raised in taxes it spent 98 euros, while France spent 125 euros for every 117 euros raised.
New government faces test to find extra savings deemed necessary by audit office, after the last administration overspent in its final months.
The official photo of the new French governemnt, June 2017. © Elysée
Following the recent Parliamentary elections President Emmanuel Macron has formed a new government under the same prime minister Édouard Philippe. However, what was supposed to be a minor technical change to the government has become rather larger in scale after the departure of four ministers in response to potential scandals. The result is a government that gives us a glimpse of how the new centrist president intends to balance his administration between the Left and the Right of the political spectrum. Stéphane Alliès, Christophe Gueugneau, Mathieu Magnaudeix and Mathilde Mathieu report.
Édouard Philippe reconfirmed ban on neonicotinoids hours after agriculture minister Stèphane Travert had said he wanted to soften it.

France's Prime Minister Edouard Philippe said it was 'extremely' possible that the country will miss its target of bringing its public deficit down to 2.8 percent of gross domestic product (GDP) this year, which is below the 3.0 percent threshold required by eurozone rules.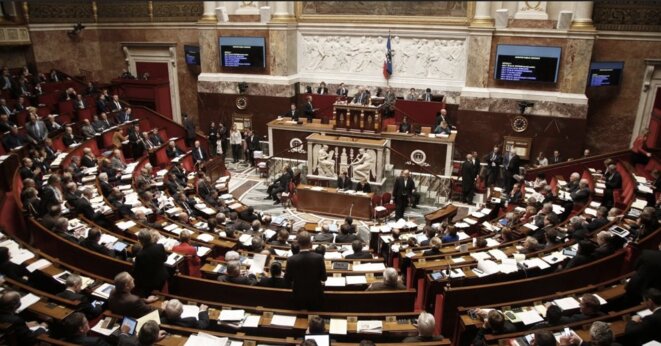 Elections take place this month for France's National Assembly. © Reuters
Through the havoc it wreaked on the established political system, the recent French presidential election showed the hunger that exists for democratic renewal. But if the Parliamentary elections later this month give Emmanuel Macron's government an absolute majority it would be a retrograde step to presidential supremacy and a compliant Parliament, argues Mediapart's publishing editor and co-founder Edwy Plenel. That is why, he says, we need a pluralist National Assembly encompassing a diverse, democratic, social and environmental opposition.