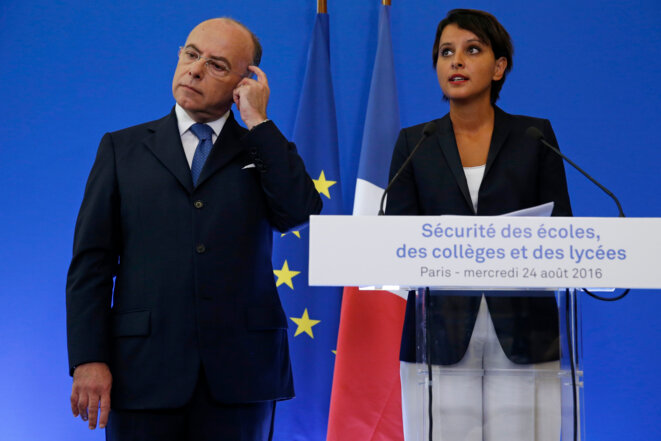 School security: interior minister Bernard Cazeneuve and education minister Najat Vallaud-Belkacem. © Reuters
Pupils in France go back to school this week amid ever-greater security and against the backdrop of a constant threat of terrorism. The education minister and the interior minister have held a joint press conference to outline the unprecedented measures that are being taken to ensure the safety of children at school. As Faïza Zerouala reports, the authorities have to strike a careful balance between ensuring educational establishments are prepared for a terrorist attack and avoiding causing anxiety among younger pupils.
The upward social mobility of the children of blue collar workers in France varies significantly depending upon the region in which they are born, and has little to do with local economic opportunities, concludes a study, the first of its kind, published this month by a French government agency advising on national development policies. Mathilde Goanec reports.
The long summer holidays are over and on Tuesday this week French pupils went back to school. There are none of the major reforms and controversies that have greeted previous new academic years under President François Hollande. But there are still some changes for schoolchildren and teachers alike, notably new compulsory moral and civics lessons prompted by the terror attacks in Paris in January. Feriel Alouti and Lucie Delaporte report.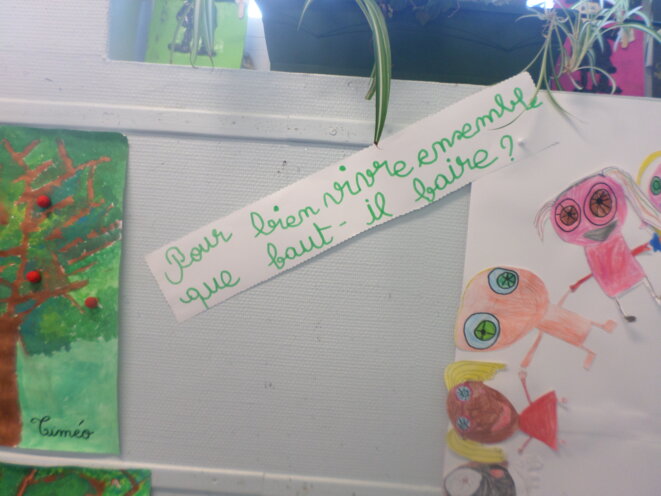 Dessin d'enfants à l'école maternelle © LD
In its response to the terror attacks in Paris in January the French government emphasised the importance of schools and the central role of secularism in fighting intolerance and extremism. Mediapart recently visited schools in the north of the French city of Amiens, an area which has recently seen riots and where the Moroccan-born education minister Najat Vallaud-Belkacem herself grew up and was educated. Here the issue of secularism divides teachers, parents and local help groups alike. "I have the impression that, faced with this debate, everyone is a bit lost," says one teacher. Mediapart's education correspondent Lucie Delaporte reports from the city.
The French President stresssed the importance of promoting 'Republican values' in schools, which will get 250 million euros to do so.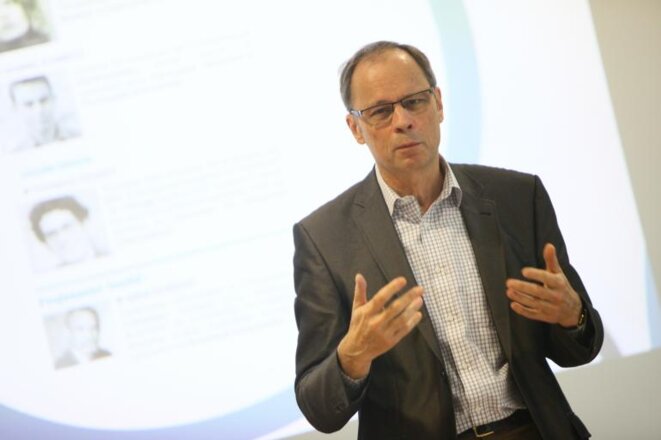 © DR
Earlier this week the Nobel prize for economics went to French economist Jean Tirole, who the Royal Swedish Academy of Sciences described as "one of the most influential economists of our time". Tirole was awarded the prize for his work on market power and regulation of large firms' monopolistic practices, and the permanent secretary of the Swedish Academy announced that "this year's prize in economic sciences is about taming powerful firms". But amid the wide acclaim for Tirole in France and abroad, Mediapart economics and business writer Laurent Mauduit advises caution. Here he argues why Tirole, the founder of the prestigious Toulouse School of Economics, is one of the principal champions of the rampant private sector takeover of economics teaching and research in France, to the detriment of the science and the public higher education system.
Since her appointment Najat Vallaud-Belkacem has been subject of racist and sexist comments and malicious rumours on social media.
France's pupils and teachers have gone back to school this week in the annual ritual known as the 'rentrée scolaire'. Amid the usual hopes and expectations for the new school year, many teachers feel a growing sense of frustration. For despite the promise by President François Hollande to make education a priority and create 60,000 new teaching posts, many current staff feel their working conditions and pay have been overlooked. In some deprived areas, meanwhile, hard-pressed teachers have been voting with their feet, asking to be transferred to less challenging regions. Here Mediapart examines the situation in three of those vulnerable education authorities, who have been forced to take on thousands of trainee teachers to fill their classrooms this year. Thomas Saint-Cricq and Lucie Delaporte report.
Media reports say Benoît Hamon will announce an end to the teaching of the 'ABCD of Equality' after it provoked an angry outcry from Right.
Ruling socialists accuse conservative opposition of exploiting teething problems in the government's reform of length of primary school day.
A government decree introduced in France this August contains an article that bars foreign students from outside the European Union from sitting an examination to qualify for a teaching post in the country's state-subsidised private schools. The education ministry, contacted by Mediapart, at first appeared unaware of the change, before finally dismissing its introduction as a mere "technical measure". Others see the move as a result of successful lobbying by the Catholic Church's education arm, which represents the majority of the state-subsidised private education sector. As Lucie Delaporte reports, the affair carries more than just a whiff of xenophobia.    
Huge number of applicants for school founded by telecom magnate Xavier Niel who wants to reduce France's shortage in computer programmers.
Every year the French education ministry sends a small number of teachers to begin work in Rabat. Their mission: to educate the heir to the Moroccan throne and a select handful of that country's elite. Lénaïg Bredoux reports on an exclusive college that is shrouded in mystery and which few in either France or Morocco are willing to talk about.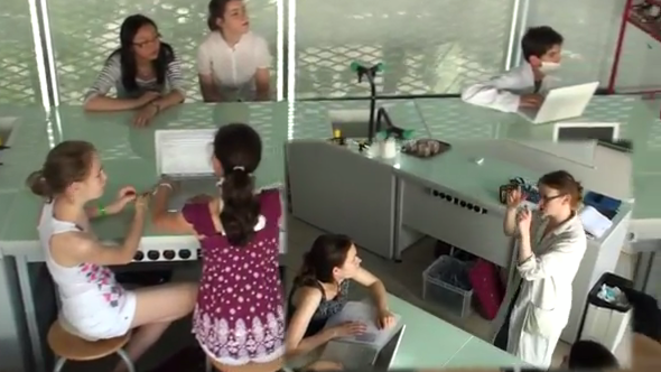 The Ecole Bilingue Active Jeannine-Manuel is a semi-private Paris school specialised in teaching in both French and English, where its 2,200 pupils are offered a complete lower education cycle from age 3 to 18. It has become the school of choice for parents among the capital's political, business and showbiz elite, as well as others from the expat community, and boasts exceptional educational standards and means that provide a 100% pass rate for the school-leaving Baccalauréat exam. But, as Lucie Delaporte reports, a significant part of the funding of this high-performing school for the offspring of the rich and famous is met through a generous system of tax breaks.