Whistleblower Edward Snowden, a former CIA employee who revealed details of invasive secret surveillance programmes by US intelligence agencies and who has been exiled in Russia for six years to escape arrest in the US, said in an interview with French radio on Monday that he had applied for asylum in France in 2013 and 'would love to see Macron roll out an invitation', adding 'protecting whistleblowers is not a hostile act'.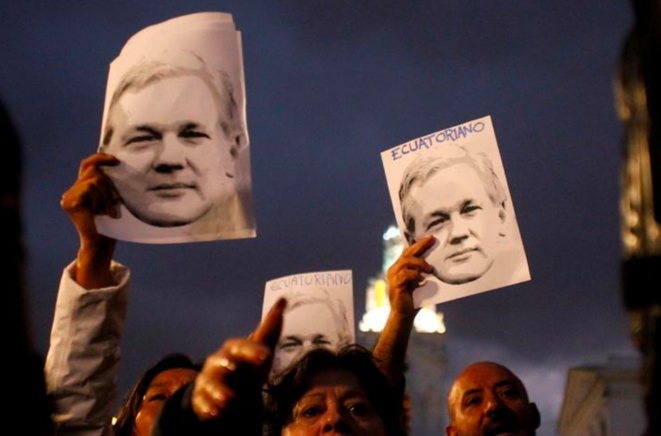 A demonstration in supporrt of Julian Assange held in Quito, the capital of Ecuador, on October 31st 2018. © Reuters
The fate of Julian Assange, just like that of Chelsea Manning or Edward Snowden, represents a far bigger issue than that of him as an individual, writes Mediapart's publishing editor Edwy Plenel in this opinion article. Whatever Assange's personal faults or mistakes, he argues, the move for his extradition to the US is about making an example of him to others because he had the audacity to challenge the powers that be with the weapon of the right to know.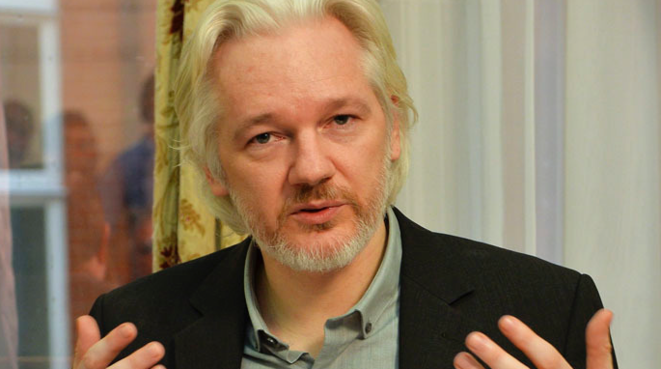 In an open letter to the French president on Friday the founder of WikiLeaks, Julain Assange, made an apparent appeal for political asylum in France. Assange, whose whistleblowing organisation was behind the recent revelations published by Mediapart and Libération about US spying on French heads of state, said that he faced "political persecution" and that his life was "in danger". However, within an hour of the publication of the open letter President Hollande's office issued a brusque statement rejecting asylum for Assange, who has spent three years in the Ecuadorian embassy in London to escape extradition to Sweden. As Lénaïg Bredoux, Jérôme Hourdeaux and Mathieu Magnaudeix report, the episode quickly stirred up a row and will inevitably reignite the debate about how far France should be prepared to go in welcoming whistleblowers such as Assange and the former National Security Agency (NSA) employee Edward Snowden.
France's justice minister Christiane Taubira said she 'wouldn't be surprised' if WikiLeaks founder and NSA whistleblower were granted asylum.
Prominent figures including a former prime minister have backed calls for the American whistleblower to be given refuge by French government.
Newspaper report suggests the former state-owned French telecoms giant has been sharing information with security services for many years.
President Barack Obama last week announced the introduction of curbs on the use made by US intelligence agencies of communications data they have collected from private individuals, government leaders and organisations around the world. Obama's move was denounced by civil rights defenders as a weak and minimal response to the unbridled mass espionage practices of the National Security Agency (NSA), revealed to the media by its former contractor Edward Snowden. Among the most startling of these was the recent revelation that the NSA had successfully infiltrated a submarine civil communications cable that runs from France to the Far East, in which it planted a virtually undetectable parallel network to spy on the traffic that passes through it. French telecoms giant Orange, part of the consortium that uses the cable, has told Mediapart it will this month file legal action over the hacking, opening the path for a judicial investigation that could have major political and diplomatic consequences. As Jérôme Hourdeaux reports, the technique used by the NSA to attack the cable is one of the most fearsome mass espionage systems yet uncovered.
Former US Secretary of State says she discovered the eavesdroppingon after French diplomat referred to confidential conversation.
Bernard Squarcini, once boss of France's counter-espionage and counter-terrorism agency, said allied countries 'spy on each other all the time'.
US intelligence chief James Clapper denies reports that US spies recorded data from 70 million phone calls in France in a single 30-day period.
The US National Security Agency spied on French diplomats in Washington and at the UN, according to latest claims by French daily Le Monde.
The French government summons the US ambassador in Paris over claims of widespread phone surveillance of French citizens by NSA.
The game of diplomatic bluff played out in the row between the Unites States and Russia over the asylum offered to former NSA computer analyst-turned-whistleblower Edward Snowden disguises an essential issue that concerns all of us, writes Mediapart editor-in-chief Edwy Plenel. That issue, he argues here, is how a 'state of exception', symbolized by the US Patriot Act and which cites supposed security concerns above the just rule of law, is surreptitiously extending its already vast power amid hitherto widespread indifference. A battle is on to force its retreat, and it is being fought here, on the internet.
Leaders from across political spectrum say whistleblower should be given refuge in France as president calls for US spying to stop 'immediately'..