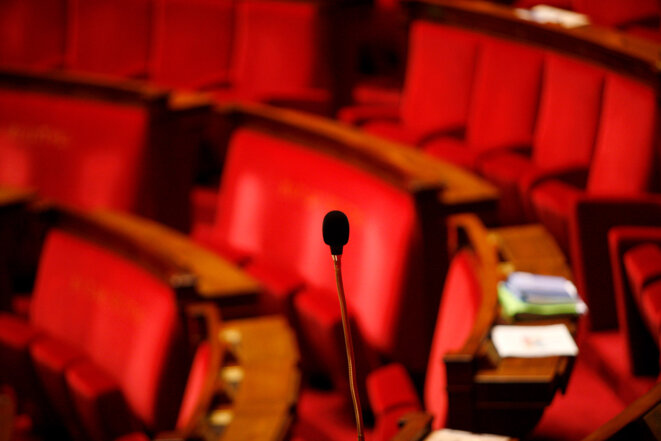 The National Assembly. © Photo Sébastien Calvet / Mediapart
Various factions on the Left are already focussing on the Parliamentary elections in June 2022, in apparent acceptance that they are unlikely to perform well at the presidential election that takes place two months earlier. Opinion polls currently suggest that the battle to be the next French head of state in April 2022 will primarily be between the incumbent president Emmanuel Macron, the far-right and, just possibly, the traditional Right. The subsequent Parliamentary elections, to be held over two rounds on June 12th and June 19th, will meanwhile determine the political influence of the various parties on the Left in the National Assembly. Mathieu Dejean and Pauline Graulle report on the potential horse-trading among the Left ahead of those legislative elections and the impact this may have, too, on the race for the presidency itself.
Focus in this Sunday's final round of voting is on a few close-run races in Pays de la Loire in west and in Île-de-France.
Regional and presidential votes in next two years will prove an electoral test for Europe Écologie-Les Verts's claim of an 'historic turning point'.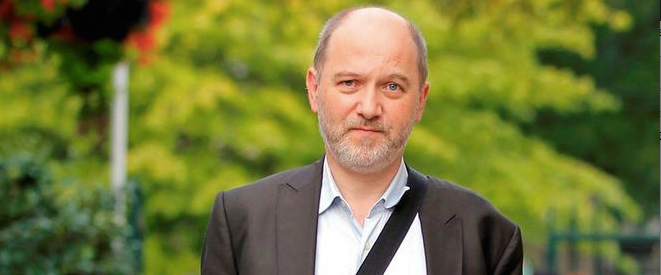 Denis Baupin. © Reuters
Mediapart and French radio station France Inter have received five new accounts of lewd behaviour, including sexual assault and harassment, allegedly perpetrated by French MP Denis Baupin, husband of French housing minister Emmanuelle Cosse. Baupin was forced to stand down as speaker of the French parliament earlier this month after Mediapart published interviews with eight women, including an MP and Green party spokeswomen, who said they had suffered assault and harassment by him. The new accounts given here cover a 16-year period during which Baupin was deputy-mayor of Paris and a leading official with the French green party. Lénaïg Bredoux reports.
French Member of Parliament Denis Baupin on Monday resigned from his role as deputy speaker of the lower house, the National Assembly, just hours after the publication of an investigation by Mediapart and France Inter radio in which several female colleagues, including a fellow MP, allege they were sexually harassed by him. Baupin, 53, who is married to housing minister Emmanuelle Coste, last month resigned from the EELV Green party to which all of his accusers belonged at the time of the alleged events. He denies the accusations, which include physical groping and other lewd behaviour and repeatedly sending sexually explicit phone text messages. Lénaïg Bredoux reports.
Departure of EELV's Senate leader Jean-Vincent Placé follows decision by a senior MP to quit the environmental party.
François de Rugy, a long-time supporter of an alliance with the ruling Socialist Party, said the EELV party had moved too far to the left.
In the middle of a socialist heartland of north-east France, a Green party mayor is leading an audacious and lonely project to revitalise his former coal-mining town, where unemployment runs above the national average, with the creation of ecology-focussed companies and research centres, and the ecodesign renovation of its private and public buildings. But this isolated development programme, and its promise of future job creations, is a slow and far from complete process which faces a stern test in municipal elections to be held later this month, when the far-right Front National party is forecast to make significant gains. Jade Lindgaard reports from Loos-en-Gohelle.
Party says it wants commitment from government on environment 'within six days' after ministers postponed energy transition plans until 2014.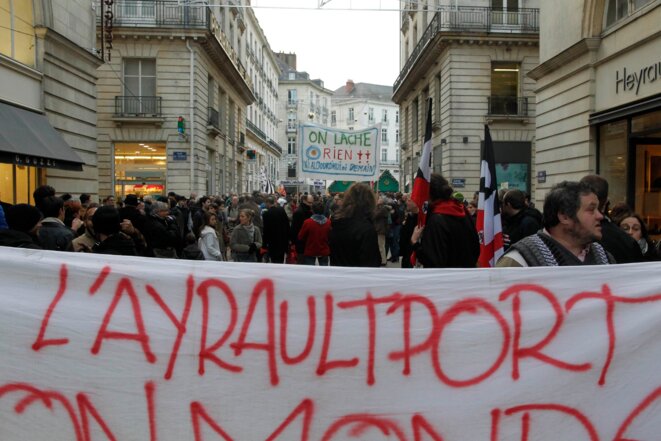 © Reuters
Prime minister Jean-Marc Ayrault has sought to calm the major controversy surrounding plans for a new airport near his home city of Nantes by calling for "dialogue". But at the same time the forces of law and order led a major operation against protesters at the planned airport site, leaving up to 100 people injured. Jade Lindgaard charts the latest developments in a bitter saga that is proving damaging both to the government's relations with its green allies and its reputation on environment issues.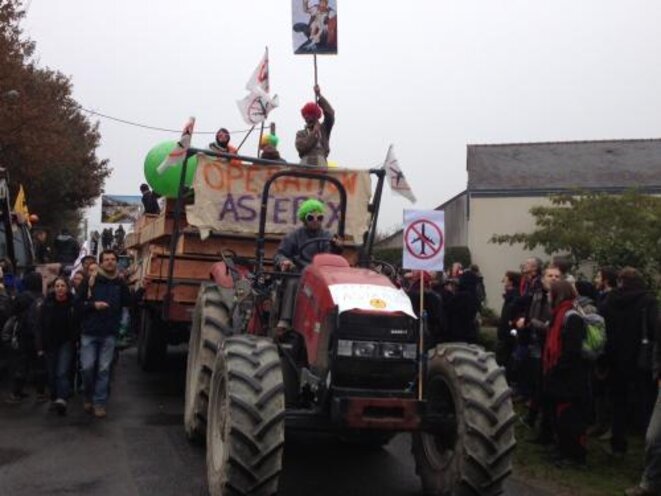 © JL
A long-simmering protest movement against a project to build a new airport close to the town of Nantes, in western France, has over recent weeks grown into a major political battle that now threatens a rupture in the already strained relations between the ruling Socialist Party and its Green party allies, the EELV. Thousands of demonstrators – 13,000 according to the police, 40,000 according to the protestors – turned out at the weekend (pictured), supported by the EELV, to re-occupy the zone designated for the construction of Notre-Dame-des-Landes airport in a rural area close to Nantes, and which the largely socialist-led local authorities argue is a key element in the future development of the economy in north-west France. Jade Lindgaard reports.
Greens in high-profile spat over rapid multiplication of wolves first re-introduced to French Alps and now threatening sheep farms in Auvergne.